Bangkok is paradise for a food lover. You can't cross a street without the aroma of frying garlic and chillies drawing you in, or smoke pouring from a street food grill hitting your nose. Everywhere you go, there's a new temptation, whether it's a spicy papaya salad, fragrant coconut milk curry or traditional roti pancakes sizzling away.
You could spend weeks wandering these chaotic streets and barely scratch the culinary surface of this city, but many people only spend a few days in Bangkok. If you're just passing through and want to make the most of your time here (i.e. eat as much as possible), there are a few things you can do to experience how diverse and delicious the food scene here is.
From traditional floating markets to the very best rooftop restaurants, here's your whistlestop food guide to Bangkok.
WHAT TO DO IN BANGKOK
While I usually prefer to explore a new place independently, you can sometimes get far more bang for your buck with a tour. Bangkok's famous floating markets are a great way to immerse yourself in Thai culture, and are a must-visit for any food enthusiast. Easily the best food tour in the city is the Offbeat Floating Market Food Tour with Bangkok Food Tours, which covers in one day what would be almost impossible in three days of independent travel.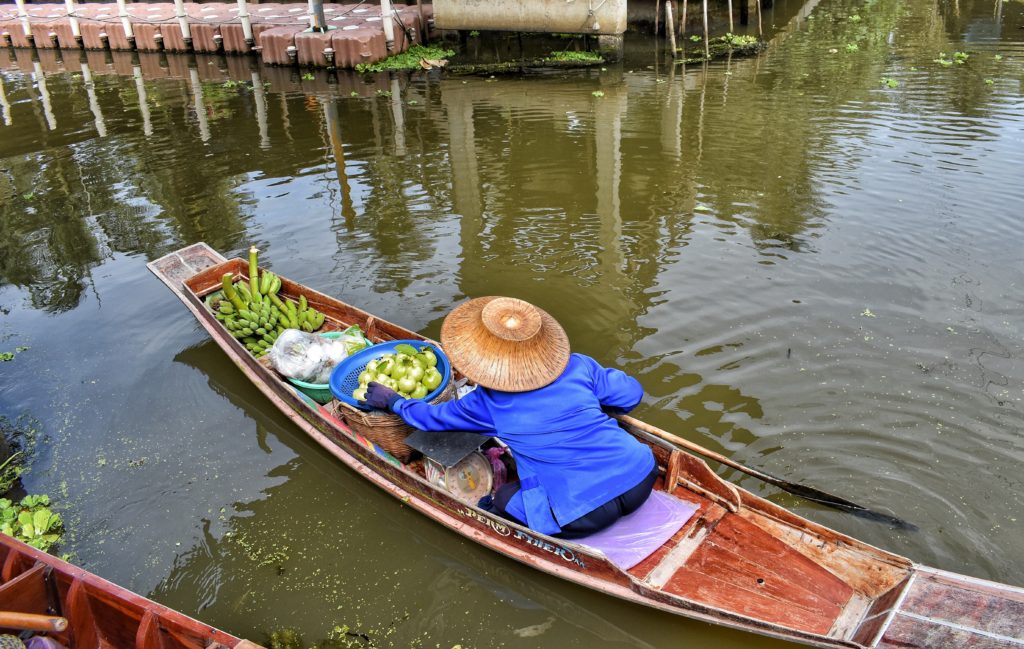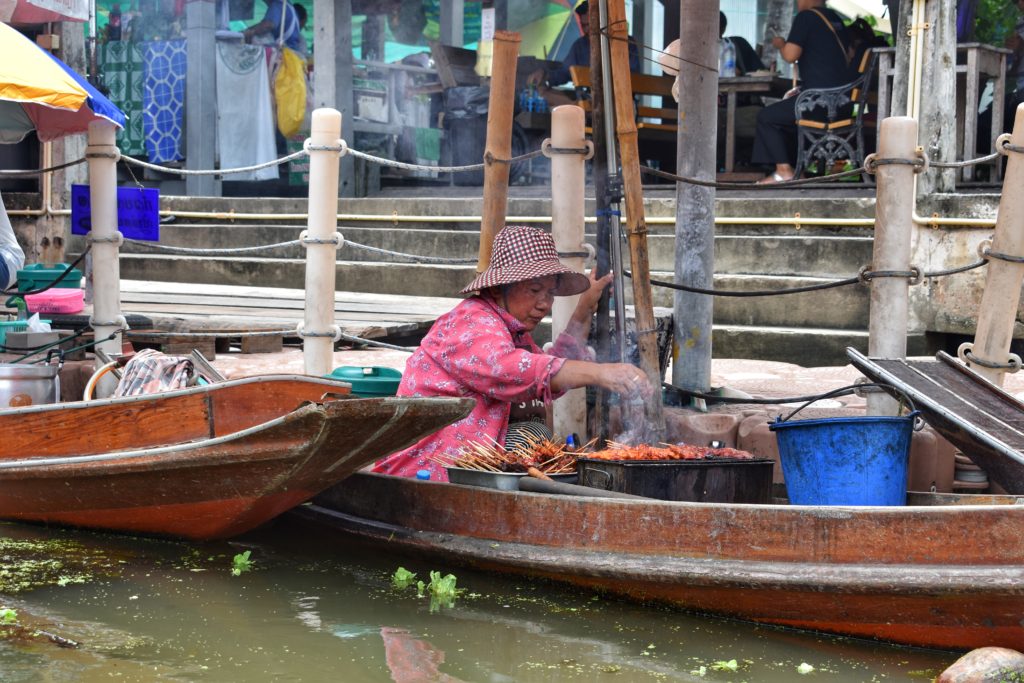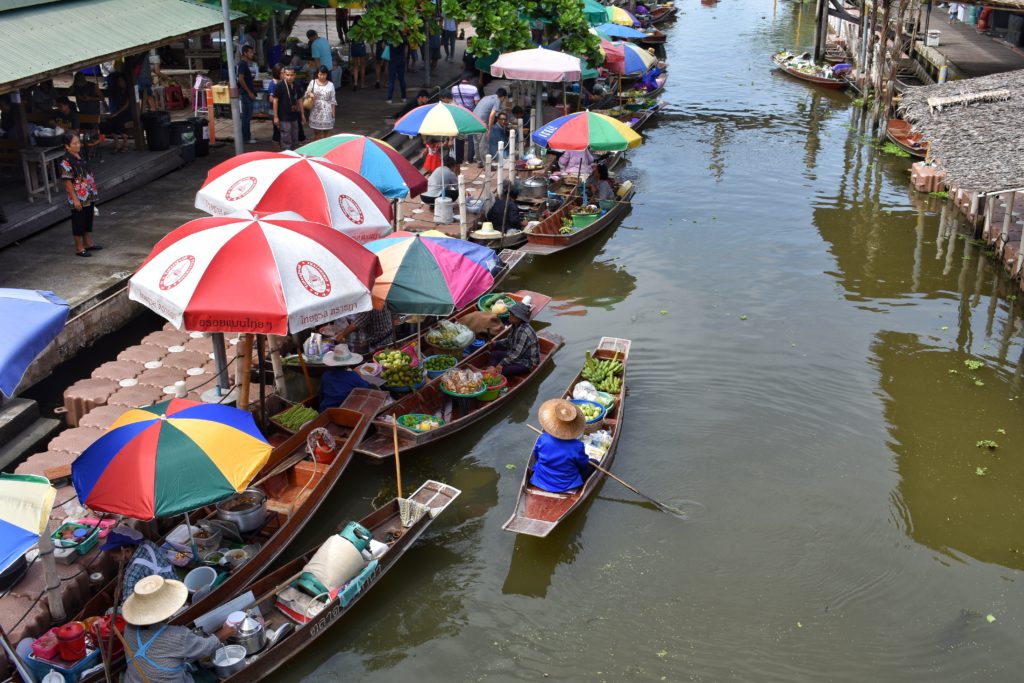 On the tour you'll visit three unique floating markets, including the authentic Tha Kha, where local farmers meet to exchange goods, and Amphawa, which is heaven for sweet-treat lovers. You'll also visit the famous train market, a food market that's literally set up over train tracks. Seeing the vendors hurry to take down their awnings before the train comes – and watching it pass mere inches over the hastily rearranged produce – is an experience in itself.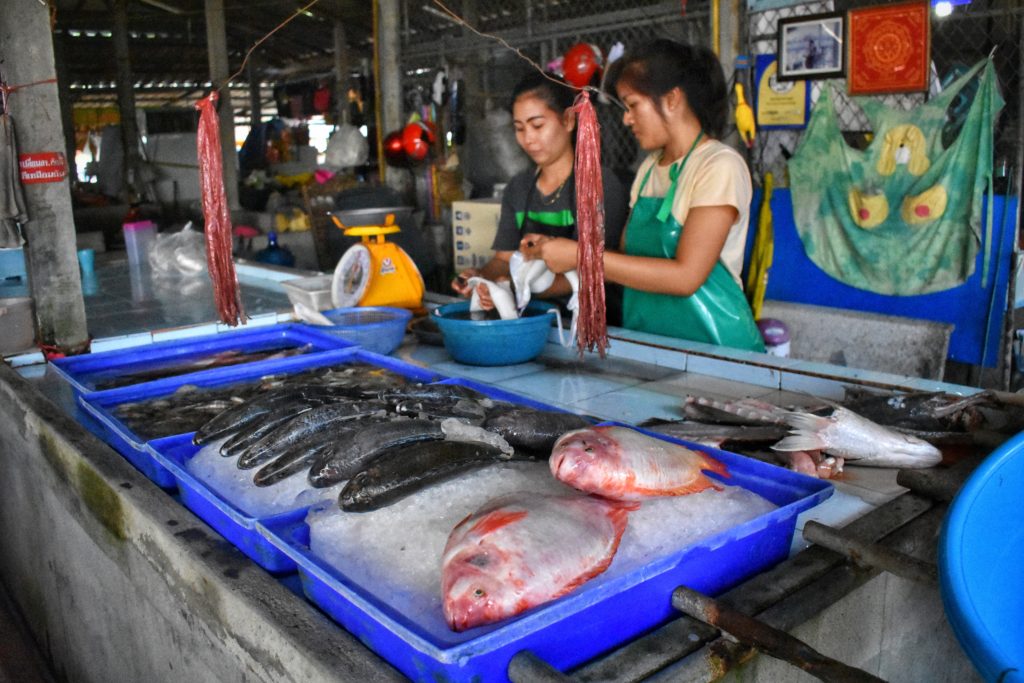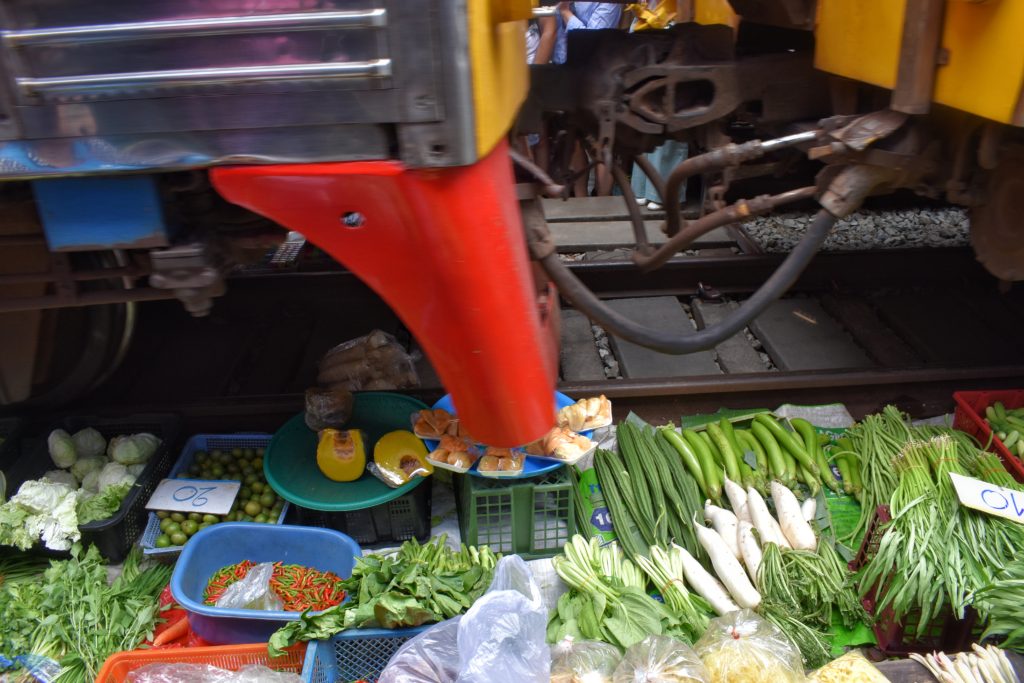 And of course, the best thing about the tour is the tasting. There are 17 different tastings, so it's a great way to try some of Bangkok's most popular dishes in a single day. Most of these dishes I'd never heard of – khai jiao, an omelette 'crepe' cooked around beansprouts and veg, and thung tong, 'golden bags' of crispy pastry stuffed like spring rolls – although of course there are a few old favourites like Pad Thai, which you eat while locals sing karaoke around you.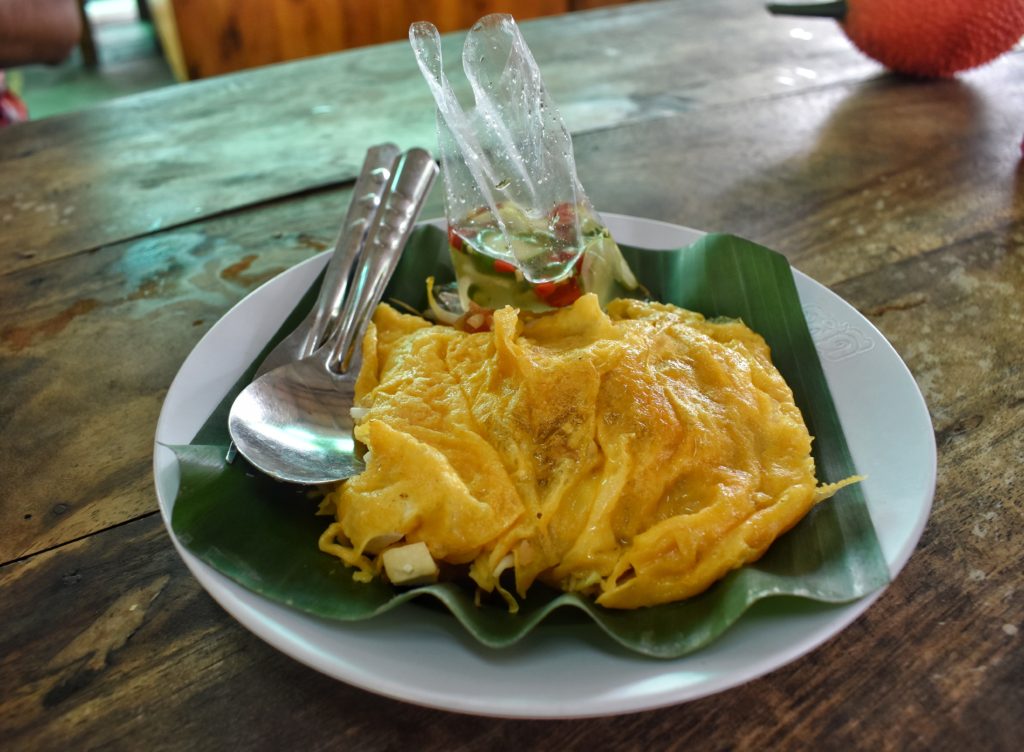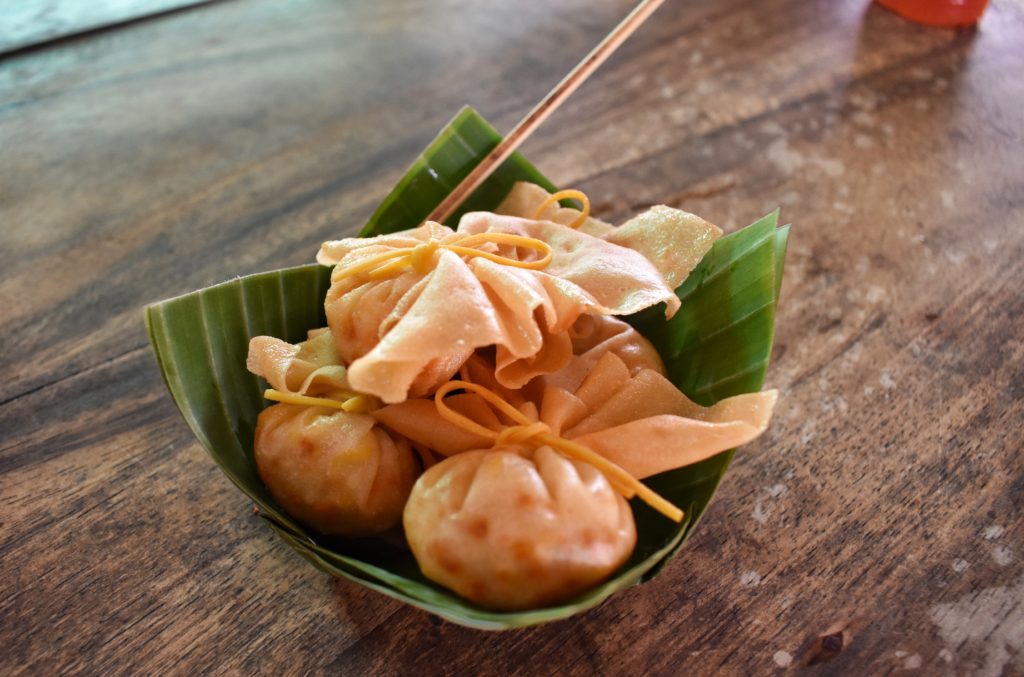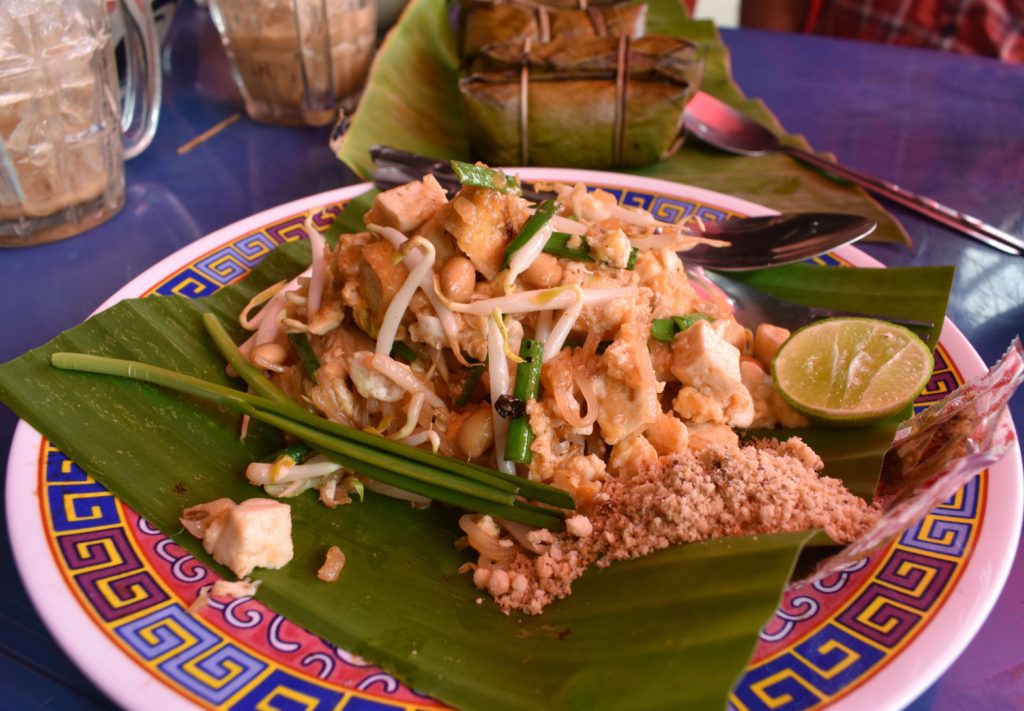 This was easily the best food tour I did in Thailand (and I did a lot) but it's also an excellent introduction to Thai culture and Bangkok as a city. Visiting food markets in Bangkok can be overwhelming for visitors, but this is a chance to experience them like an insider. I discovered so many local delicacies and exotic fruits I'd hadn't even seen in my previous months in Thailand – in particular mangosteen, a tropical fruit that's segmented like an orange and sweet like a lychee.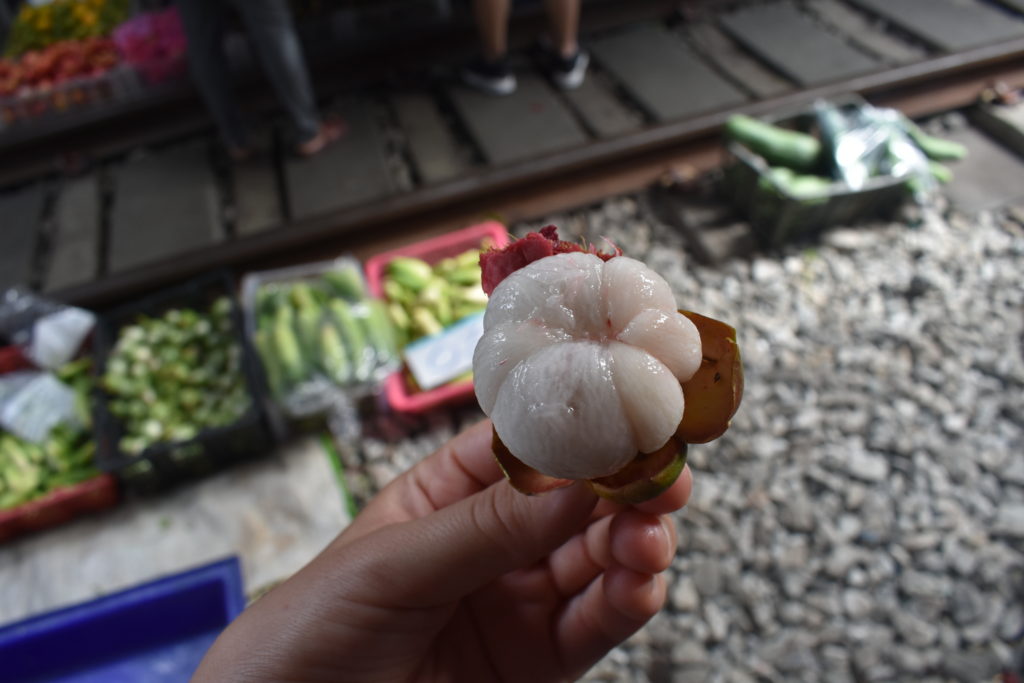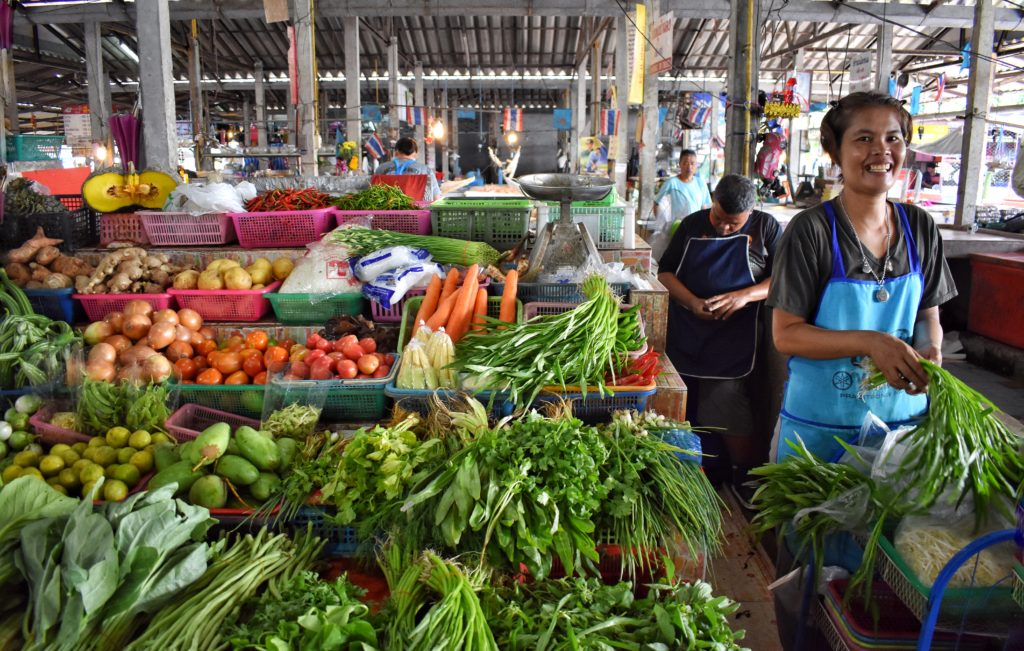 WHERE TO STAY IN BANGKOK
Bangkok has a hotel for every budget, but for the more discerning foodie there's only one choice. Banyan Tree Bangkok has no less than seven restaurants, and two of them are regarded among the city's very best: Saffron and Vertigo. While sampling street food is essential, to get a sense of the diversity of the city's food scene you should have a few proper sit-down meals too. If those meals just happen to come with some of the best views in the city, all the better.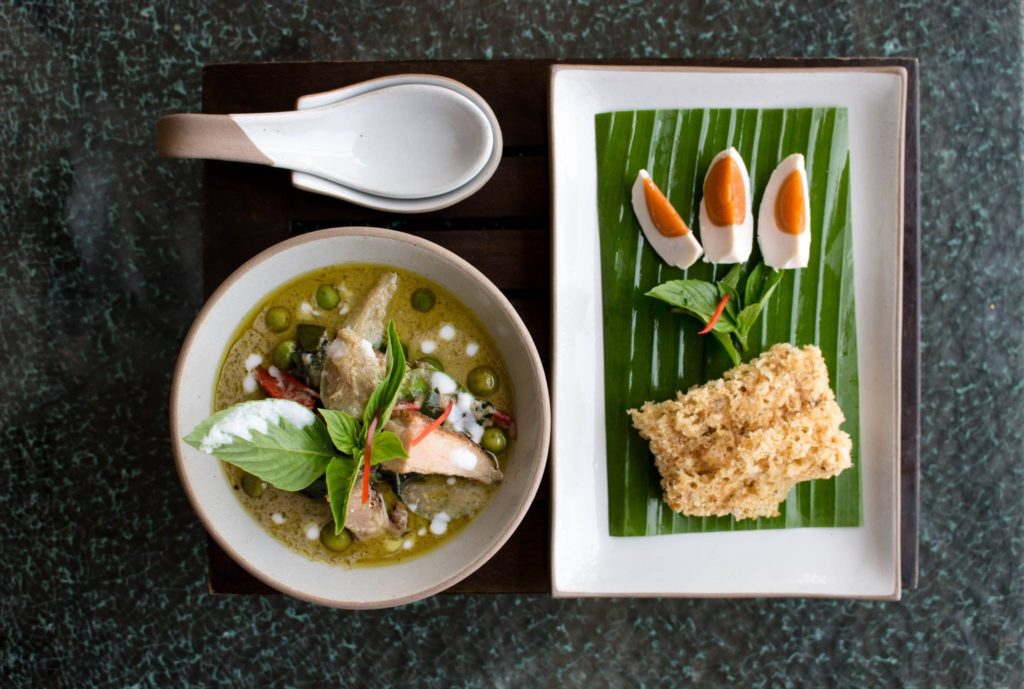 Saffron restaurant served some of the most delicious contemporary Thai food I've ever had. The menu is focused on classic dishes served in innovative, beautiful new ways. Some of the highlights were a mouthwatering selection of Thai hors d'oeuvres like banana blossom salad, fragrant green curry with salted egg, and saffron rice crackers that come with a range of sauces like coconut dipping sauce and Northern Thai green chilli dip. The desserts are just as good: if in doubt, go for the trio of crème brûlée, which comes in coconut, pandan and Thai tea flavours.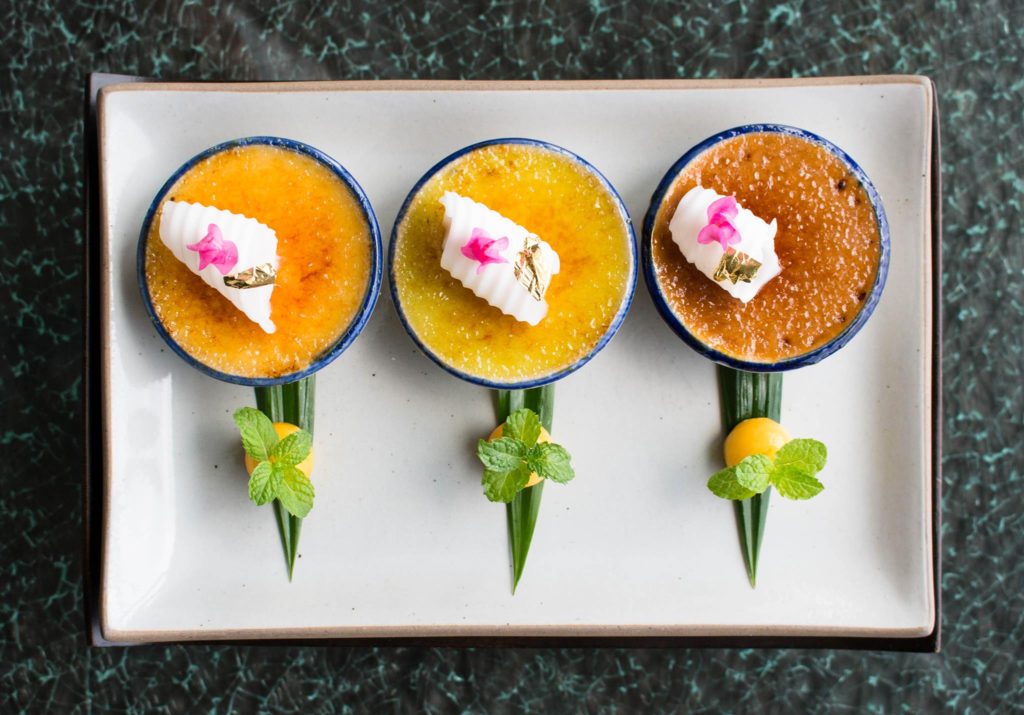 The other standout restaurant at Banyan Tree is Vertigo, a rooftop bar and restaurant on the 61st floor, from where you can marvel at a glittering 360° panorama that will take your breath away. It's a world away from the frenetic, bustling markets, but an excellent way to see the other side of Bangkok's food scene.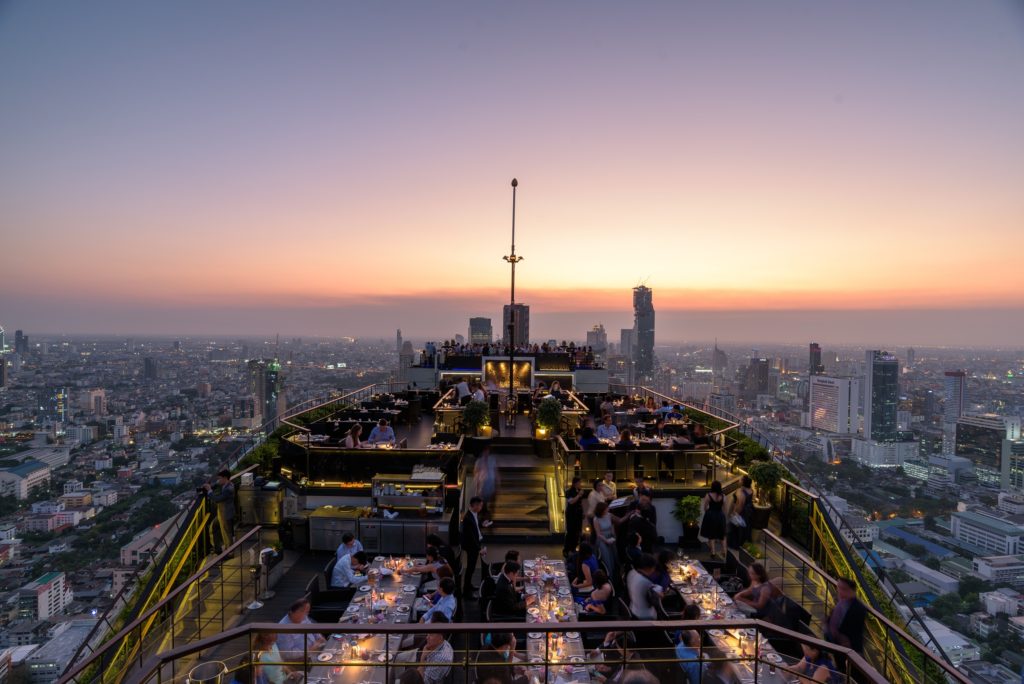 WHERE TO EAT IN BANGKOK
Admittedly, the 'what to do' and 'where to stay' sections will keep you full for a few days, but if you have time there's another restaurant you must visit – one that's become a Bangkok institution. Thip Samai is the most famous Pad Thai restaurant in the city, and if you think you don't like Pad Thai, think again. Thip Samai is easy to spot because of the ever-present long queue outside; get there at 5 pm, just before it opens, if you want to miss the worst of it. This is actually street-food; though you can sit down inside the restaurant, the cooking happens on the street.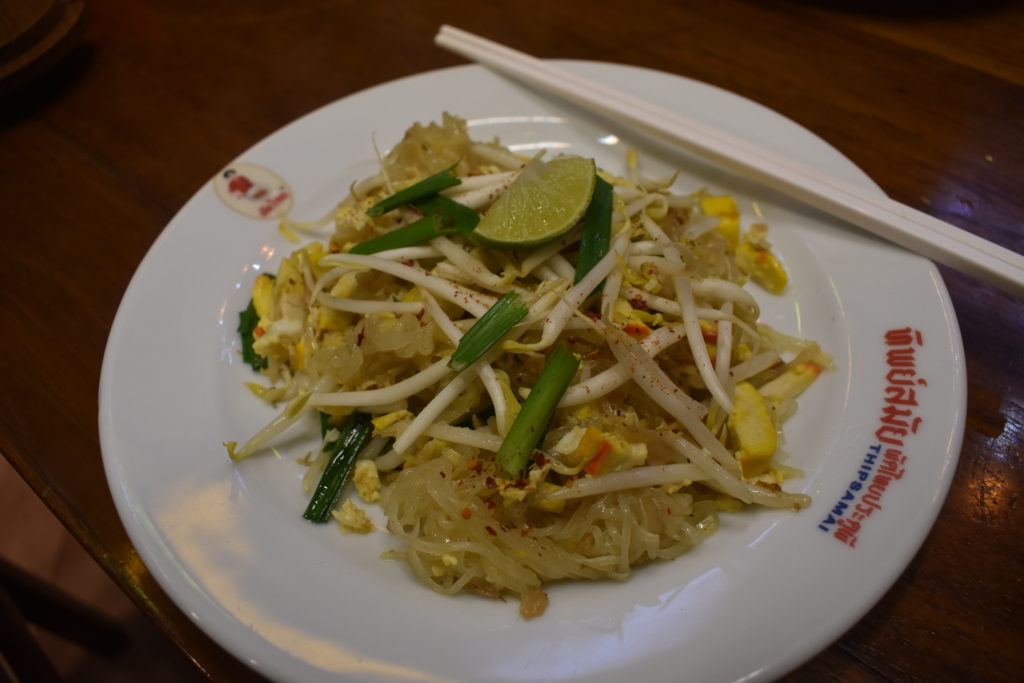 So what's so good about Thip Samai? By using charcoal, the chefs are able to get the fierce heat required to produce the authentic scorched flavour – something lacking in Pad Thai in the west. Thick handfuls of dry rice noodles are soaked in sauce and oil in the pan, and then tofu, leeks, bean sprouts and eggs are tossed in. The charcoal roasted flavour is unique, and you can add other ingredients like jumbo prawns along with 'necessary' garnishes like coriander, chilli flakes, crushed peanuts and lime.
There's Thai food, and then there's Thai food in Bangkok. Thankfully, just a few days is enough to work that out.