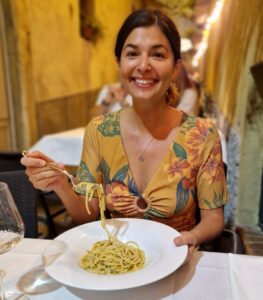 Selene Nelson is an author, journalist, and freelance travel writer.
She studied English Literature at the University of Sussex and has written for The BBC, The Times, HuffPost, The Independent, New European, SUITCASE Magazine, Town & Country, ThinkProgress, Salon, Food Republic and many other publications about topics including food, travel, and crime.
In 2016 Selene quit her job to travel and write, and in 2017, after becoming aware of the horrors of animal agriculture, she made the switch to veganism. She has appeared on BBC Sunday Morning Live, The One Show and Channel 5 to discuss vegan food and living, and has written about these issues for The BBC, The Independent, The Sunday Times, The Evening Standard, The New European, and The Telegraph.
Selene's first book was published by Penguin Random House in 2019 under a pseudonym, and her second book, YES VE-GAN! was published by Octopus Publishing Group, part of Hachette Media, in January 2020. An inspiring and positive call to action, YES VE-GAN! provides expert guidance for the growing number of people seeking to live a kinder and more sustainable life.