I didn't expect to love Ho Chi Minh City as much as I did. More than any other place, Vietnam seems to divide travellers and tourists: they either really love it, or really don't, and Ho Chi Minh City is often at the forefront of that. Because of this polarisation, I entered the city thinking I probably wouldn't love it instantly, but perhaps it would grow on me.
I was totally wrong. I LOVE Ho Chi Minh City – or Saigon, as everyone still calls it. Forget about it growing on me, it took about five minutes to realise this city was right up our street. On our first night Tom and I arrived late and were tired. We popped out for "just one beer" and had so much fun simply people-watching we didn't get back until 4am. Truly, this city is one of the most exciting, vibrant and – yep – totally bonkers city we've visited.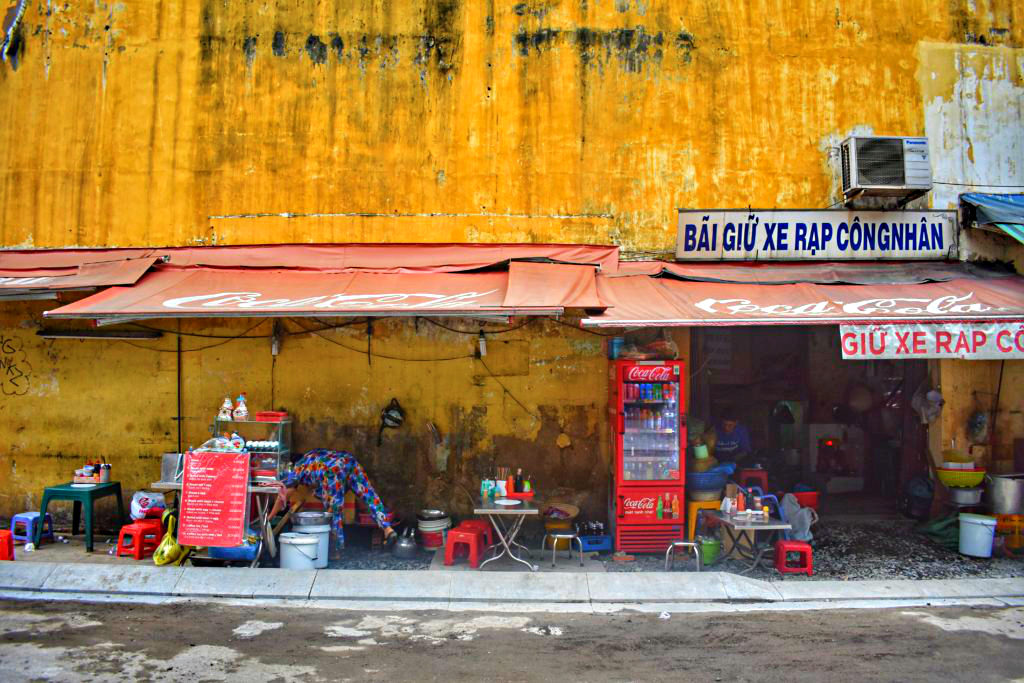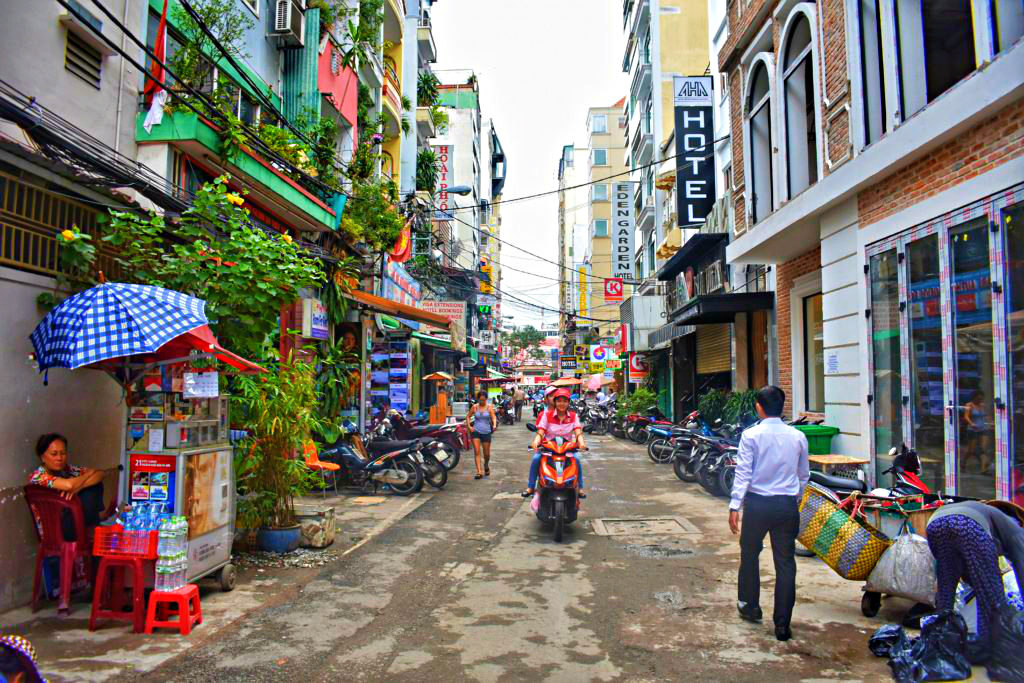 One thing that cemented our love of Saigon early on was doing a Vietnamese street food tour with Back of the Bike Tours. Though initially the idea of getting on a bike in Saigon seemed scary (the traffic really is nuts), as soon as we were on the move we relaxed. The drivers know what they're doing and are used to driving on these chaotic streets, and we felt safe with our lovely tour guides and drivers, Khánh and Thao.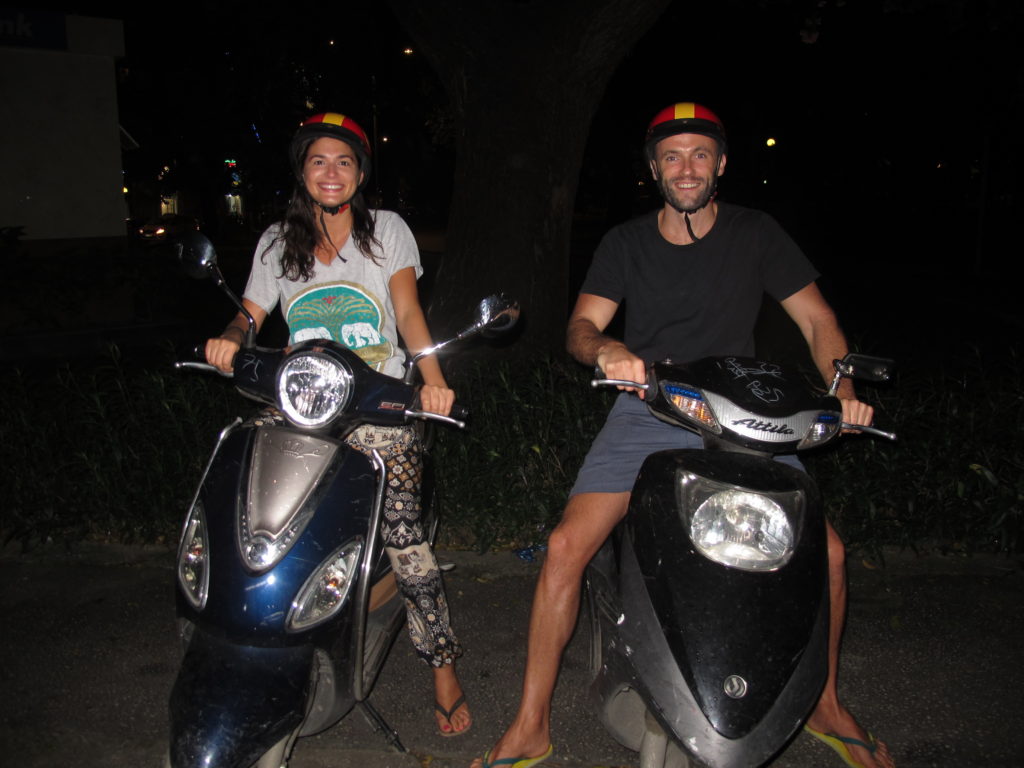 The first stop was for goi du du bo, green papaya salad. We'd had this in Thailand but both of us preferred the Vietnamese version, which was fresher and zingier thanks to the addition of mint and fresh herbs. One of the best things about the tour is that it takes you to places you'd never discover otherwise. The salad was from a street cart that had occupied the same spot for over 30 years; known by locals to be the best papaya salad in the city, the owner refuses to divulge her secret recipe. We followed this with iced Vietnamese coffee and hopped back on the bikes.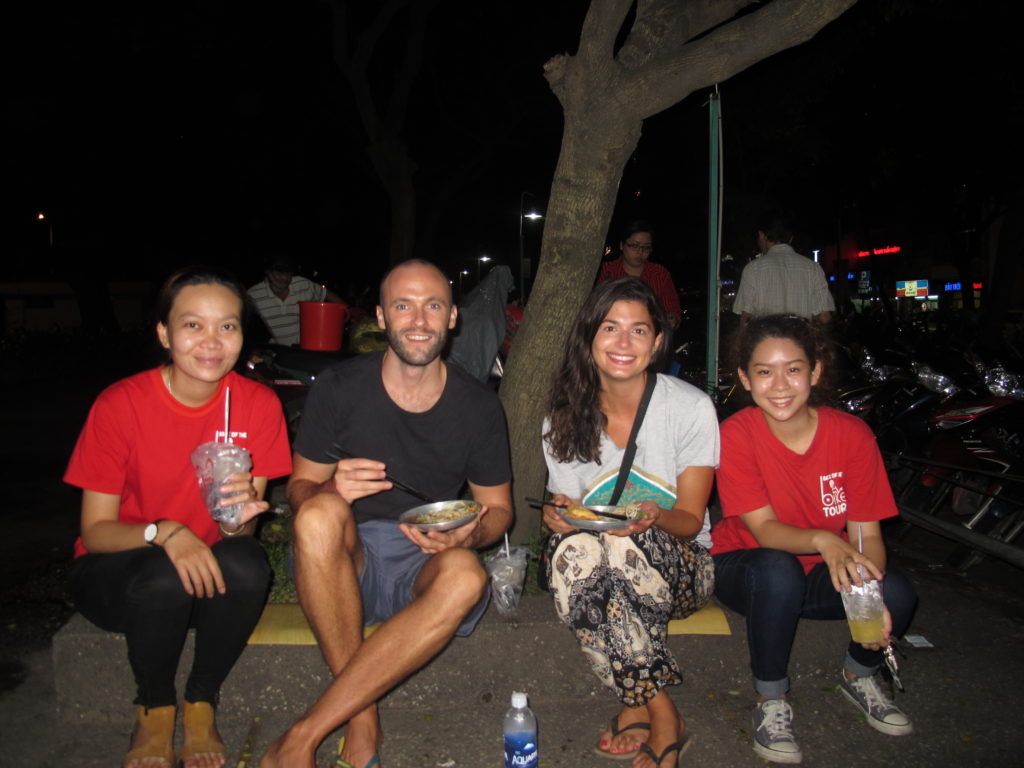 The next stop was xiên nướng chay and cút chiên bơ, pork skewers and barbecued quail from a little cafe packed with young Saigon locals. Obviously as a vegetarian I passed on this, but the tour caters for veggies and I was given crisp, charcoal flavoured vegetable skewers, washed down with some sugarcane juice. One nice touch was that whenever we arrived at a new cafe, the table was already laid out for us, and all we had to do was sit down and wait for the food to arrive.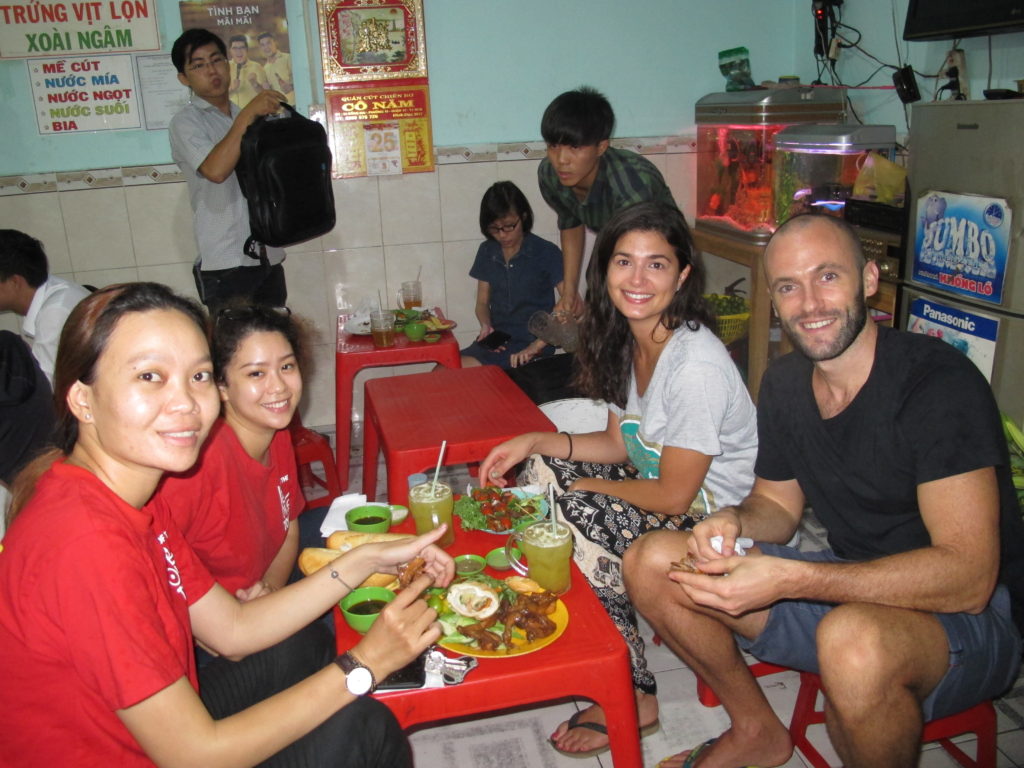 Next up it was the main course – banh canh ghe for Tom (ocean crab soup with noodles) and a delicious veggie curry for me. The curry reminded me of massaman curry in Thailand, but again the Vietnamese version had the edge. It was just that bit more aromatic and flavoursome, with the right balance of spice and creamy coconut. Served with noodles and a baguette, you can eat it by hollowing out the baguette and scooping the curry up in it like a cup. So good.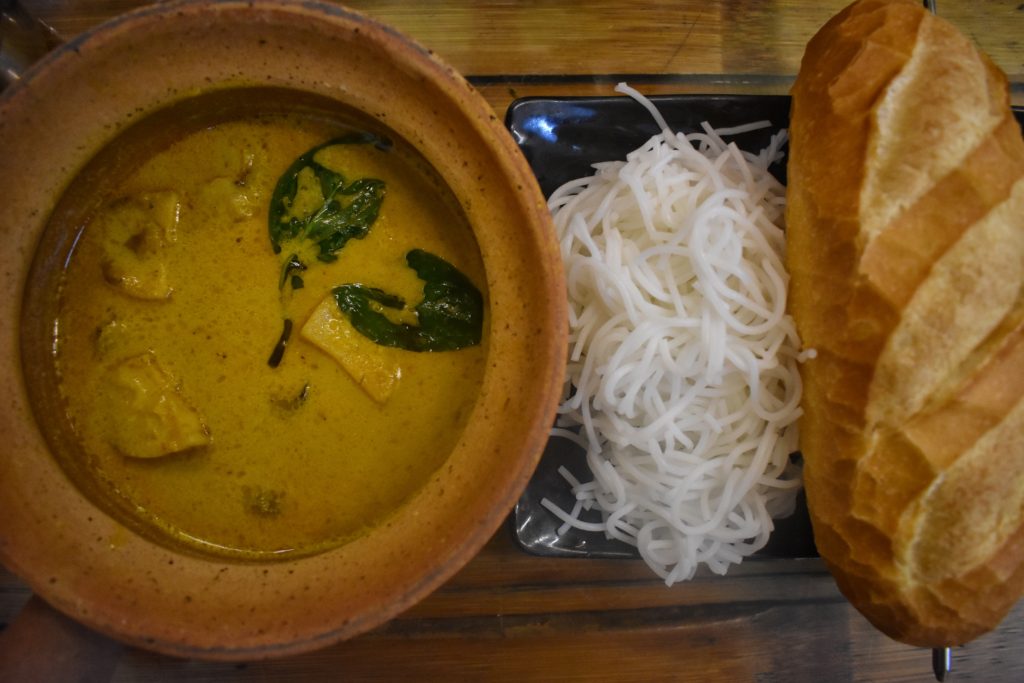 Vietnamese baguettes are so amazing it's dangerously easy to eat three on the trot. They're different to French baguettes: lighter, softer, fluffier and, though the French will be aghast, are much nicer. I love a French stick, but sometimes they're a bit too dense. These light-as-a-feather baguettes are addictive (so much for getting in shape in Vietnam!).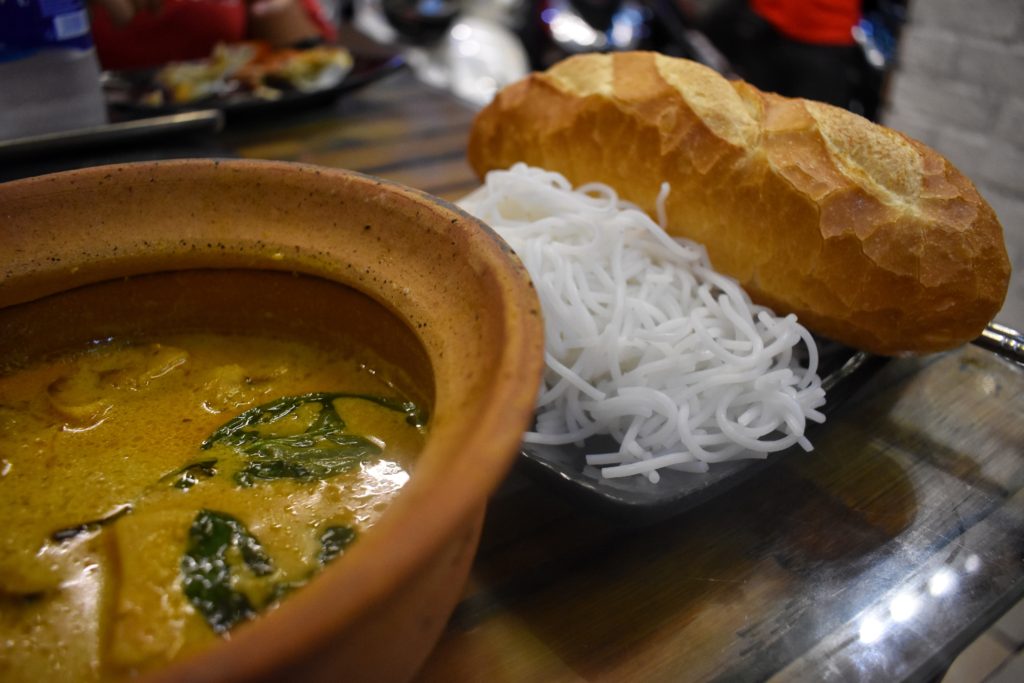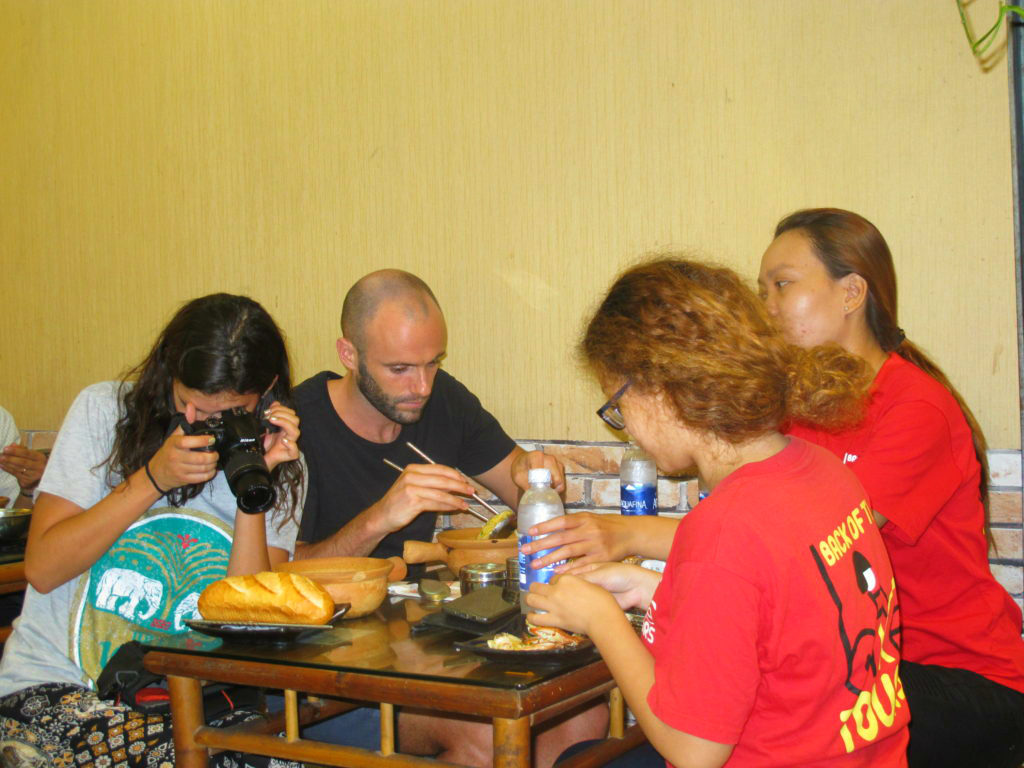 Moving on, the next stop was for banh xeo – crispy rice flour pancakes stuffed with shrimp and pork in Tom's case, and egg and bean sprouts in mine. The best thing about this stop off was that we got to have a go at making the pancakes ourselves. Although… we both kinda sucked at this (Tom set fire to his pancakes).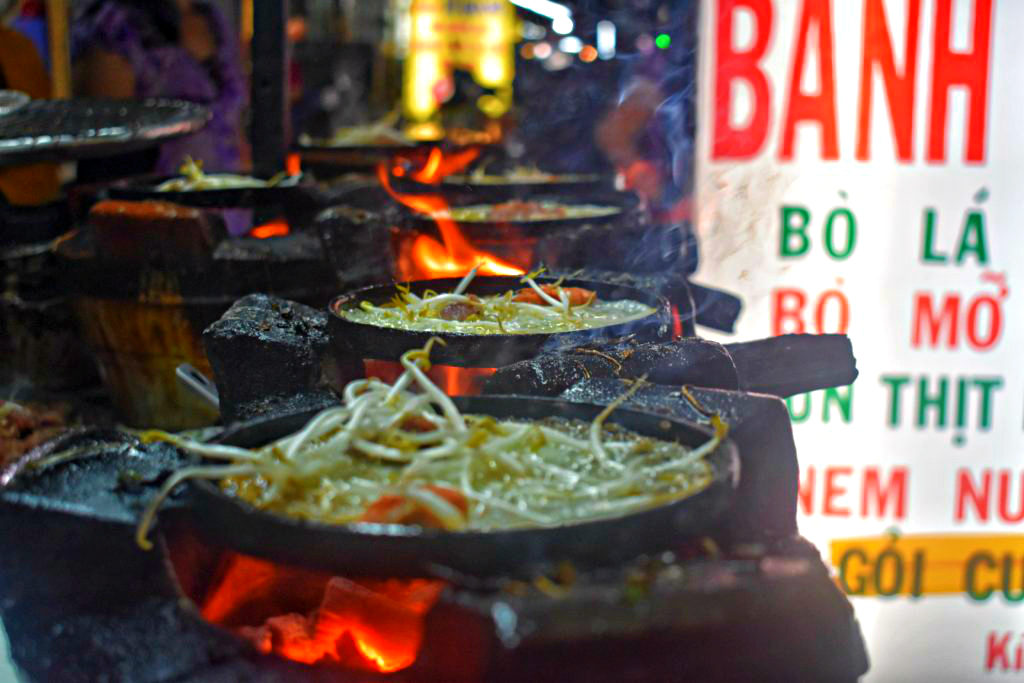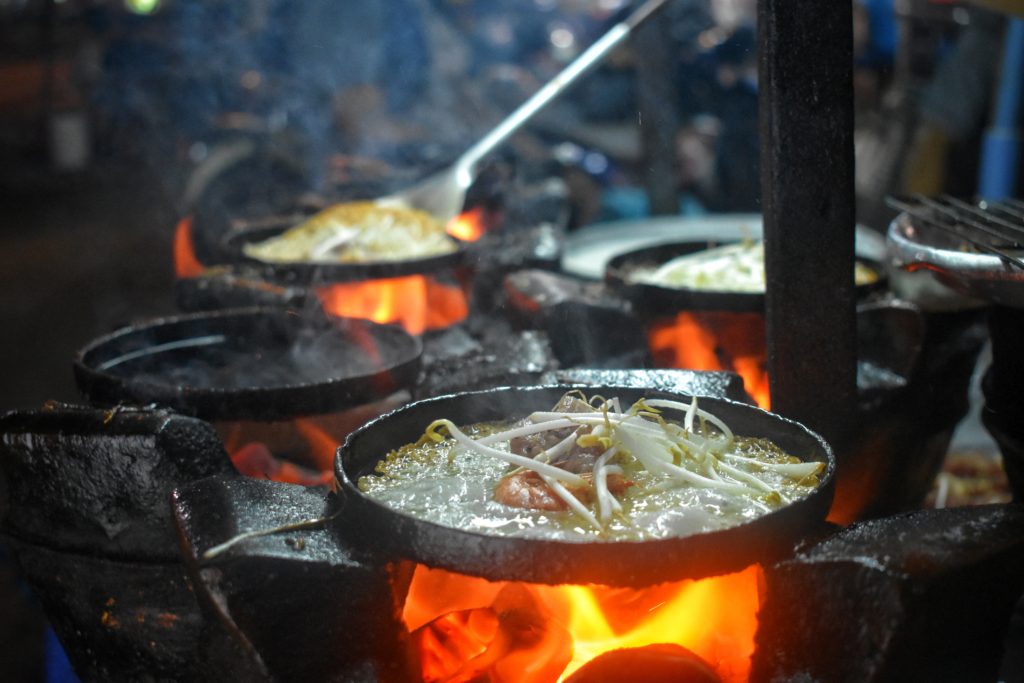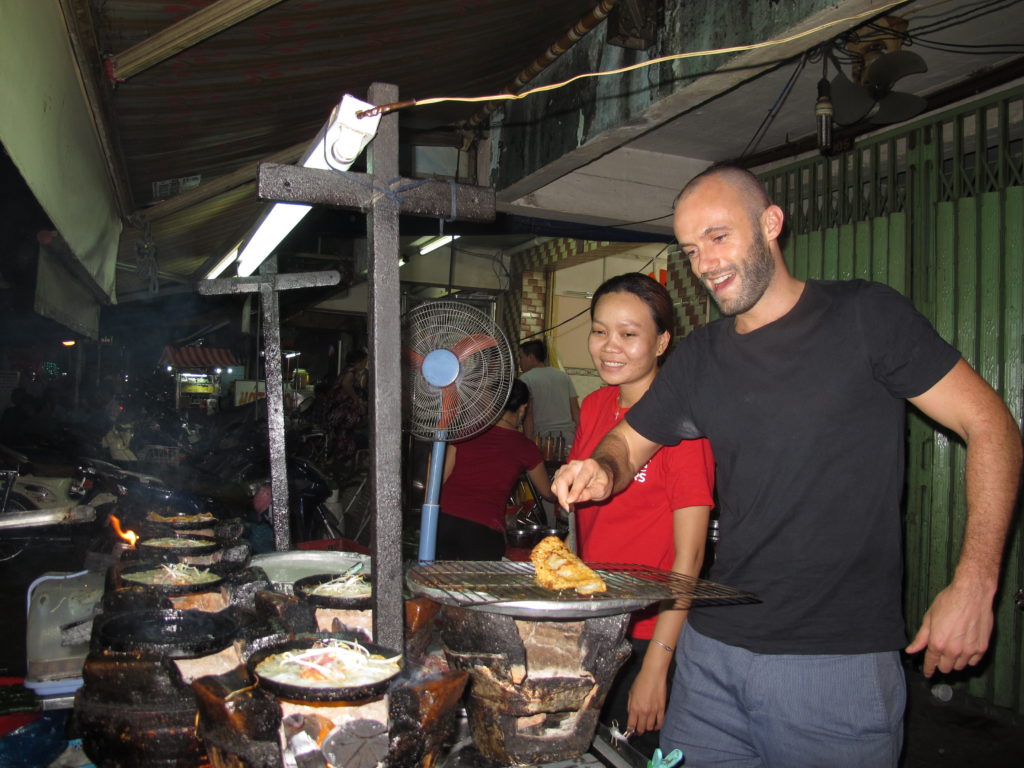 The way to eat the pancakes is by wrapping them in rice paper, stuffing in lots of fresh herbs, and then rolling them up like a burrito. If it weren't for the addition of all the greens it might have felt too greasy, but with the freshness of mint, Thai basil and wasabi leaves, it was a satisfying bite: crunchy, squidgey, crispy… all kinds of things were going on in those little parcels.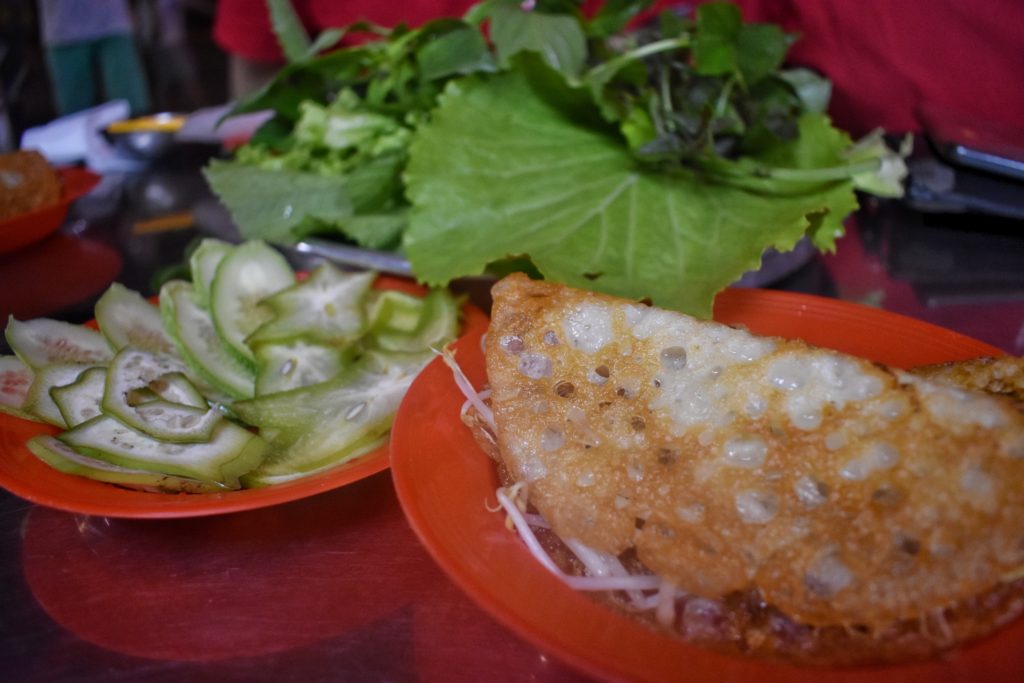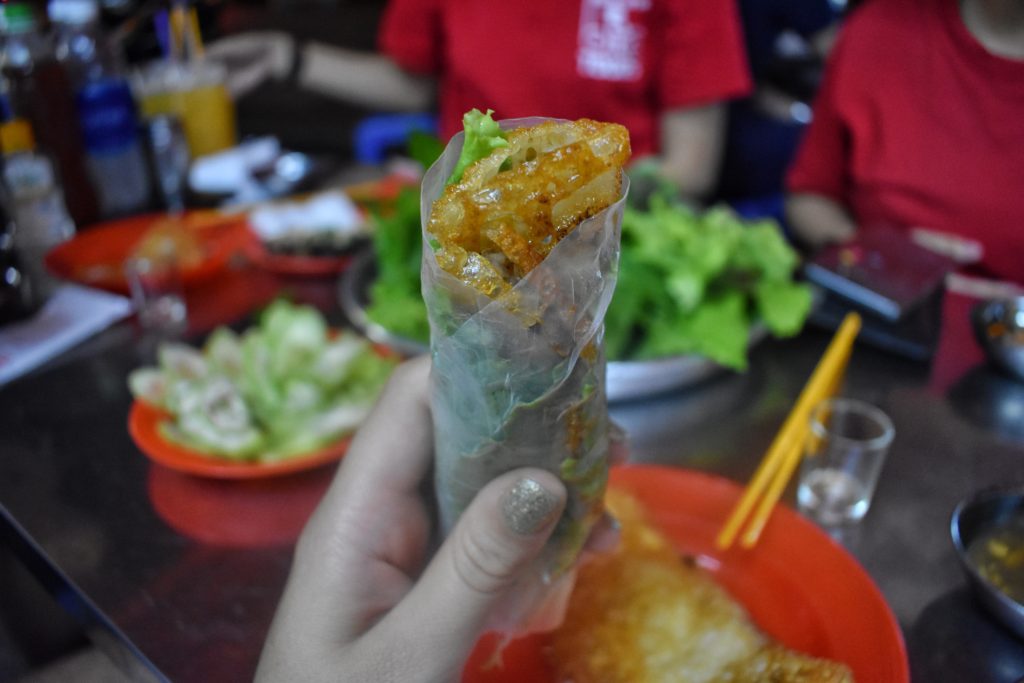 At this point my stomach was straining, but we had one more stop before the end: dessert. We ate mango with sticky rice and gorgeous coconut ice cream,  a creamy yoghurt pudding with berries, and picked from a plate of exotic fruit. Some of the fruit we'd already tried (jackfruit, which I love – it tastes like bubblegum), and other we hadn't, like Vietnamese cherries, that look like teeny tiny apples, and a golden-brown fruit (I forget the name) that tasted just like caramel.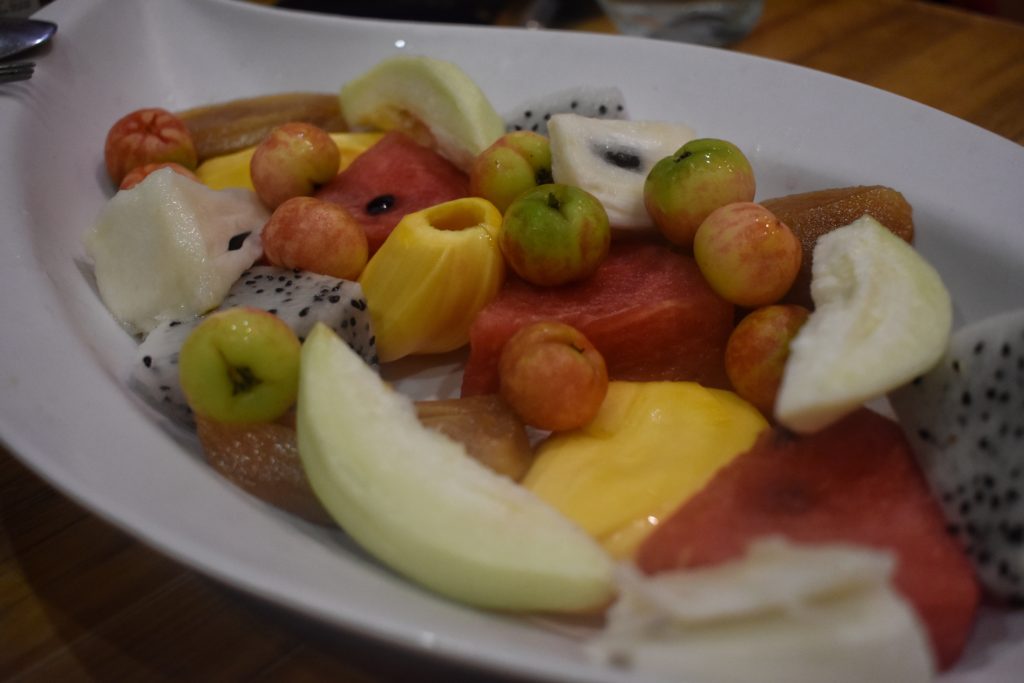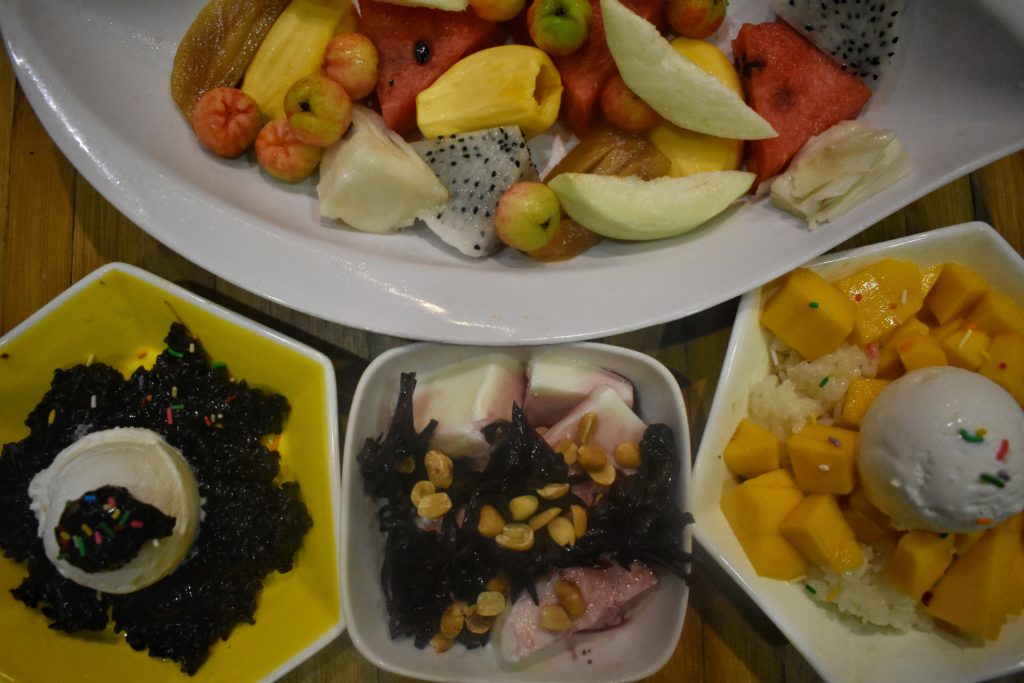 And that was the end of the food tour. With our stomachs groaning, we heaved ourselves back on the bikes and sped off through the night. The street food tour was the perfect way to get a feel for Saigon, and it allowed us to discover all manner of treats we never would have known about otherwise. It also highlighted just how huge and diverse this city is: four days isn't enough to scratch the service of what culinary delights it has to offer. I will definitely, definitely come back!
Thanks Back of the Bikes for introducing us to Saigon!