This past weekend I was on featured on the cover of The Telegraph Magazine, along with food critic William Sitwell. After reading my new book, YES VE-GAN!, William decided to try vegan living for the week, using my book as his guide. Find out how he got on by reading the full article, but see my top featured tips for making the change, as well as more photos, below.
For full details on how to go vegan – as well as why – check out my book, available to buy from all good bookshops and from Amazon, Waterstones and Blackwell's.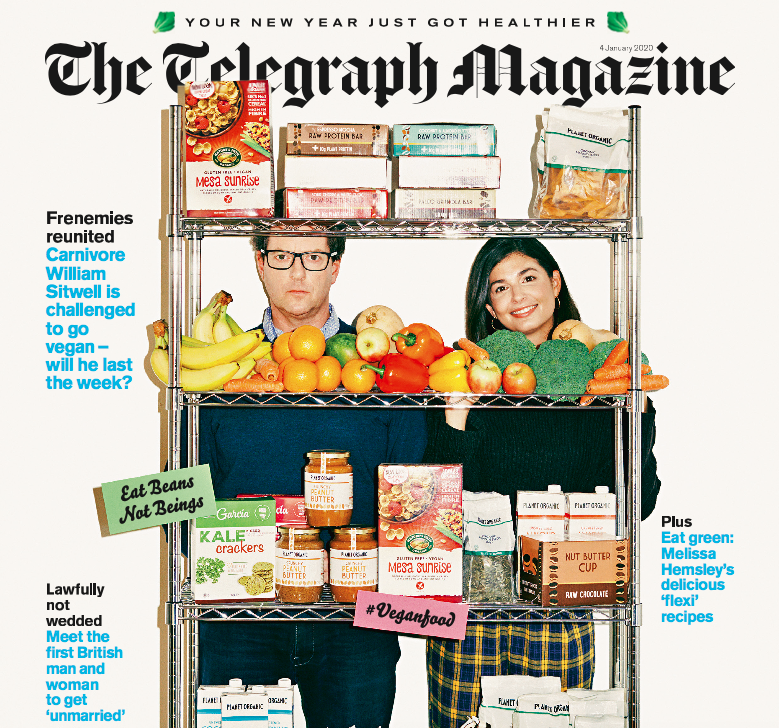 How to go vegan and stick at it
Do your homework
Decide why you want to go vegan, then do your research – making the switch is easier if you have knowledge and conviction. If you're an animal lover, educate yourself on animal agriculture. If you're passionate about the environment, watch documentaries like Cowspiracy: The Sustainability Secret (available on Netflix). If health is your main motivation, learn about the physical benefits.
Buy store-cupboard basics
Stock up on vegan home-cooking essentials, like dairy-free spread (Flora is fully vegan now), veggie mince (great in spaghetti bolognese and chilli), oat milk (Oatly Barista Edition is a game-changer) and vegan mayonnaise (Hellmann's does a good one, but I prefer Follow Your Heart)
Read the labels
The basic vegan dietary rules are obvious. No meat, seafood, eggs or dairy… But no honey either, if you're going to be strict. Remember that eggs and milk are often 'hidden' ingredients, so always check food labels. And if you're eating out, some restaurant chains, such as Pizza Express, Wagamama, Zizzi and Pho, have dedicated vegan menus.
Think about your drink
Educate yourself on which booze is allowed. When it comes to wine, most of it – bar French – is vegan nowadays, even if the label doesn't have the 'approved' stamp. Though if in doubt, stick to New World wines. Spirits and champagne are also vegan.
Reassess your bathroom
Assume that most toiletries, shampoos and deodorants are tested on animals. Many cleaning products are, too. So look for vegan/cruelty-free labels. Peta.org has a helpful list of cruelty-free products on its website, including those by brands Ecover and Method. Lush and The Body Shop are also cruelty-free.
Shop smarter
Rather than throwing away your non-vegan clothes/shoes and immediately replacing them with vegan alternatives, gradually phase them out. And when things do need replacing, avoid leather, wool, fur or silk, if possible.
And remember…
If you mess up and buy or eat something non-vegan, don't beat yourself up! Veganism isn't a pursuit for perfect. It's about trying to minimise harm as best you can.