Last week I finally launched the recipe section of my site, kicking off with my easy vegan pho, one of my favourite noodle soups. It doesn't seem very prudent to feature another noodle soup for my second ever recipe, but this miserable "summer" weather is just calling out for warming comfort food. And dammit, I just love noodle soups! So at the risk of seeming like a one trick pony, here's another healthy, plant-based recipe to tuck into: vegan laksa.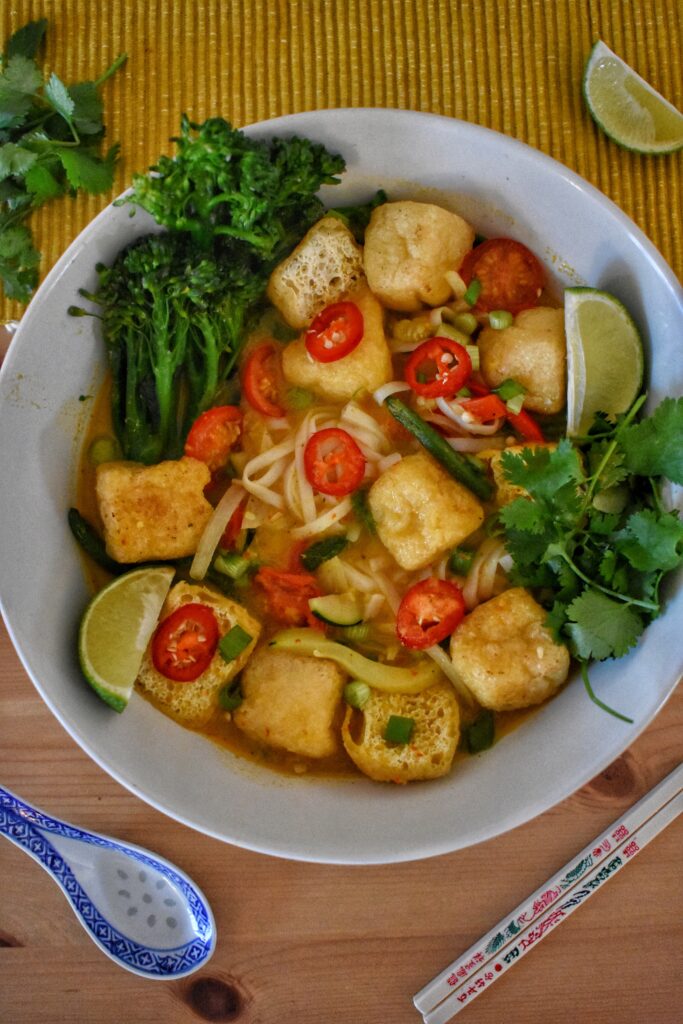 Laksa is an Asian noodle soup from Malaysia (though I first tried it in Cambodia) and has an entirely different flavour from pho. Where the pho broth is clear and fresh, laksa broth is a vivid orange, thick and creamy with coconut milk, yet packed with piquant punches from chilli, garlic and ginger. It might be the ultimate comfort food: warm, nourishing, packed with flavour… and pretty healthy too.
Laksa itself is quick to make… it's the laksa paste that's more time-consuming. What I do – and what I strongly advise anyone here to do – is make three times the amount of paste you need and freeze the rest. Then, the next time you're craving a bowl of hot, spicy laksa, the paste is ready and waiting.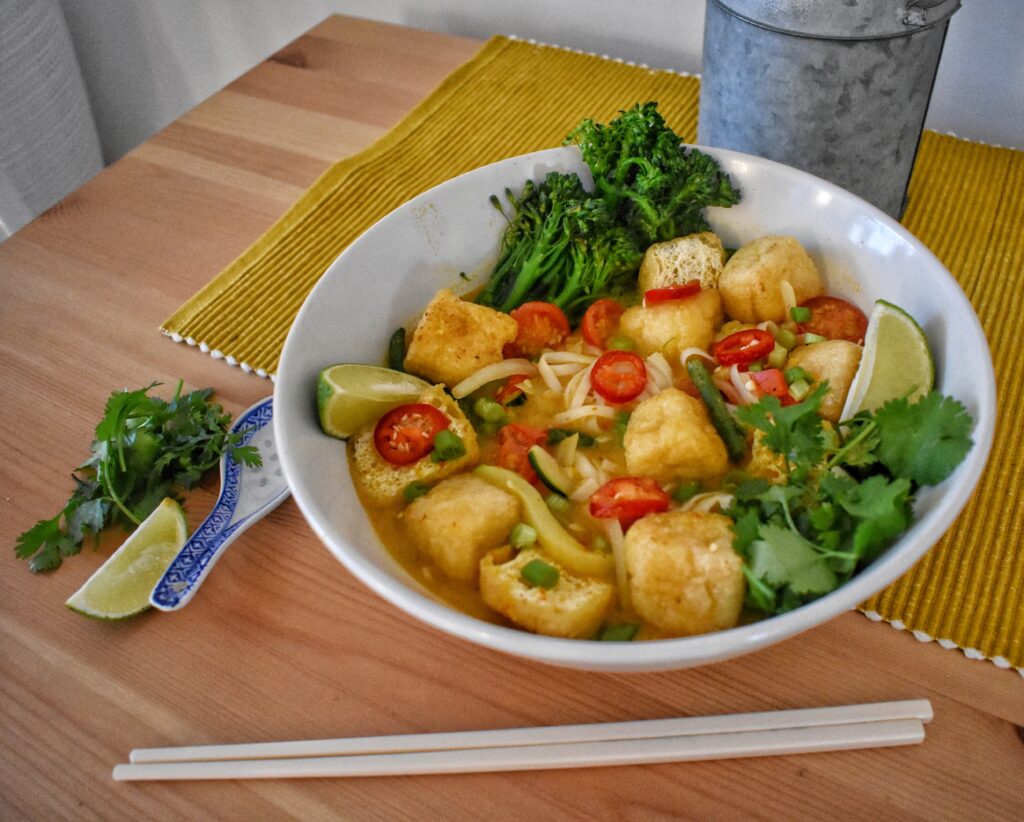 As well as veganising this dish I've simplified it as much as possible too. Some ingredients, to me at least, just don't seem to make that much difference, while other are irreplaceable. And I'm a firm believer of adapting recipes as you see fit; if you want to add mushrooms or pak choi, do. If you want to omit courgette or swap tofu for seitan, go for it. I deliberately haven't added specific quantities of some the vegetables – just use as much as you like, and if you have too much for the soup, well, then you just have extra for tomorrow.
Cooking should be about tweaking and changing things to suit your own tastebuds – that's why I'm not a big fan of baking: it's too methodical and scientific!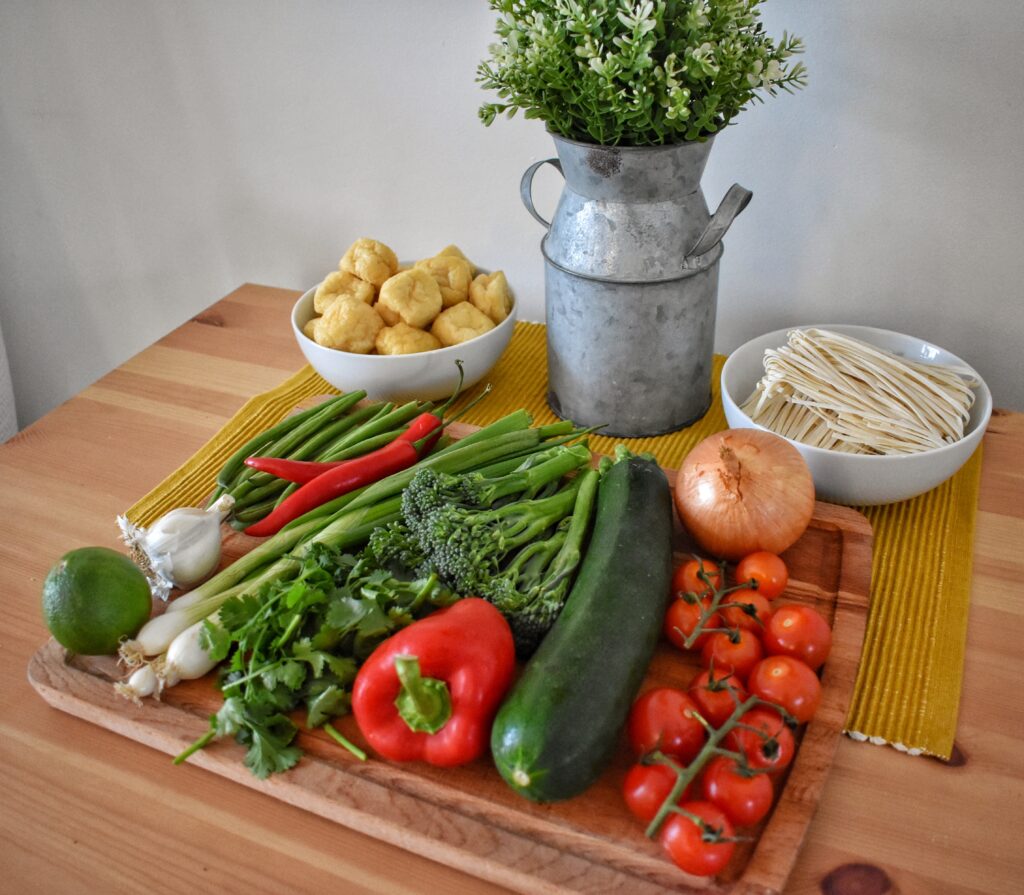 So without further ado, here's my recipe for easy vegan (and gluten-free!) laksa – and remember, multiply everything by two or three if you want to have leftover spice paste to freeze.
LAKSA PASTE
One onion, roughly chopped (either red or white is fine)
5 cloves of garlic
5 large fresh chillies (less if you don't like heat)
2 lemongrass stalks, white part finely chopped
1 whole big thumb of ginger, sliced
2 tablespoons sesame oil or rapeseed oil
SPICES TO ADD
1 teaspoon ground coriander
1 teaspoon ground turmeric
1 teaspoon paprika
1/2 teaspoon cumin
LAKSA BROTH
1.5 litres veggie stock (add boullion to taste if you want greater depth of flavour)
400 ml can of coconut milk
Lime juice, to taste
Salt, to taste
LAKSA INGREDIENTS
Tenderstem broccoli
1 courgette, sliced into matchsticks
1 red pepper, sliced
Green beans, halved
Cherry tomatoes, halved
200 g flat rice noodles
250 g of tofu puffs (if you can't find these, just chop some firm tofu into squares, then bake til crisp)
TO TOP
Big bunch fresh coriander, chopped
Lime, sliced into quarters
1 red chilli, chopped into rings
3 spring onions, chopped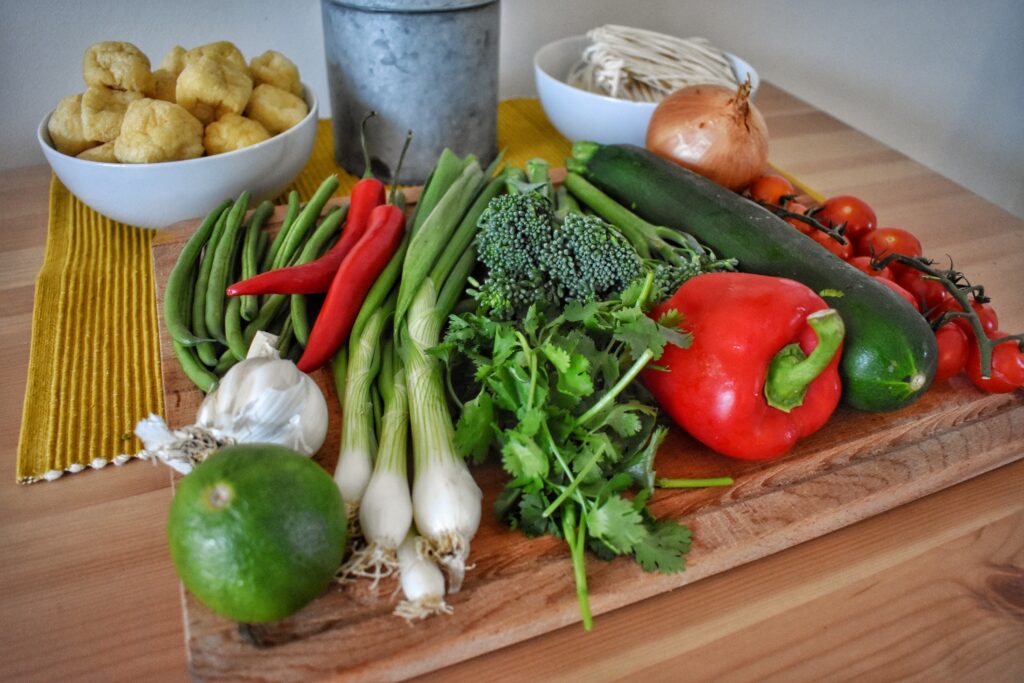 METHOD
Throw the onion, garlic, ginger, lemongrass and chillies into a blender or food processor and blitz until smooth. Add extra oil or stock if you need more liquid.
In a big pot, heat the laksa spice paste in oil on a low heat for about ten mins.
Add the turmeric, paprika, coriander, cumin, and stir, continuing to cook gently – then, after a few minutes, add the stock. Cook for a while, then add lime and salt to taste. Put a lid on and cook slowly.
Place your veggies in a big frying pan and cook, gently, with a little water until they've softened a bit (you want them to still have some bite). Stir the coconut milk into the laksa broth.
Cook the rice noodles as per pack instructions. While they're cooking, fry the tofu puffs in a dry frying pan on a high heat, until they're slightly brown and crispy.
Rinse the rice noodles in cold water once they're cooked to refresh them; then, rinse again with hot water. Lay a portion of noodles in a deep bowl, top with the vegetables and tofu, and ladle over the hot laksa broth. Top with sliced red chillies, fresh coriander and lime quarters. Enjoy!