Like much of Central America, Nicaragua isn't really known for its food. Bordered by Costa Rica and Honduras and set between the Pacific and Caribbean coasts, this country is celebrated more for its dramatic volcanic landscape than its culinary prowess. There's a reason for this.
Nicaragua is the second poorest country in the Western Hemisphere. Historically, recipes were chosen for their nutritional value rather than their taste, and the price of meat means many meals centre around beans, plantains, yuca and corn. Because of this, Nicaragua can definitely be considered veggie-friendly, but I'll be honest: Nicaraguan food just didn't speak to me the way Guatemalan food did.
Still, there is far more for the discerning vegetarian palate here than appears at first glance.
LEON AND GRANADA
My first stop was Leon's "original vegetarian restaurant," Cocinarte (which nevertheless serves meat), situated in a colonial house said to be the oldest in the city. On the menu was a vegetarian Indio Viejo, a famous Nicaraguan dish with its own origin story.
Back in the colonial days, the Spanish explorers used to take advantage of the hospitality of locals, whose culture demanded they provide food to all who ask for it. One day the Spanish showed up wanting to be fed again. Noticing an aromatic stew cooking away, they asked what was in it. Realizing there wouldn't be enough food left for the locals, the chef replied, "It's an old Indian [Indio Viejo] who recently died." The explorers quickly lost their appetite and left.
Whether this tale is true or not, Indio Viejo remains one of Nicaragua's most popular dishes. A hearty stew made with red peppers, onions, tomatoes, sour oranges, corn flour and spices, the Cocinarte version uses textured soy to replace the meat. It had a pleasant earthy taste with subtle citrus undertones, but the overall flavour lacked depth. I found myself adding more and more salt and wishing I had some chilies.
Still, Cocinarte offers the best variety of vegetarian food in Leon. The house speciality is excellent: fajitas with sautéed peppers, celery, squash, onion, green beans, broccoli and pineapple, brought to the table on a sizzling hot plate. Served with a liquefied bean sauce, corn tortillas, rice and salad, the vegetables are smoky yet still crisp, and the spices ensure a taste much more memorable than the Indio Viejo.
Also in Leon is El Desayunazo, a breakfast café only open in the mornings. They have a large selection of American and European breakfasts (and bottomless coffee), but the most popular dish is the traditional Nicaraguan breakfast. Exact ingredients and methods of cooking vary region to region, but a traditional Nicaraguan breakfast always consists of three staples: rice and beans (gallo pinto), eggs and tortillas.
In Nicaragua, gallo pinto is made with red kidney beans rather than black, and the rice is cooked for a full day beforehand. The eggs are scrambled or fried, with cheese, fried plantains and avocado often added. But the most distinctive taste comes from the tortillas: The corn is dried and then boiled in firewood ashes for several hours until soft; then, after being washed and ground, the tortillas are cooked in clay pans on a wood-burning stove, at just the right heat so bubbles form.
The El Desayunazo breakfast was served with pieces of cuajada, a mild cow's milk cheese with a flaky, crumbly consistency, and a green chili, onion and tomato sauce for the eggs. The mild tastes of Nicaraguan food just didn't appeal to me the way Mexican or Guatemalan food did, but if you're looking for a satisfying and balanced start to the day, this breakfast does the job. The flavors may not sing, but eggs, gallo pinto, ripe plantain, tortillas and cheese will certainly fulfill the protein quota, and the dish is a steal at $2.
The traditional breakfast here is also good — better than that at El Desayunazo (albeit more expensive), with saltier, more flavoursome cheese, and eggs that are scrambled with onions and green peppers. Instead of fried plantain there were slices of creamy avocado and a bowl of pico de gallo, too — always a tasty perk.
SAN JUAN DEL SUR
Just as I feared I was getting — gasp — a bit sick of gallo pinto, I arrived at the beach town of San Juan del Sur. Located on Nicaragua's Pacific coast, the variety of meat-free dishes soared here. Barrio Cafe served up perhaps the most delicious dish I had during my few weeks in Nicaragua: crisp spinach and gorgonzola empanadas.
This was the first blue cheese I'd seen on a menu in Central America, and the salty gorgonzola perfectly complemented the spinach without being overpowering. Fried rather than baked (creating tiny bubbles on the surface) and served with a tangy tomato salsa, these crunchy-and-creamy empanadas were outstanding.
I've avoided talking about pasta here, because a basic vegetarian spaghetti is usually the baseline when it comes to meat-free offerings wherever you are in the world. But sometimes a pasta dish is worth its salt, and Barrio serves an excellent penne pasta in a white wine cream sauce with succulent sun-dried tomatoes. It's not cheap here, but if you're on a budget it's worth going in for a drink and the empanadas alone.
Staying on the pasta theme for a moment, the tiny Dale Pues House of Sandwiches has the best penne dish in town, which came as a big surprise. Their tequila chipotle cream pasta with sautéed onions, fresh lime, cilantro and a savory crunch of green peppers was exceptional — better than Barrio's and much cheaper, too. But the best Italian in San Juan del Sur is Restaurante y Pizzeria La Terraza, where the tender gnocchi in zingy basil pesto is as good as any I've tried in Italy.
The one restaurant in San Juan del Sur that all vegetarians must surely poke their head into is Buddha's Garden, a hidden gem attached to a yoga studio that serves up raw vegan food. Buddha's Garden is known for its wide range of healthy juices and smoothies: It's hard to pick one, so if in doubt go for the Buddha Beauty (pineapple, watermelon, celery, kale and cucumber).
Torn between so many food choices, I decided on a selection of appetisers: juicy yet crisp vegetable gyoza dumplings, and fat, refreshing Thai noodle rolls stuffed with carrot, jalapeño, cilantro and red cabbage, with sesame soy ginger dipping sauce.
The best dish, however, was the lemon roasted Lebanese cauliflower. After sizzling away until they're a warm, deep brown (you can hear and smell this from kitchen), the roasted florets are tossed in cumin and sumac, bringing out that magnificent mild and nutty flavour.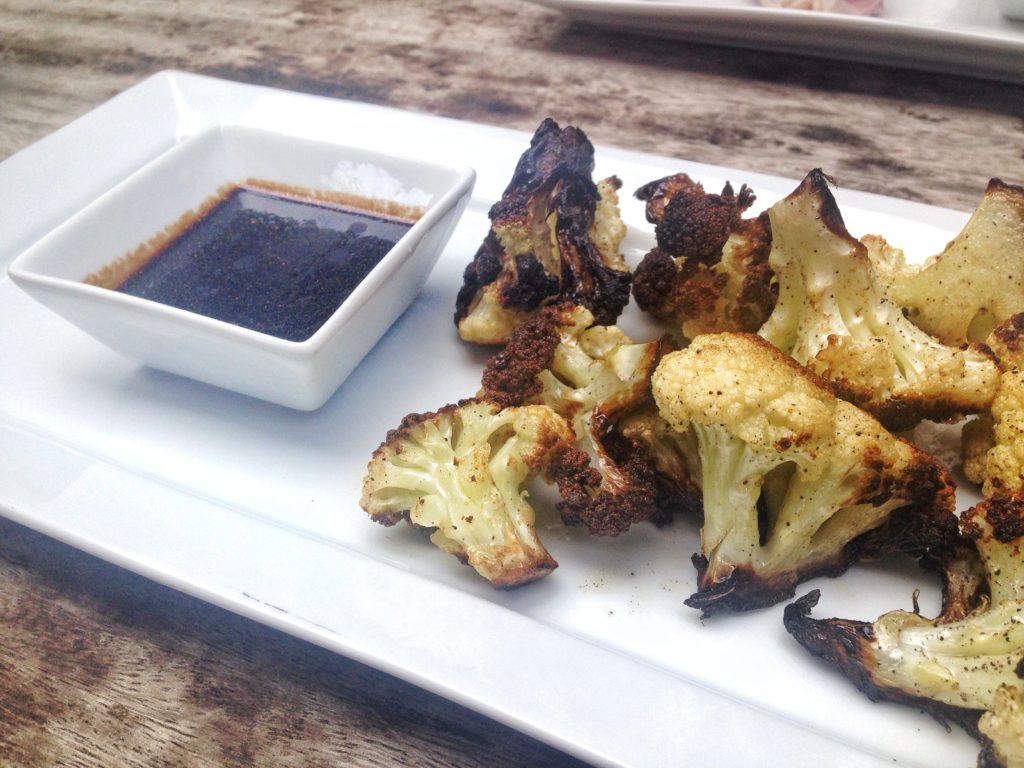 With so many meals revolving around vegetables, rice and beans, Nicaragua is definitely veggie-friendly. Yet, while the prevalence of gallo pinto means not having to worry about protein, sometimes there's only so much rice and beans you can eat.
Nicaragua is a country of towering volcanoes and staggeringly beautiful beachside vistas, a country where the people are warm and animated and the energy is vibrant. It pains me to say it, but the food, in comparison, just felt a little bland.
In countries like Mexico, Belize and Guatemala, the vegetarian choices may have been more limited, but the flavours were always there, be it in the rich, tangy sauce of huevos rancheros or in the spicy broth of a vegetable stew. This doesn't mean excellent vegetarian food can't be found in Nicaragua. It can. You just might have to look a little harder for it.