Ahh, Antigua Guatemala. It seems crazy that I've been on this planet for almost 28 years and yet until a few weeks ago had no idea how utterly incredible Guatemala is. It honestly stunned me. Why don't more people come here? It's been popular with backpackers for years, but why it isn't as common a holiday destination as nearby Costa Rica is beyond me, particularly when it's vastly cheaper.
Turns out, people are waking up to how sensational this country is. For years civil war and the subsequent poverty were adept at warding tourists off, but in recent years tourism is up 26%, thanks in part to the country's reputation as being the Mayan heartland of Central America. But there's so much more to Guatemala than that.
We spent two weeks in the small colonial city of Antigua Guatemala while Tom took a Spanish course and I tried to get up to date with work and blogging. It was the first place where I seriously felt I could live and I could have easily, easily stayed longer. So what exactly is so great about Antigua? There are too many factors to count, but here are just a few reasons why we fell in love with this gorgeous place.
1. THE LOCATION
It's hard to imagine a more stunning setting for a town. Surrounded by no less than three towering volcanoes (one active), swathes of dense evergreen forests and sweeping mountains, the views are seriously impressive whichever way you look.
Every time we turned a corner on the cobbled streets and caught a different view of our surroundings it was impossible not to reach for the camera yet again. Volcanoes just don't get boring – particularly when they're spewing smoke and looming dramatically through the mist.
2. THE FOOD
The food in Antigua is excellent. And it's very veggie friendly, particularly when it comes to street food. In Mexico trying to navigate which dishes were safe to eat was tricky, but in Guatemala "vegetariana!" is one of the words they use to entice you over to their stall.
We ate several times at Samsara, a slightly hippie place (think pan-pipes and celestial posters) that was great for veggie lunches and breakfasts – the scrambled egg with kale, onion, garlic and turmeric was so good, and Tom really enjoyed his traditional Guatemalan breakfast. The veggie tacos at Samsara (on black corn tortillas) were also pretty enticing.
Antigua delivered my favourite street food of the trip so far – in particular delicious little savoury pastries stuffed with potato and topped with guacamole, tomatoes, onions and coriander. I also enjoyed a slightly-bonkers taco filled with spaghetti and vegetables. Carbs on carbs is usually a winner.
Both Tom and I loved rellenitos – sweet mashed plantains stuffed with chocolate, refried beans and cinnamon, deep-fried and then topped with sugar. Essentially they're Guatemalan doughnuts… sounds slightly odd but they went down a treat; sweet but not sickly and wonderfully, delightfully moist. No other word will do in this instance.
3. THE ARCHITECTURE
I'm not going to pretend that I'm an architectural whizz or that looking at buildings is especially high on the list when we go to a new place. But there are exceptions, and Antigua (like Oaxaca, Mexico and Trinidad, Cuba) is one of them. These three towns are all incredibly well-preserved colonial gems, and Antigua is definitely the most spectacular. From the bright coloured arches to the intricate churches and the exclusively cobbled streets, Antigua is just a beaut all round.
4. THE MARKETS
Do you want fresh, delicious and super cheap Guatemalan street food? Fancy some pirate DVDs of all the new releases and an enormous bag of lychees?  Want some authentically woven Guatemalan clothes, bags and place mats? Feel like buying some avocados and an enormous machete? (Um…yes). Good, because Antiguan markets have all that and then some.

Tom and I got into the habit of browsing the stalls almost every day, buying exotic fresh fruit and veg and a DVD to watch in the evening (Tom was at school so no partying during the week!). Even on grey days the markets were so colourful and vibrant (I'm definitely going to overuse that word on this blog, sorry in advance) and were the best place for Tom us to try out our Spanish.
5. THE PEOPLE
One of the reasons we enjoyed going to the markets so much was simply interacting with people. Guatemalans are just the best. I'm generalising here, but aside from the Cubans who seem almost indecently happy and laughter-prone (nothing is that funny!), Guatemalans are just the friendliest and most welcoming people you can imagine.
As foreigners in a new country struggling with the language, Tom and I have both realised what a genuine smile can do to make you feel comfortable, and in Guatemala everyone smiles at you. You know how you can hear the smile in some people's voice when they talk? That's how most Guatemalans we met spoke. Call me soppy but it really is heartwarming. 

As mentioned, Guatemala is considered the Mayan heartland of Central America, and it's the only country where the descendants of the old Maya make up over 50% of the overall population. The indigenous culture in Antigua is thriving, and everywhere you go traditionally dressed men, women and children are selling their handmade goods.
It really is like stepping back in time: from the men lifting piles of logs from thin straps round their foreheads to the gold-toothed women with huge bowls of fruit balanced precariously on their heads, so much of the Mayan way of life remains utterly unchanged, despite the tourism here. But, everything is so bright and vivid and different that I got carried away taking photos and made a serious faux pas.
Some Mayans don't like to have their photograph taken as they believe the camera can steal their soul. This is why some of the people in the photos below are covering their faces. I had no idea about this until I looked back at the photos, saw their hidden faces and then googled it. Lesson learned: I will never obnoxiously snap without permission again.
6. THE VOLCANO
One of the perks of having volcanoes around you is that you can climb them, if you're so inclined. Tom and I were, so we took the half day tour (2pm to 8pm) to Pacaya Volcano. At 2,500 ft high, you're meant to be able to enjoy the most incredible view from the top. Unfortunately for us it was pissing down all day and excessively misty. We reached the summit soaked, tired, weak from altitude sickness (which weirdly made my hands swell up) and were rewarded with a view of…. this…
Still, it wasn't all bad. We got to toast marshmallows on the rocks that were still hot from the last eruption three years ago, and we looked cool in our disposable ponchos too (strong look). Just being inside an active volcano was exciting in itself, with the bizarre lunar landscape, heavy mist and streams of smoke still spouting from the summit.
7. THE CHOCOLATE
The food situation in Antigua is already decent, but the town is also known for its chocolate.  There are several chocolate/cacao museums worth visiting which are usually free, and they have chocolate shops attached where you can buy everything from chocolate liqueur to chocolate body butter to solid blocks of chocolate you melt and drink.
The shops are expensive, but if you're watching the pennies you can just try out all the cosmetic testers and leave with a moisturised face smelling of chocolate and coconut. The smaller snacks aren't too pricey either; we were 'healthy' and went for the chocolate covered strawberries.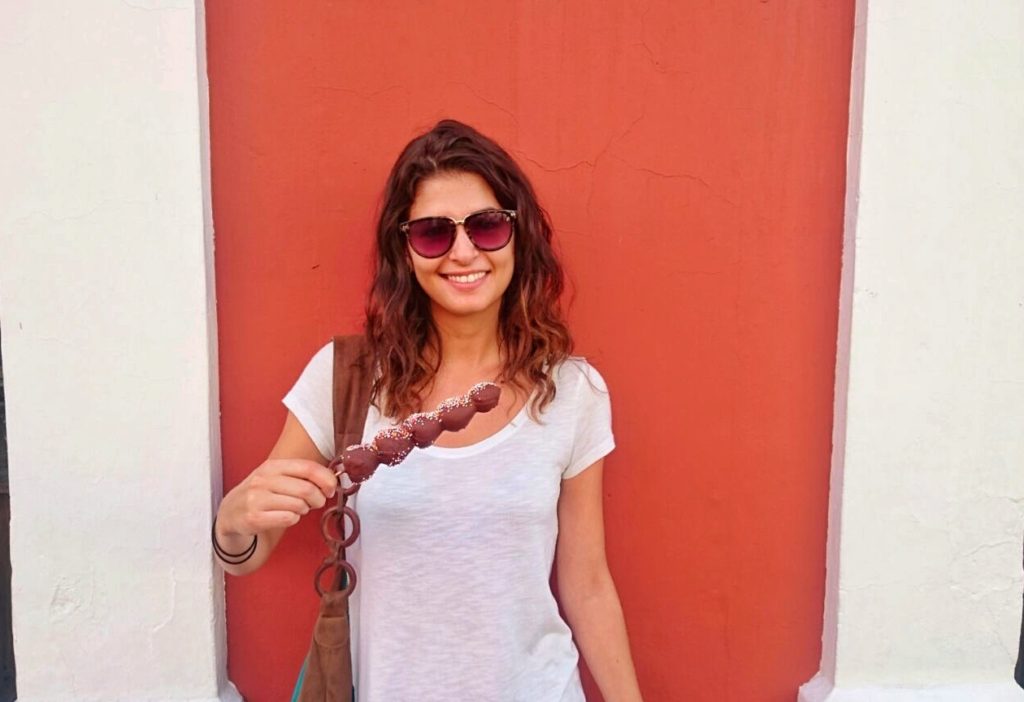 8. THE COFFEE
The coffee in Guatemala, like much of Central America, is divine (thanks to the quality of coffee here I can finally consider myself officially grown-up, because I will now only drink it black). The volcanic landscape of Antigua is perfect for growing coffee beans, and as part of his Spanish course Tom was lucky enough to have a tour of a local coffee farm situated on the falda (skirt) of the volcano.
The farmer proudly showed off his plantation and coffee crop (the beans are actually red and look like cherries – I had no idea!) and Tom bought a pack of coffee to take home which, adorably, had a photo of the farmer on the front.
I could go on listing reasons to love Antigua (and 10 points would certainly sound better than 8) but this post is already long. I loved every minute of my time in Guatemala but Antigua was the highlight for me and I would urge anyone thinking about their next holiday to seriously consider it (it's cheap, too!).
This was the first time I felt truly sad to leave a place. Yes, we could have stayed longer in Caye Caulker but there was no lasting sad pang when we left, no urge to soak up every last bit of the environment before it was too late. On my last night in Antigua I felt almost nostalgic for the place, which is mad as we were there for less than two weeks. But (after a few glasses of red) I was looking around desperately trying to emblazon this town on my mind, tracing the old walls with my hand as if it's the last time. Which it may well be, but I hope to goodness it's not.
Antigua, if I have my way, I'll be back. And for those who haven't been, I urge you, please… GO.
Next up: Exploring the rest of Guatemala: Flores, Tikal and Lake Atitlan