Of all the countries we're visiting on this trip, Colombia has drawn the strongest reaction. The country's reputation for drugs, kidnapping and murder is well established, but nowhere else is more infamous than Medellin, once dubbed the "most dangerous city on earth".
This was a city utterly torn apart by cartels and drug lords, and none were so notorious as Pablo Escobar. To give an idea of the scale of it all, in the early 90s Escobar's net worth was estimated at $90 billion. The success of the Escobar-orientated show Narcos has brought Medellin to the forefront again and, though the city has changed, the interest from outsiders has not abated; the Pablo Escobar tours are one of the most popular activities here.
Shaking off such a dubious reputation is not an easy thing to do. My dad's (half-jokey?) response to hearing I would be visiting Medellin was, "Just so you know, I don't have the money to pay a ransom for you!" But step away from the Pablo Escobar porn, and Medellin today showcases one of the most dramatic city reinventions in history. Here's why you should visit this creative, exciting and incredibly complex city.
The Panorama
Holy smokes, Medellin! Since travelling we've visited some incredible looking towns and cities, but Medellin takes first place for dramatically impressive location. And I couldn't stop raving about Antigua Guatemala's volcanic setting, so you know that means Medellin must be pretty spectacular. Situated in a steep, green valley, the high-rise skyline is set against towering mountains and stern grey clouds. This is a city that's impressive from every direction.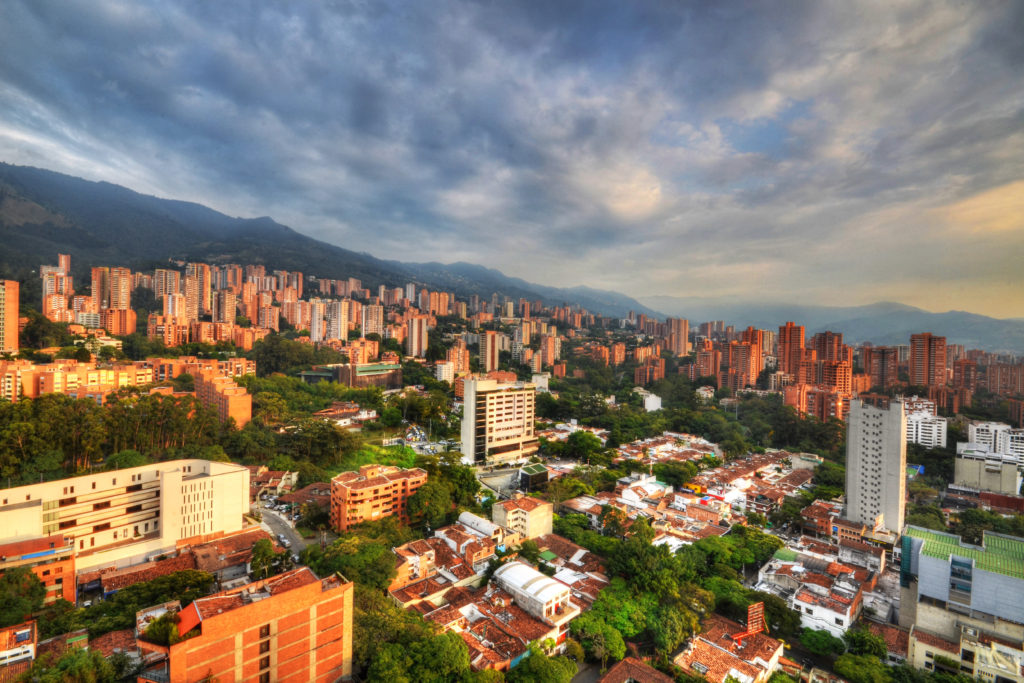 The Free Walking Tour
The most popular activity in Medellin is the free walking tour by Real City Tours. A free walking tour?? Well, not reeeeally. The tour itself is free but you're expected to tip at the end, and generously, so those hoping to tour the city without paying a penny are out of luck.
Still, the walking tour is fascinating and the guides are knowledgeable and passionate. Our guide Juan had a blazing argument with a passerby who took issue with his viewpoints on the monumental Colombian referendum the day before. There was a lot of swearing, hand waving and shouting while we gawked from one to the other awkwardly (gotta love that Latin spirit). The guides are excellent and absolutely deserve a big old tip. 
The tour takes you through downtown Medellin as you learn about the city's tumultuous history and the culture of the Paisa people of this region. The old stereotype in the rest of Colombia is that paisas are arrogant bullshitters with a certain flair for moneymaking and business… While these are clearly huge generalisations, Juan proudly confirmed he's a brilliant bullshitter.
One thing that stuck out was how happy Medellin residents are to see tourists. Tourism is still relatively new here, so tour groups draw plenty of curious looks. On several occasions locals approached Juan and asked him to thank us for visiting their city, and that they hope we return. Shouts of "Welcome to Medellin!" were also common as we walked along. So nice!
Another thing that was noticeable was that the wounds of the cartel years have not yet healed. Whenever Juan referred to Pablo Escobar, he would call him "that famous criminal" to avoid saying his name; similarly, cocaine was always referred to as "the white stuff". Just the mention of Escobar is still upsetting for many people, which drives home how bad things really were.
El Poblado
The 'trendy' district of Medellin is El Poblado, a leafy, upscale area full of hipsters, hostels, restaurants, boutiques and bars. Easily the most popular area with gringos (and subsequently, "gringo hunters"), on Friday and Saturday nights Poblado throbs with music and energy. Open air gyms are a big thing over here, and while I can't say I took advantage of that, Tom and Matthew enjoyed a brief workout with the locals.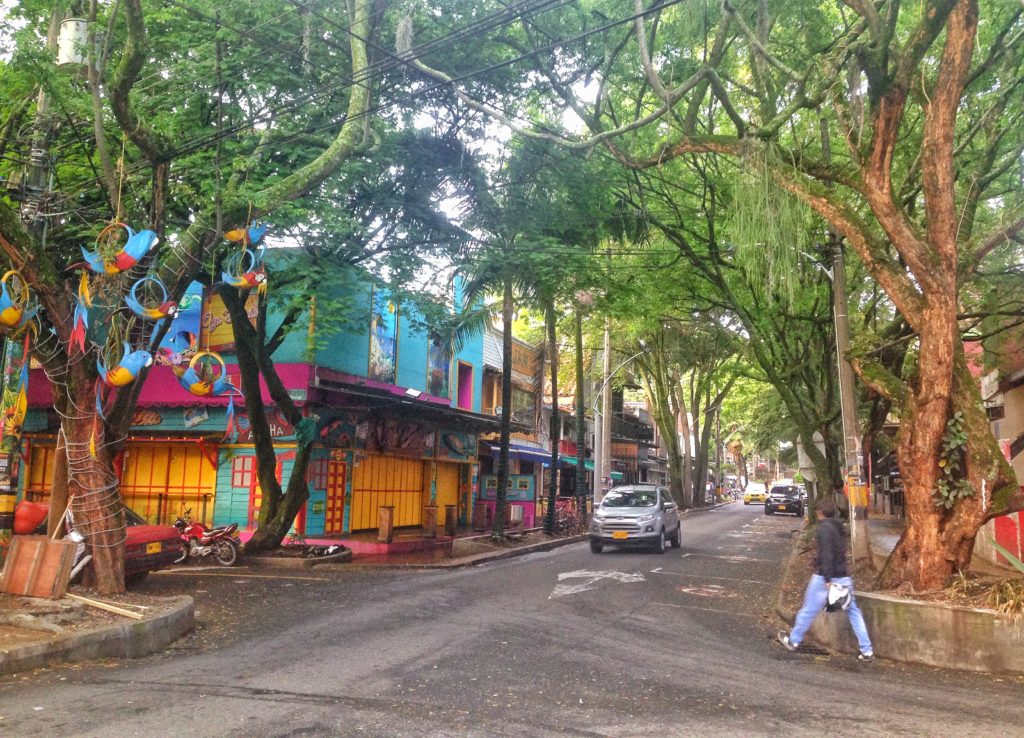 For a seriously impressive view over the city, head to the rooftop bar of The Charlee Hotel, just a short walk from Parque Lleras in Poblado. The cocktails are delicious but expensive (the lychee martini is definitely worth it though…), but the views of high-rise apartments clustered along the treacherously tilting ground make it worth it.
The Cable Cars
Poblado and downtown Medellin are so metropolitan that it's easy to forget you're in Colombia, let alone South America. Many tourists tend to stick to Poblado, hopping only from hostel to restaurant to bar. This is such a mistake! Medellin has an excellent metro system, and taking a ride on the cable cars will give you a glimpse of a whole other side to this city.
The new cablecar network (line K) will take you from the main metro line all the way to Parque Arvi, a beautiful natural reserve just outside the city. The further away from the centre and into the valley you go, the shabbier the neighbourhoods become, until you're cruising right over colourful hillside slums. The views are so good you don't even have to get off the cable cars for this to be an experience and a half. But you definitely, definitely should get off, ideally at…
Santo Domingo Salvo
Before it reaches Parque Arvi, Line K will take you to the once notorious Santo Domingo Salvo, where Escobar used to sniff out, pun intended, his newest recruits. It's crazy to think that just a few short years ago this district was entirely out of bounds. Residents would hide in their homes after 5pm, gang members wandered the streets with guns and machetes, and even the police refused to set foot here. Coming here as a tourist would be tantamount to a death wish.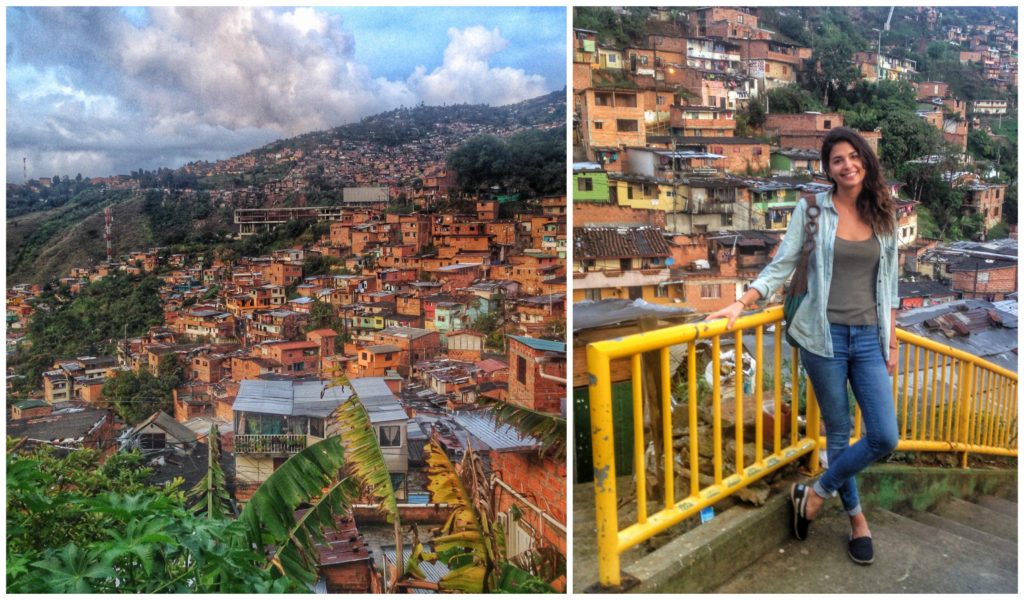 Today, thanks to enormous investment, Santo Domingo is a lively but laid-back area where kids play football on the streets and litter is almost non-existent. It would silly to pretend this area is now totally crime free, so I won't.
Statistically, it remains one of the city's most dangerous areas: in 2014 there were 14 murders per 100,000 people; to compare, NYC has 4 murders per 100,000 people. Still, this is down from 94 per 100,000 in 2010, a significant drop which shows this district is heading in the right direction – and quickly.
Our experience here? At no point did we feel remotely unsafe. I wouldn't wander around at night (though it was dark by the time we left Santo Domingo), but exploring this area was one of the highlights from our time in the city.
The Food
Colombian! Thai! Vegan! Being such a modern metropolis, the food options in Medellin are plenty, and having access to international food was absurdly exciting. While I'm not wishing our time in South America away, I am very excited about the food in South East Asia. I've been craving veggie pho for a long time, and while I didn't find that in Medellin, I did find a vegetarian Tom Yum – close enough!
My favourite restaurant was Verdeo, a vegetarian restaurant (surprise surprise) in Poblado. They serve up some delicious veggie-friendly Thai soups, but the best thing on the menu was the almond, tomato, ricotta and asparagus tortellini. Seriously good.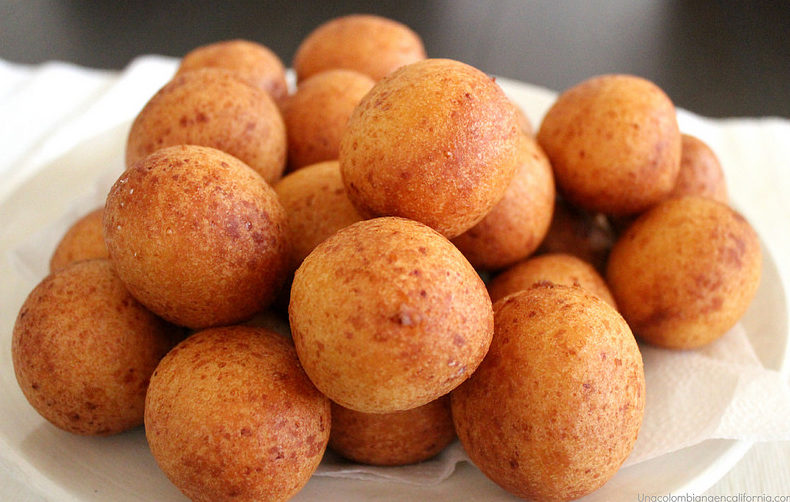 While in Cartagena the street food snack of choice was cheese arepas, in Medellin it was mainly meat empanadas, which I obviously had to forgo, and buñuelos de queso – cheese balls, which were nice but kinda dry. Arepas remain our favourite Colombian street food by a mile!
The Nightlife
You can't write about modern Medellin without mentioning the nightlife, and it's certainly different from anywhere else we've been so far. Instead of the ubiquitous reggaeton and salsa, most downtown clubs thump out grimy techno music, and the dancefloors churn with gurning gringos and locals. Yep, gurning. Because, despite this positive blog post and Medellin's rapidly rising tourism, it's still hard to talk about this city without mentioning 'the drug thing'.
The days of Narcos are over; Pablo Escobar is long dead, killed in a hail of gunfire, and Medellin has become a 'safe' city. So is cocaine really still so prevalent here? Err… basically, yeah. Despite the presence of the police, the obviousness of the buying and selling can seem shocking. If you go downtown in the evening, you will be offered cocaine – guaranteed – and at the end of the night, the floors of clubs and bars are littered with a sea of empty baggies.
The bloody horrors of the cartel years may still be raw for many, but Medellin's reputation for "the white stuff" has also played a large part in its revival. In the past decade, party-tourism (basically people who come to the city to take lots of coke) has boomed, and when drugs are significantly cheaper than alcohol, it's perhaps not hard to see why. But, it all comes down to supply and demand: Medellin may supply it, but overwhelmingly, it's the gringos who demand it.
* * *
So, that was our time in Medellin. We stayed for nearly three weeks – longer than anywhere else so far – and how much this city has changed in such a short time almost defies belief. Felicitaciones, Medellin! We loved your city.
 Next up: We head back up north to further explore Colombia's Caribbean coast and get some more sun before Peru.