"The only way to experience Yosemite is by sleeping under the stars." I read this years ago and it stayed with me. I'd wanted to visit California's Yosemite National Park for a long, long time, and this January we got the opportunity. Sleeping under the stars, however, was out of the question, because our visit coincided with the heaviest snowfall in years.
Driving up from Napa, we wondered just how bad the snow could be. I knew Yosemite Valley had been closed a week or so before due to flooding and snow, and the radio kept warning us about "severe snowfall in the Mountain Region". But we were only about ten miles from Yosemite, and the skies were still a clear blue, the ground dry and snow-free. What was everyone talking about??
About five miles from the entrance to Yosemite we began to see the first patches of snow on the ground. And then, suddenly, in no time at all it was everywhere. As Brits, we'd never seen snow like this, and I began to feel silly about scoffing at the idea we'd need chains for the tyres.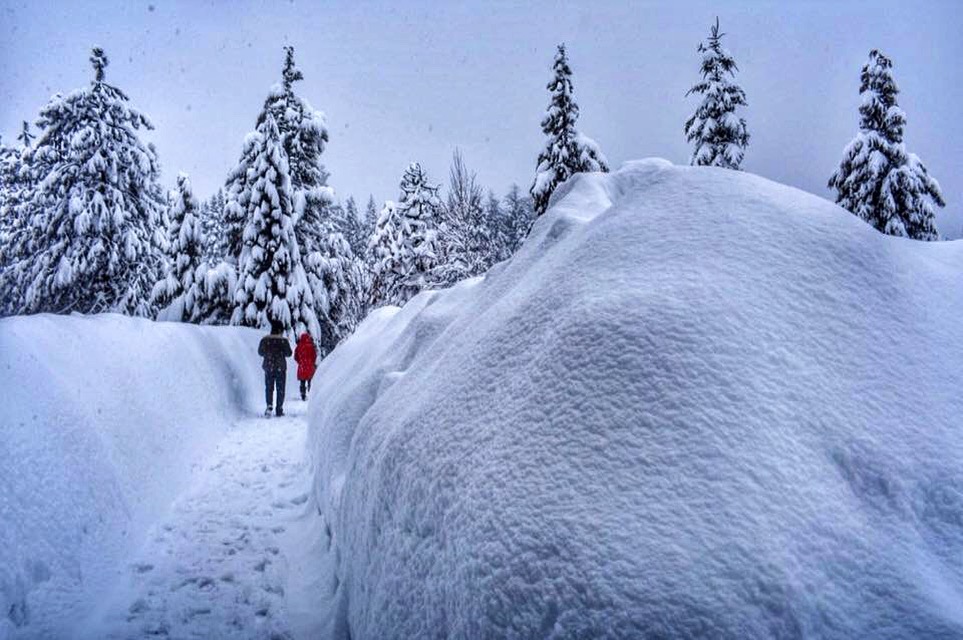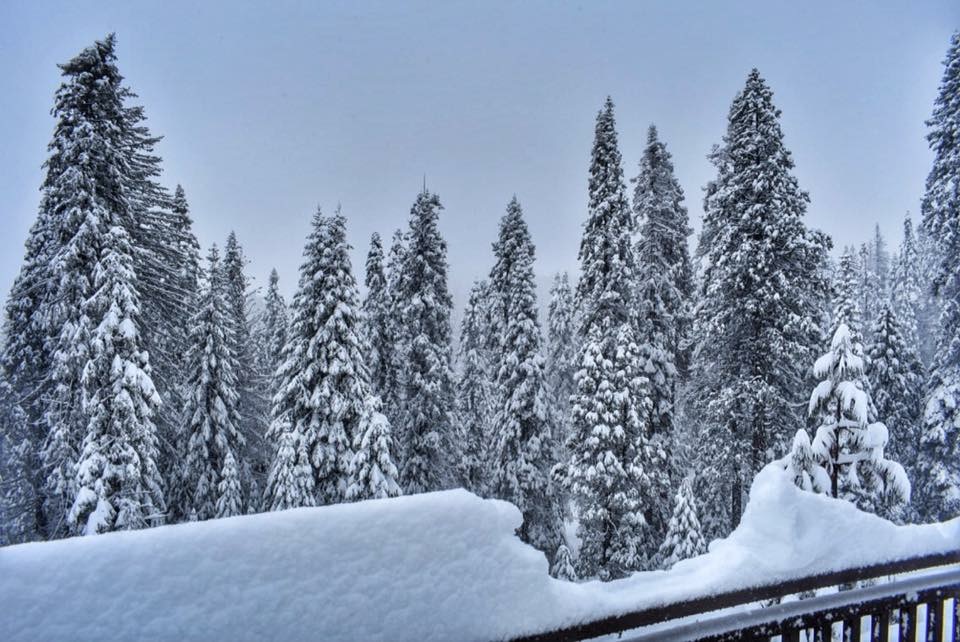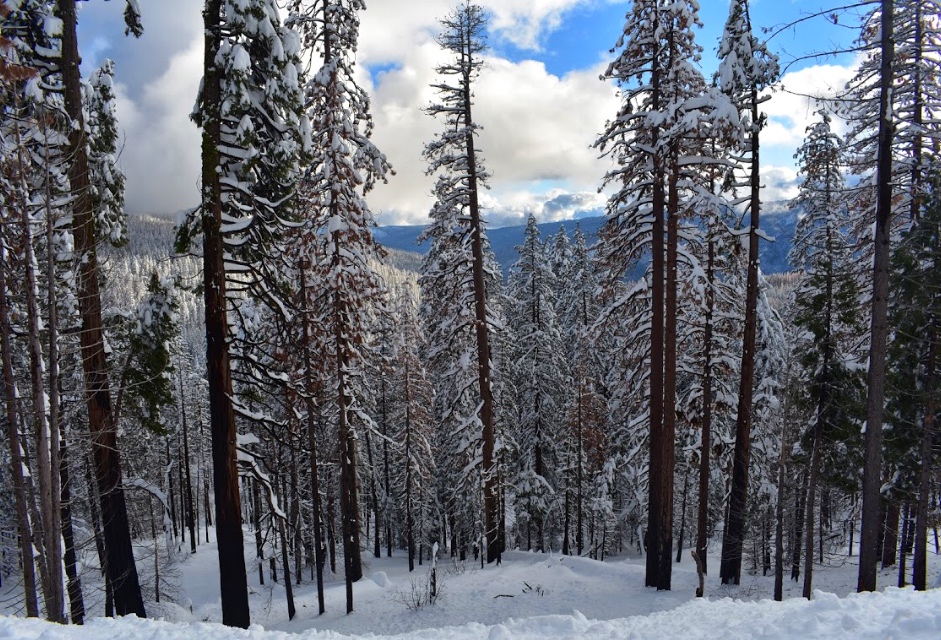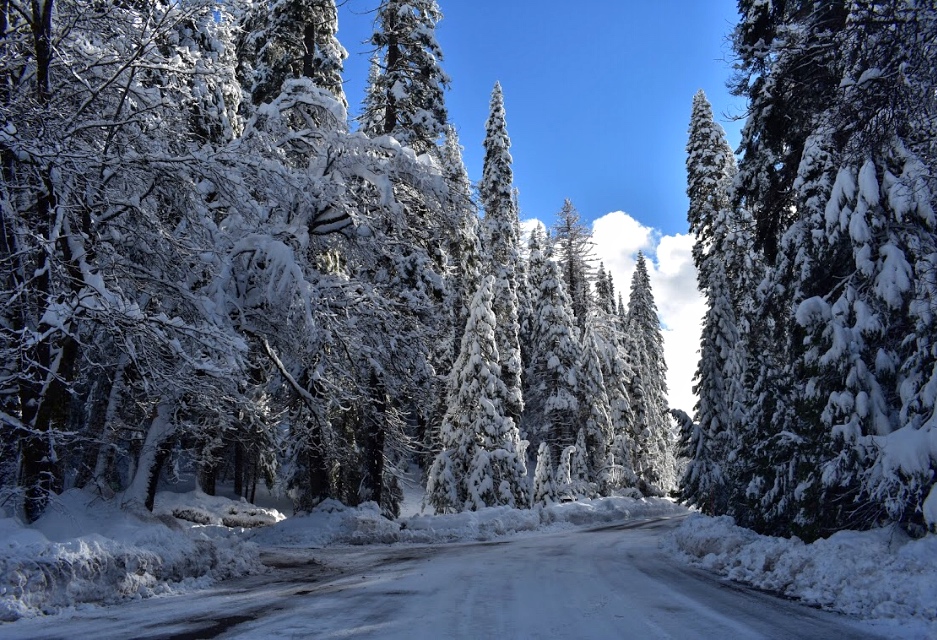 Keeping Warm In Tenaya Lodge
We stayed at Tenaya Lodge, a AAA Four Diamond resort that's ranked as the second best hotel in Yosemite (I'd rank it first though – more on that later). I'd had visions of us going for long sunny walks and returning to the lodge to soothe our muscles in our spa bath after a hard day's hike. But it wasn't to be, because it snowed so much that all the roads were closed.
Being snowed in when you're visiting a national park can easily be a downer. But Tenaya Lodge was such a treat that it was so nice to be inside while the snow swirled around outside. It's as cosy as you can imagine, with wooden floors, big beams across the ceiling, patterned rugs in earthy colours and Native American inspired art. It also has all you need to keep you occupied, including an indoor pool and spa.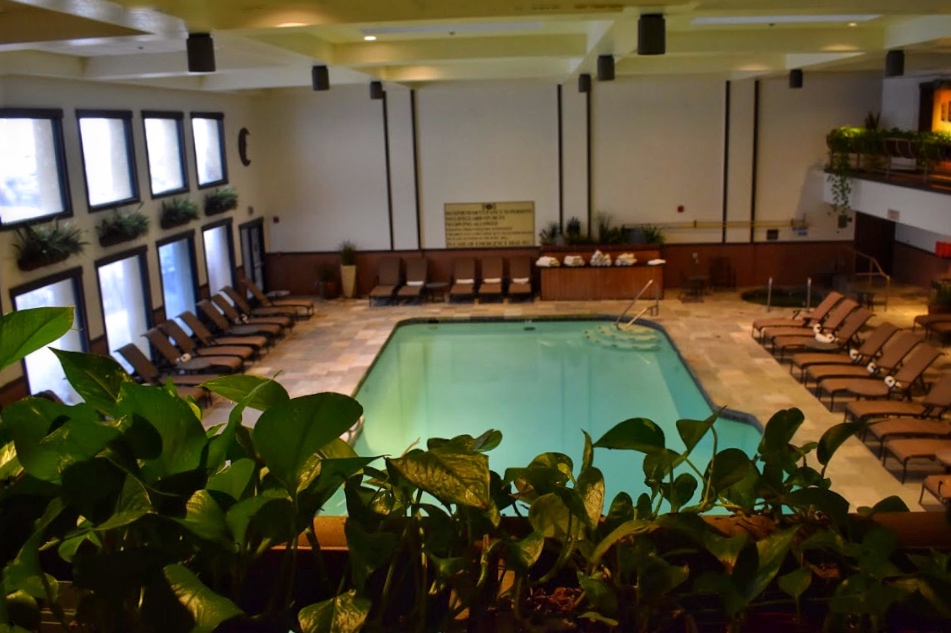 But we had to go outside to experience the snow ourselves. Tenaya Lodge were kind enough to lend us snowshoes to have a hike around the area. This was my first experience with snowshoes and it was quite hilarious. I'd read about people doing seven mile hikes through Yosemite in them, which begs the question – HOW? I flip-flopped around like a fool for a bit and then, after ten minutes or so, abandoned my attempts at a snow hike. Best to keep warm in these conditions, anyway.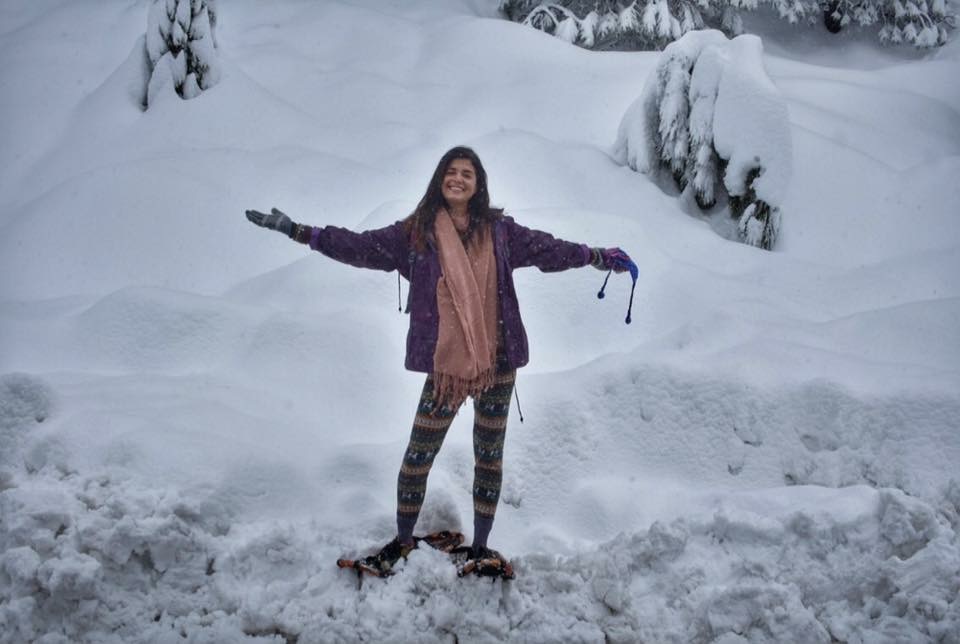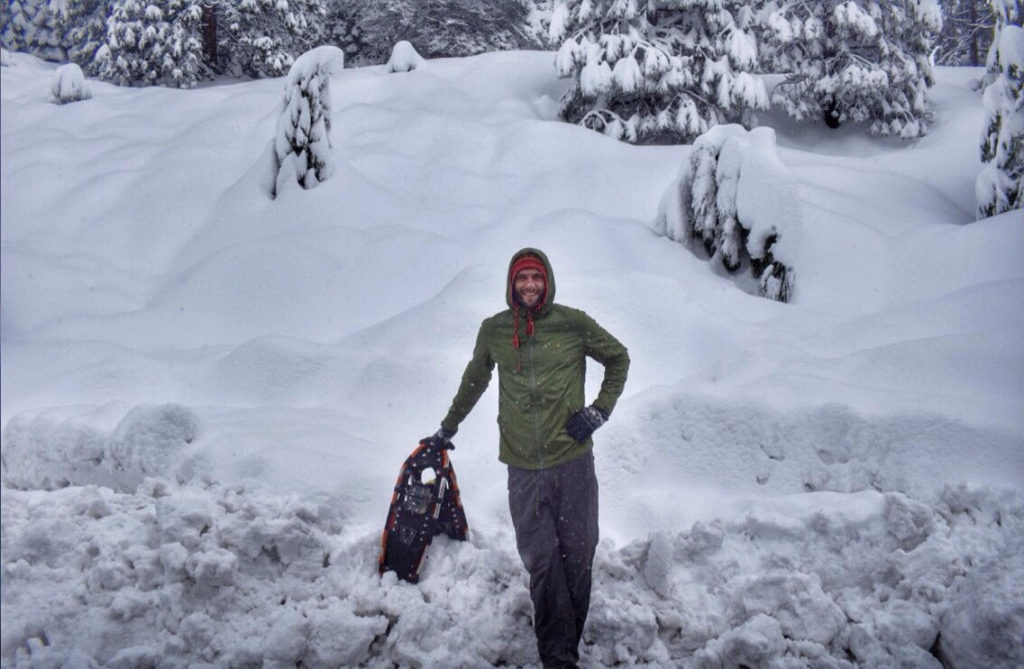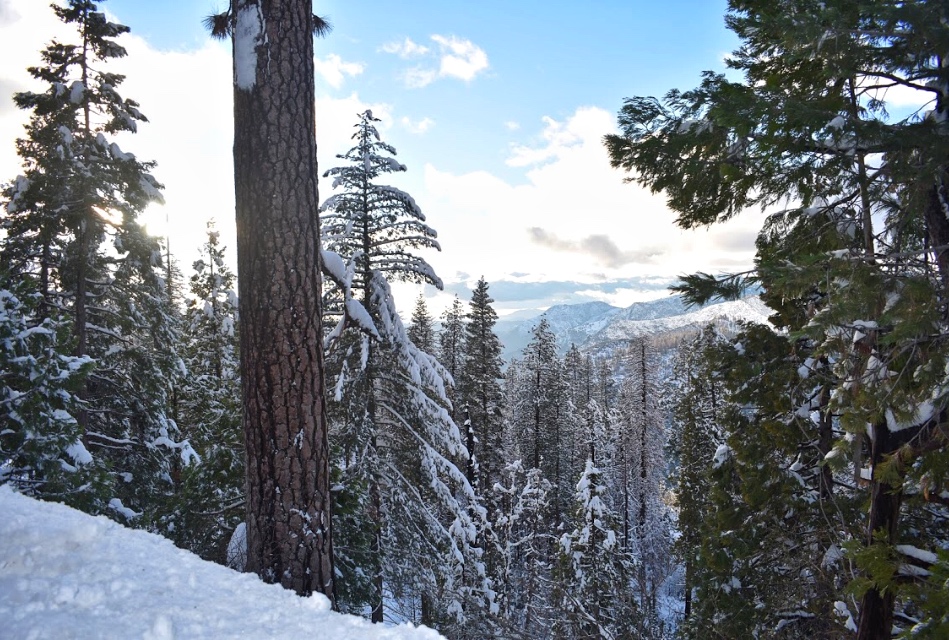 Thankfully, day three dawned bright and sunny. It was pretty special to go out on the balcony in the morning and be greeted with views that looked like postcard from an Alpine ski resort…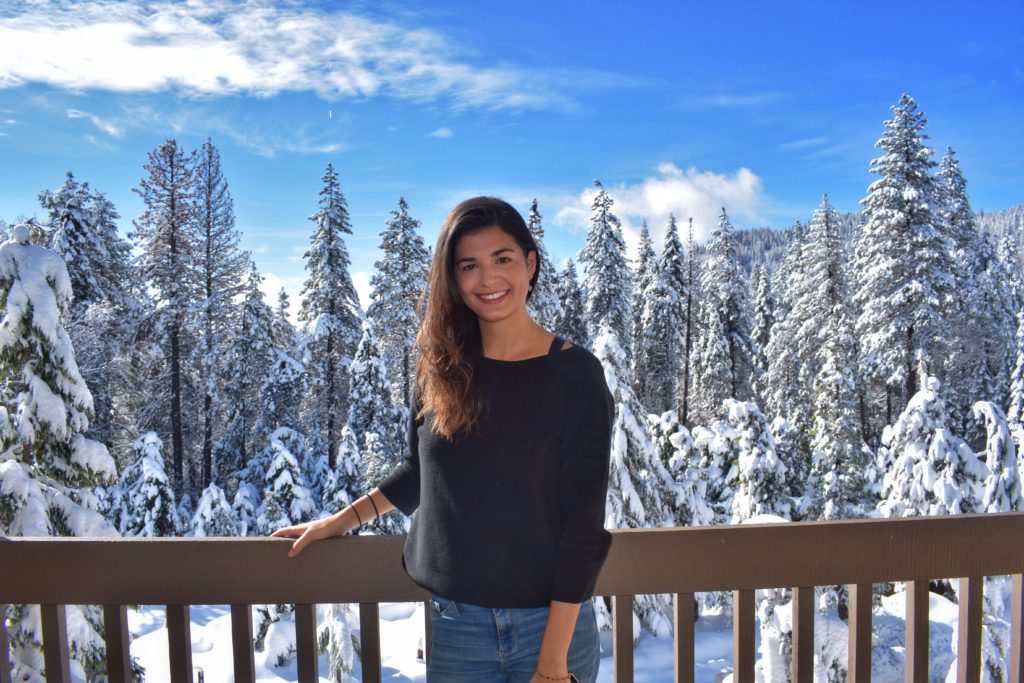 The roads were open again, so we bought chains for the tyres and got on the road to explore the park. Every few minutes we'd have to stop the car to get out and take photos of waterfalls cascading down sheer rock faces, or pine forests covered with a dusting of snow.
It was honestly one of the most beautiful places I've ever seen. I've lost track of how many times I've said that during this trip (turns out the world is really quite beautiful, who knew?!) but some scenery is at its most beautiful with a blanket of fresh white snow. Yosemite is one of those places.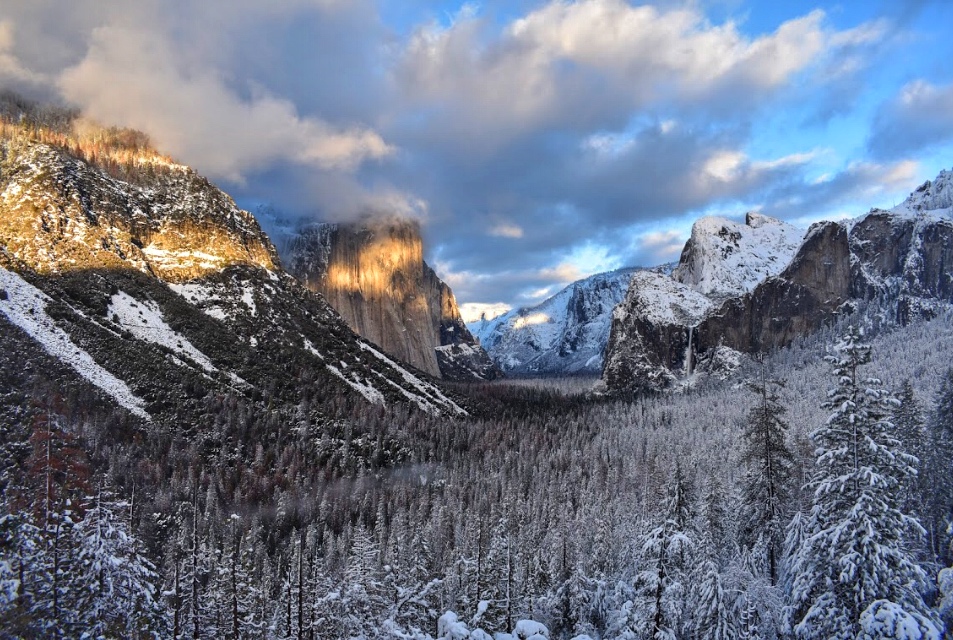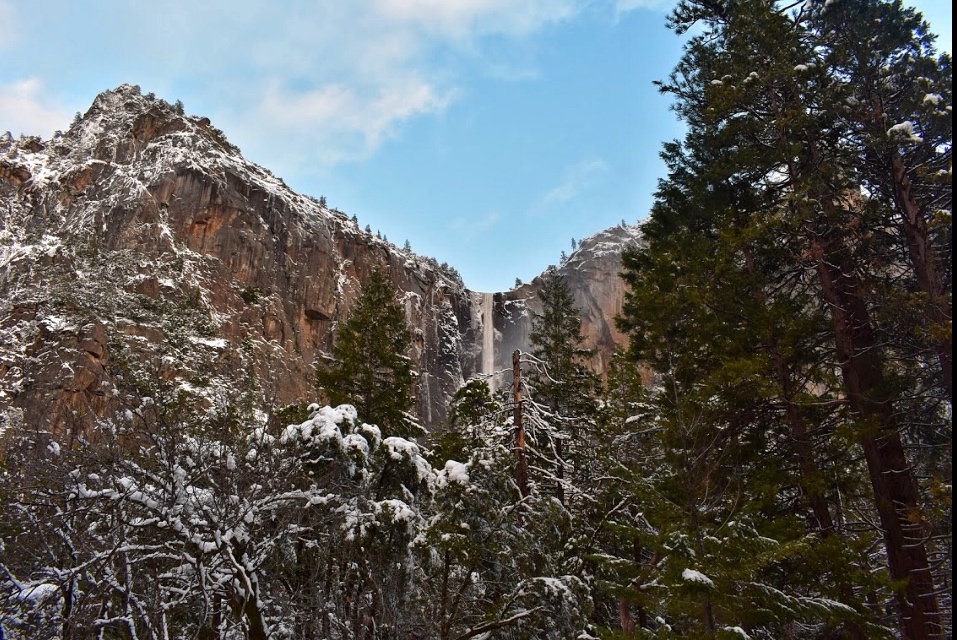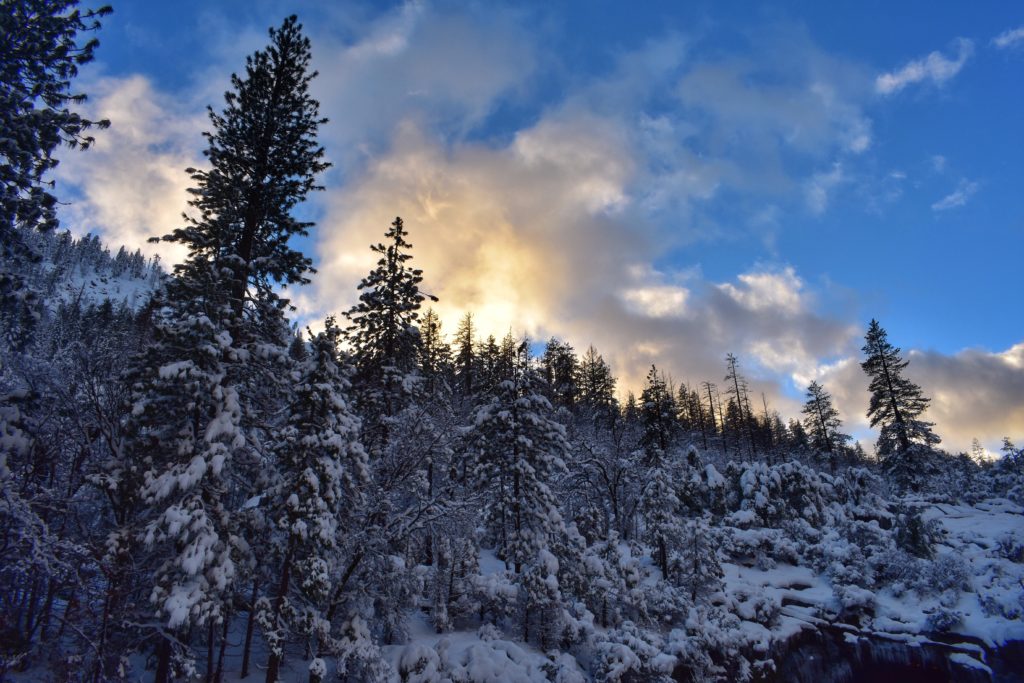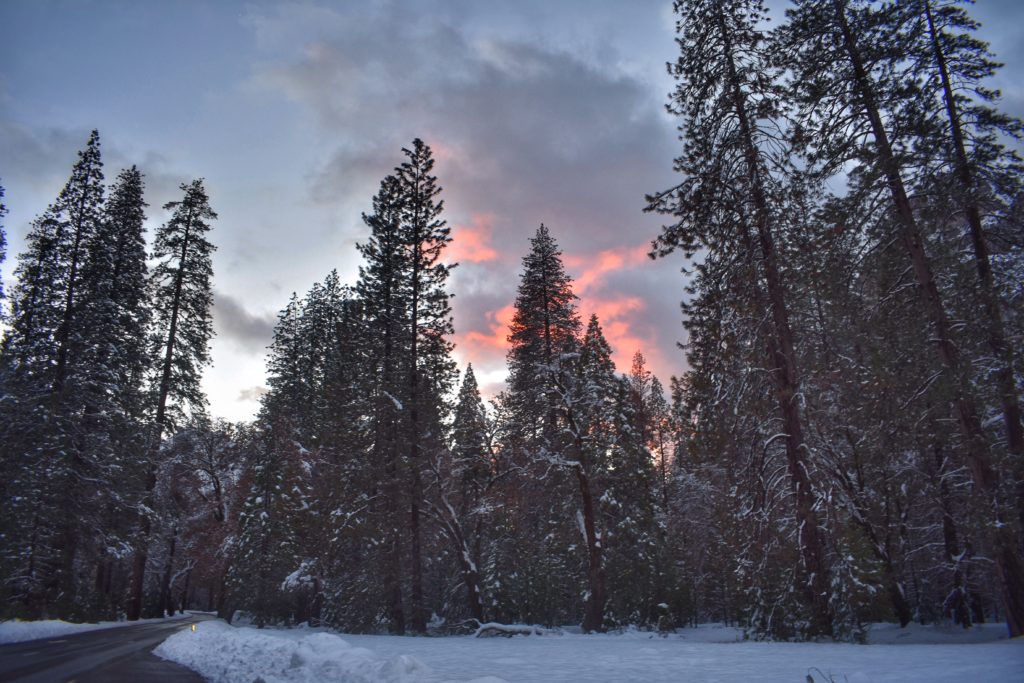 Experiencing The Shining. For Real!
I'll be honest. One of my reasons for wanting to visit Yosemite was the fact that its home to the Ahwahnee Hotel. The interior of the Ahwahnee was the inspiration for the design of the Overlook Hotel in Stanley Kubrick's The Shining, one of my favourite films. My best friend visited last year and told me it was just as spooky as you'd hope. So we had to go.
Aesthetically the Ahwahnee is beautiful, and it really is like walking onto the set of The Shining. Saying Kubrick took inspiration from the Ahwahnee is an understatement; it's more that he lifted the interior design entirely. The elevator lift in particular was exactly the same – although thankfully blood didn't come gushing out when the doors opened, there was just a nice old couple.
There was an event at the hotel so it was busy, which made taking pictures tricky. The only hotel guests I wanted to capture were terrifying twin girl ghosts or wild-eyed Jack Nicholson types. Sadly everyone here seemed sane and human. I was probably the most unhinged person there, walking around taking photos of nothing while quoting The Shining.  "Wendy? Darling? Light of my life, I'm not gonna hurt ya. I said, I'm not gonna hurt ya… I'm just going to bash your brains in!" LOL, classic Jack.
Still, the Ahwahnee was just as chilling as I'd hoped. It really is a beautiful hotel, but I strongly disagree with its ranking as the best hotel in Yosemite, and that's mainly because of the poor service. The girl on the front desk was dismissive, to put it nicely, and on the whole the service, food and overall ambience was vastly inferior to Tenaya Lodge.
We ordered a tomato bruschetta, and what arrived was a bowl of freezing tomato salsa that had clearly just been taken from the fridge, and a basket of cold crispbread. That is not tomato bruschetta! We even had to put the tomato on the bread ourselves – the outrage! Seriously though, at the Ahwahnee's prices it really is pretty poor.
Aside from our friendly waiter, the hotel and its staff just generally didn't feel very welcoming. And not just because I'm obsessed with The Shining and was projecting, Tom thought it too. When we returned to Tenaya Lodge afterwards the difference in service couldn't have been more obvious. All the staff were warm, welcoming and chatty, and the food… Oh the food. It was incredible.
On our first night at Tenaya we ate at the Sierra Restaurant. We started with roasted, caramelised brussels sprouts with toasted hazelnuts and balsamic syrup. It was, honestly, one of the best things I have ever eaten. No one would dislike sprouts if this is the way they were always cooked: flavourful sprouts with crispy leaves that crackled in your mouth, and the gorgeous toasted flavour of sesame seeds. So ridiculously good I can't begin to convey it.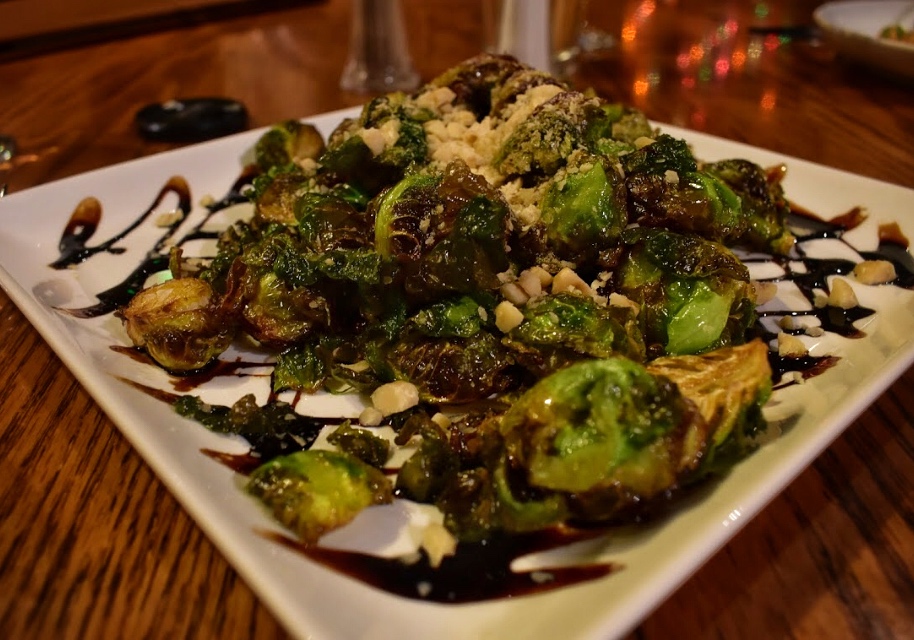 To follow I had the 'Tenaya salad': organic greens, blue cheese, spiced walnut and crisp green apple, and Tom had the Cedar plank salmon: salmon baked on charred incense cedar plank with wasabi mashed potatoes and pomegranate syrup. Everything was so good it blew my mind. To think, I thought being snowed in in the middle of nowhere would result in being served a veggie lasagne salvaged from the depths of the hotel freezer. The food, service and general ambiance were faultless. Take notes, Ahwahnee!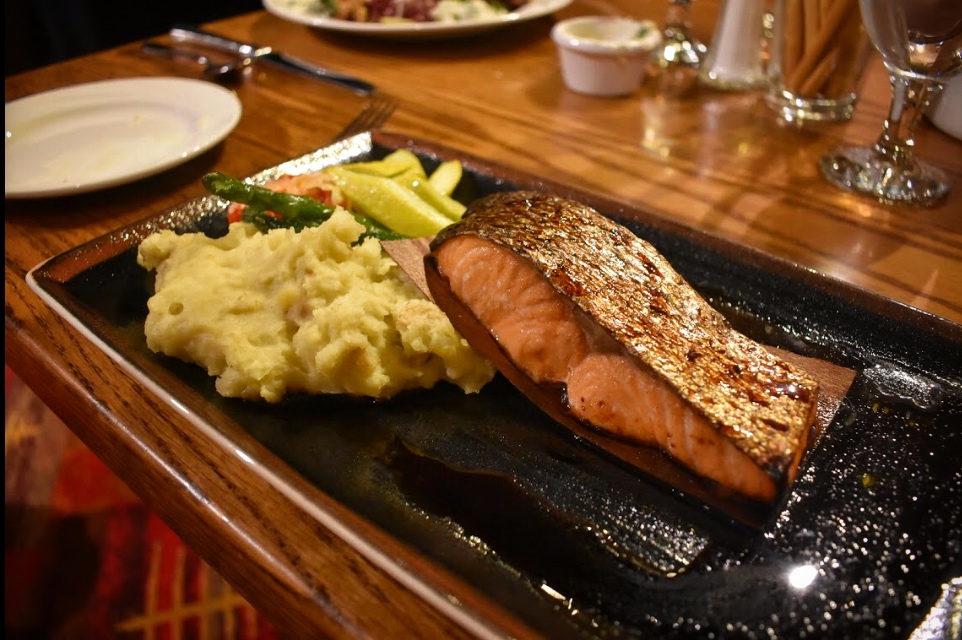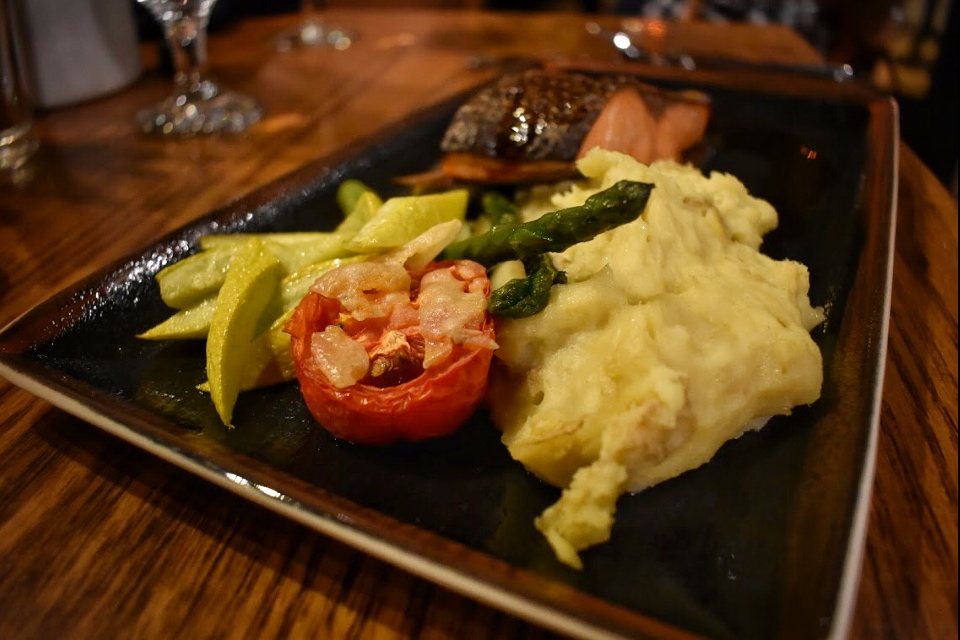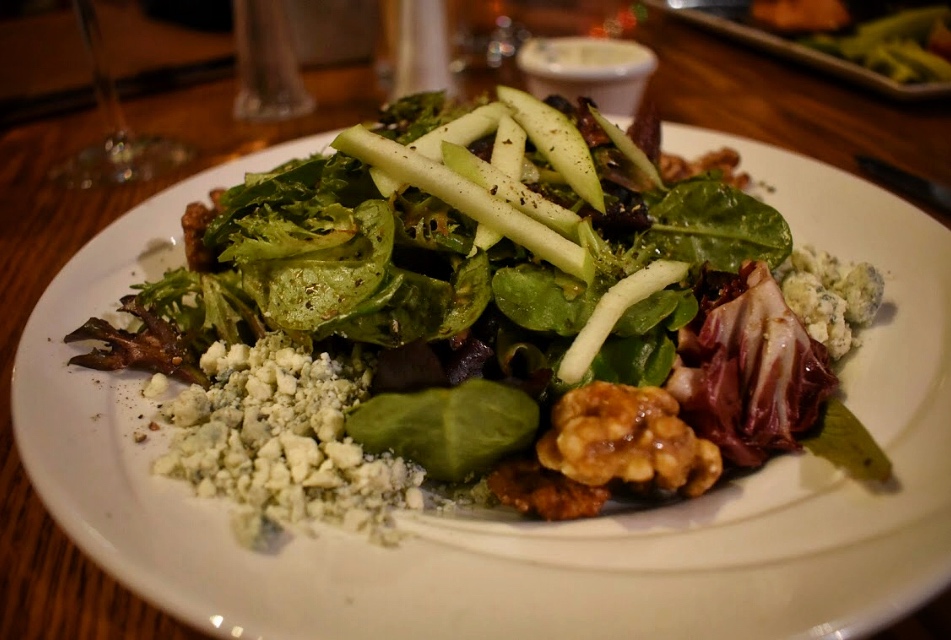 All in all, our visit to Yosemite definitely lived up to expectations, and our stay at Tenaya Lodge was wonderful. We ate some incredible food, saw spectacularly beautiful scenery, got snowed in, visited The Shining hotel and tried (and failed) to get to grips with snowshoes. Not bad for a three day visit.