Of all the countries I visited on my travels, Vietnam is right near the top. While the country is beautiful, the cities are mad (in a good way!) and the people are friendly, the food played a huge part in sealing my love for it, particularly the street food. There's a lot of meat on offer, it's true, but there are also lots of veggies. I was vegetarian when I visited Vietnam and I dined like a queen (check out my vegetarian food guide for Food Republic!) but, thanks to the general absence of dairy here, being vegan isn't much harder.
Since coming back to the UK, I've spent huge amounts of time trying to recreate and veganise my favourite dishes from around the world, like Vietnam's pho and banh mi. We'll get onto nailing the perfect banh mi soon, but for now let's focus on pho (pronounced "fuh"). I love all kinds of noodle soups, but to me, pho reigns king… though I'll feature my vegan laksa and ramen recipes soon, too.
In Vietnam, my favourite memories are of walking into local restaurants and having that deep, warming, aromatic aroma of the pho broth hit; then the bowl is placed in front of you and you dig in: slurping noodles (you can't eat this dish gracefully), chewing succulent tofu and crisp vegetables, and having the intense, diverse flavours offset by fresh coriander ("cilantro" to my US friends!), zingy lime and mint, and slices of hot chilli. Heaven.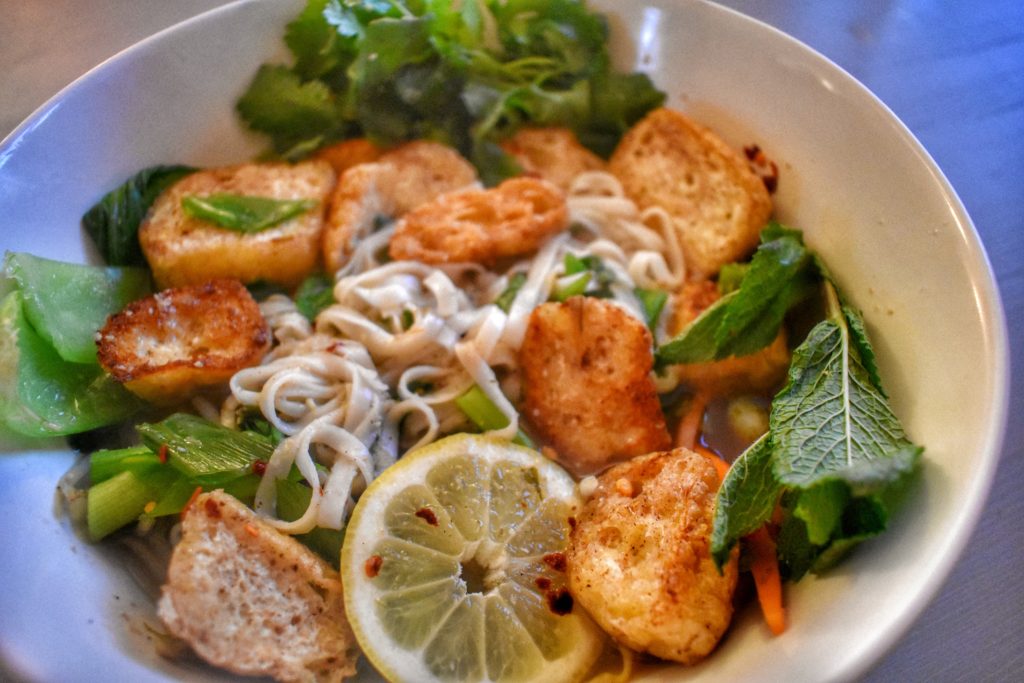 There are hundreds of veggie pho recipes online. I've made about half of them, so this recipe cuts to the chase. If you want to make truly authentic vegan pho, it's going to take a long time. You'll need lots of ingredients that aren't always easy to find, unless you have an awesome Asian supermarket round the corner. If you do, and you have the time for this, check out this excellent vegan pho recipe by Vietnamese cook Helen.
As delicious as Helen's pho is, many of us don't have time for it… but that doesn't mean you can't make a delicious vegan pho in under an hour. That includes the time it takes for the broth to cook… and the broth is the key ingredient to authentic tasting pho. I say "authentic" but there are a few caveats; aside from omitting a few ingredients that were hard to find, or ones I just don't really like (mushrooms, cardamon etc…), there are also some ingredients I added in because I prefer it that way – e.g. garlic, five spice, stock.
There are some ingredients that will always be indispensable: e.g. if you're not using star anise and cinnamon sticks in your broth, it's just not pho; it's a tasty noodle soup, but not pho. But in spite of my tweaks, my pho tasted totally authentic… and when I walked into my flat after popping out while the broth was cooking, it smelled just like the pho restaurants I ate at in Saigon. After so many attempts, I was giddy with joy.
So, here it is. After many trial and errors, multiple recipe tasting and tweaking, here's how to do easy vegan (and gluten-free) pho in under an hour.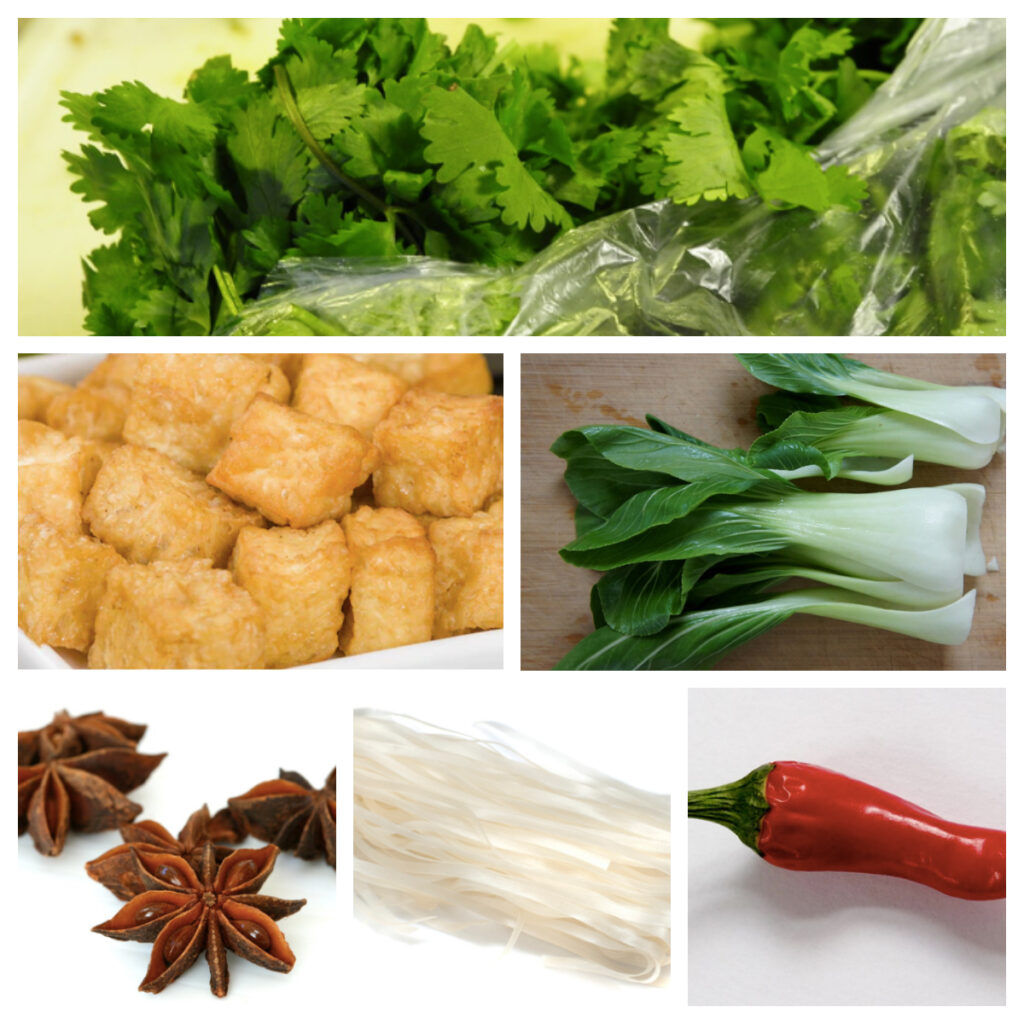 Ingredients
For the broth
2 carrots, chopped
1 apple, quartered
1 onion, quartered (red or white is fine)
5 star anise
2 cinnamon sticks
1 big leek / 2 small leeks, green parts chopped (save the white parts!)
8 cloves
4 gloves garlic, roughly bashed
1 big knob of ginger, sliced into strips
4 litres of water
2 stock cubes (unorthodox, tastes good!)
Salt, to taste

For the tofu & noodles
Pack of tofu (I bulk-buy and then freeze tofu puffs from Asian supermarkets, like the ones above by Tofuking. If you can't get hold of these, use firm tofu: squeeze the water out of it, cut into chunks and fry in sesame oil on a low heat until the edges are browned and crispy)
1 tablespoon five-spice powder
1 teaspoon garlic powder
Chilli flakes (optional)
Salt, to taste
The white stems of the leeks, minced finely
Rice noodles
Veggies/Garnishes
4 pak choi, washed and leaves separated
6-8 spring onions, chopped diagonally
Beansprouts
Fresh mint
Big bunch coriander
1 lime
1 red chilli (Thai chilli if you like heat, jalapeno if you don't)



METHOD
Fill a big pot with 4 litres of boiled water, the stock cubes, and the chopped carrots, leeks and apple and garlic. Turn up the heat and stir.
Cut the ginger into half inch strips, lengthwise, and cut the onion into four slices, also lengthwise. Put onto a griddle pan, along with the cloves, star anise and cinnamon sticks. Cook for a few minutes until nicely charred (just use a frying pan if you don't have a griddle – but fry dry, no oil!), then place into the big stock pot.
Bring to a boil, then lower the heat and simmer. Add salt, five spice and a little extra stock/bouillon to taste.
Slice the tofu puffs in half diagonally, fry lightly in a dry frying pan with the minced leek stems, and add a dusting of five spice and salt. Remove from heat and set aside.
In the same frying pan, add the pak choi, beansprouts and spring onions. Use a little water to cook them for a few minutes, just until slightly wilted. Don't overcook: you want them to have bite. Add garlic powder, salt and chilli flakes to taste (optional).
Cook the rice noodles as per the pack instructions. When they're cooked, rinse under cold water to stop them clumping, stirring with a chopstick or spoon, then rinse again under hot water.
In a large, deep bowl, place the noodles at the bottom, top with the veggies, then add the fresh mint and coriander (NB: I liked to chop them up and stir them in – that way they spread evenly through the soup. Save some coriander for the top, though!) Finally, add the tofu and minced leeks.
Ladle over the hot broth – I use three ladles per bowl – and top with the remaining fresh coriander, sliced chilli and lime. Eat and enjoy!