Despite many people telling me I'd find it hard to find healthy, varied options, on the whole Central America surprised me by how veggie-friendly it could be. The standout was Guatemala, but each country's people offered up their own unique meat-free treats and happily tweaked their dishes for vegetarians. So how hard would it be to find the best vegetarian food in Panama?
Before arriving, Panama looked like it might present the biggest challenge yet. While there are veggie staples you can find throughout Central America, like patacones (fried plantains), I'm keen to try country-specific dishes. Popular Panamanian dishes include issancocho, a chicken soup with yucca; carimañolas, fried dough balls stuffed with meat; and, of course, lots of fresh fish and seafood. The premise of vegetarian food in Panama was not looking good.
PANAMA CITY
Panama's capital is a city of contrasts: On one side, soaring skyscrapers teeter over the shoreline; on the other, cobblestone streets snake through the old town. One factor that instantly set it apart from other Central American capitals (aside from the high-rise skyline) was the distinct lack of street food. Instead, self-service canteen-style restaurants are everywhere, but vegetarians are usually limited to eggs, sautéed and often-bland veggies, and — yes — the ubiquitous rice and beans.
But one perk of being in such a cosmopolitan city is the presence of international food and specialty restaurants. While there are several decent vegetarian restaurants here, like Veggie Moon, these are often absurdly overpriced. A better choice are the dozens of Asian restaurants that line the streets downtown. Though Rough Guide told me that Chinese is usually the best option for vegetarians in Panama City, I'm going to disagree, in large part due to the excellent meal I had at Japanese restaurant Matsuei.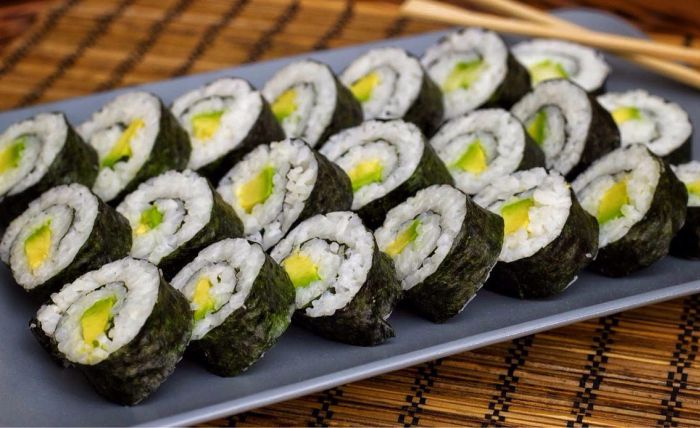 While Costa Rica gave me my first taste of vegetarian sushi in months, eating at Matsuei was like stepping up a class (and the prices certainly reflected that). The vegetarian sushi plates were a delight: creamy avocado and crisp cucumber wrapped in perfect sticky-firm rice and fresh seaweed. Refreshingly, there was no egg sushi on the menu, which appears all too frequently in vegetarian sushi for my liking.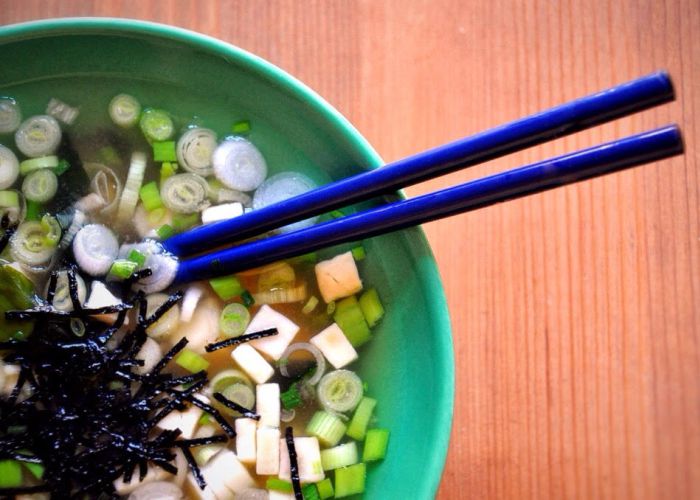 Best of all was the tofu miso soup, full of warm, uplifting flavors I hadn't tasted since leaving the U.K. Silky-smooth cubes of tofu and the fresh snap of scallion in a wonderfully deep, dark miso sauce made me realize how much I'd missed really good Japanese food. Admittedly, it's not what you can call quintessentially Panamanian food, but for a vegetarian looking for some variety, it ticked the box — and was a far healthier option than the food I had in Panama's Chinese restaurants.
One thing that was a bit of a disappointment in Panama City was the coffee. Perhaps it was just bad luck, but in general the coffee in Panama just wasn't as good as it had been in the rest of Central America — surprising considering its reputation as an emerging speciality coffee source. The one place that actually did live up to its reputation (and then some) was the family-run Hacienda La Esmeralda in Boquete, where the coffee was sensational.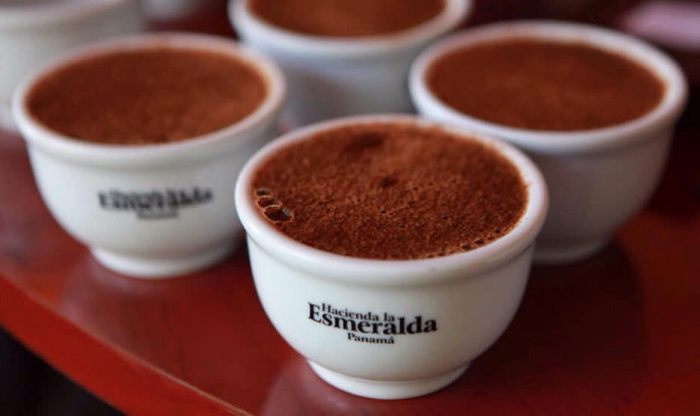 BOCAS DEL TORO
The next stop in Panama is the most popular on the classic backpacker route: the Caribbean island archipelago of Bocas del Toro. Packed with laid-back ambience and ramshackle charm (think colorful clapboard houses, turquoise waters and kittens playing in grocery stores), this isn't really the place for specialist veggie restaurants or outstanding international food, but nonetheless Bocas del Toro was an unexpected culinary delight.
The classic Panamanian breakfast usually revolves around deep-fried corn tortillas heaped with fried eggs and greasy meat, but if you're vegetarian — or even vaguely health conscious — this isn't ideal. Thankfully, the unassuming-looking Cafe del Mar provided me with several different breakfasts that were seriously good. So good, in fact, that I went back four times and can assert with confidence that it's the best breakfast in Bocas.
After traveling through Mexico and Central America, I've eaten my fair share of burritos: usually good, rarely really great. But just how good can a burrito be? Cafe del Mar set a new standard.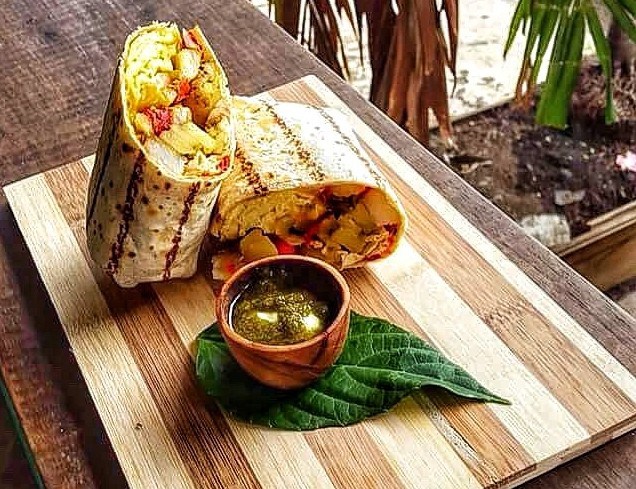 Its breakfast burrito combined sautéed vegetables, potato, cheddar cheese and eggs, all rolled up in a crisp flour tortilla. I never expected to be near-dumbfounded by a burrito, but after the first bite I actually looked down at the burrito in my hand as if to check that it hadn't been replaced by something else. I'm not quite sure how Cafe del Mar manages to make vegetables, eggs and cheese taste quite so good, but it definitely had something to do with the homemade house sauce and the fragrant, peppery notes of fresh cilantro.
Another standout on the menu was the appropriately named "sweet and salty" sandwich: rich, earthy black beans and salty eggplant combined with sweet plantains and a sunny-side-up egg to provide the perfect mix of flavours. This was again complemented by that wonderfully zingy house sauce — a garlic cilantro aioli which I've since tried, and failed, to replicate. Also delicious is the feta and spinach omelette on light coconut flour toast and with a dollop of creamy, salty goat cheese on top.
Vying for my affection as the best burrito of my life was the tropical vegetarian burrito at Capitan Caribe. It's essentially just a food truck and a few tables in a small garden, and there's usually a wait, but it's worth it. The burrito here featured black beans, sweet plantain, caramelised onions, pineapple chunks and a cucumber lemon chutney mixed with fluffy coconut rice and wrapped in a toasted tortilla — a little fiesta in your mouth.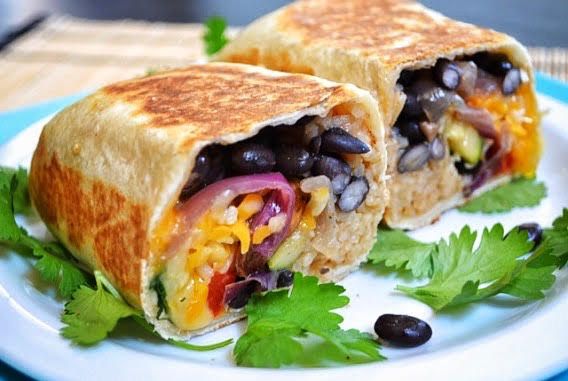 In terms of variety for vegetarians, Bocas del Toro may not win any awards, but I could honestly eat Cafe del Mar's breakfast burrito in the morning, its sweet and salty sandwich for lunch and Capitan Caribe's tropical burrito for dinner every day for a week and not be bored.
Though Panama isn't especially known for its food — and its vegetarian food still doesn't compare to that of Guatemala — so far it's proved the best at providing the most mouthwatering flavour amalgamations: sweet and salty, creamy and fresh, zingy and smooth. While the more traditional meals here are still centred around meat, fish and seafood, the best vegetarian offerings are strongly influenced by Panama's Central American neighbours and, particularly in the capital, Asian and European cultures.
In the end, Panama was the perfect place to finish the Central American part of my vegetarian journey. The next question is, how does South America fare?
Next up: Looking for vegetarian food in chicken- and pork-loving Colombia.