I feel I should start this blog post with a disclaimer.
Costa Rica is beautiful. It has gorgeous beaches and wild jungles that are home to some of the most adorable animals in the world. It has a laid-back vibe and the people are warm and friendly. The weather is great and the food is good. We loved our time here.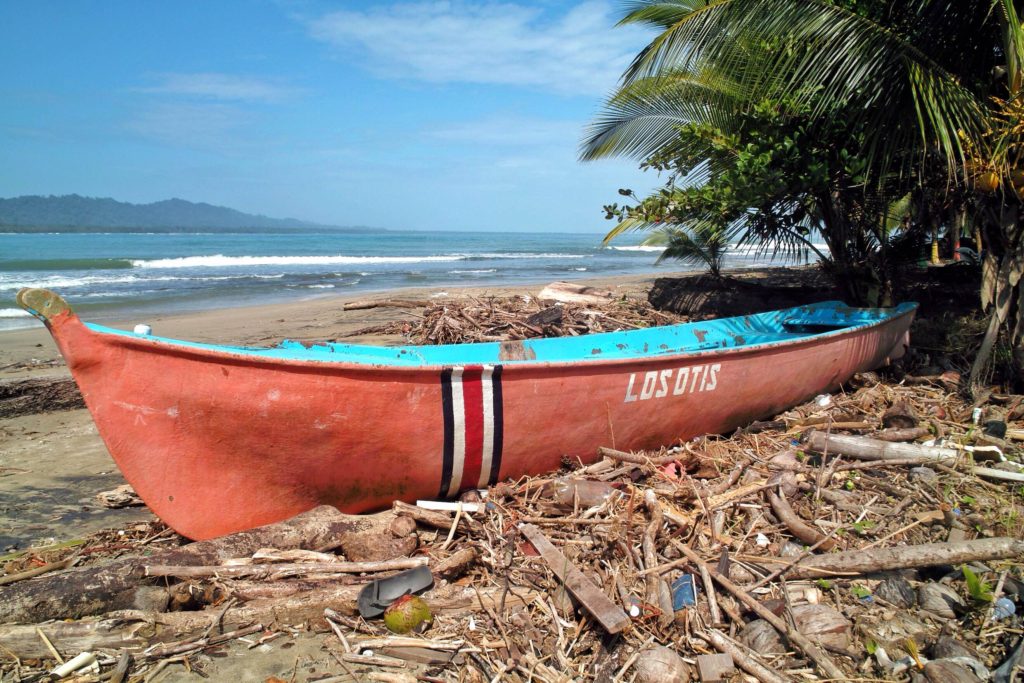 So what's the problem?

Costa Rica is expensive. Not expensive the way we thought Belize was – but crazy expensive. We'd done our research, of course, and always planned to spend less time here due to the cost (10 days in total). But actually experiencing the reality of the pricing here is staggering. It's going to be one of the key things I take away from this country, which is a pity as we met sloths and baby monkeys here!
Now, we may be on a budget but we're not cheap. We spend far more than we should on a regular basis, but there's a limit. Usually in pricier places, we try to forgo eating out and make sure we stay somewhere with a kitchen, but even basic food shopping here put a big dent in our budget. In Puerto Viejo it cost $9 for a watermelon and tangerine. 
It's a shame because the prices are so high it changes your entire experience. Gone were the days of ordering a few beers without thought, let alone without flinching. This was our first stay in a country without – gasp – a proper night out.
I'm not condoning crime (honest!) but you can understand why tourists are often robbed in Costa Rica. If the gringos are complaining about the prices, what about the locals? There aren't separate prices for tourists and citizens, the way there is in Cuba. How are prices here in any way affordable when the average worker earns under $3 an hour? You can see how this leads to resentment, which in turn can lead to crime.
Jurassic Park and San Jose
Now I've got that out of the way… we went to Costa Rica!! And costs aside, it was fabulous. I've wanted to go to Costa Rica for as long as I can remember. An absurdly large part of that reason has always been Jurassic Park, which is set on the fictional island of Isla Nublar, "120 miles off the coast of Costa Rica". While I knew there were no dinosaurs waiting for me here, I always thought of Costa Rica as this exotic land with wonderful wildlife, and in that respect it definitely didn't disappoint.
Having limited time here, we only spent one night in the capital San Jose. It was striking how well-developed it felt in comparison to the other cities we've visited so far – parts of it could have been London, or any other large European city (inexplicably, in Jurassic Park San Jose is depicted as a dusty little beach town with chickens running around, which apparently really pissed people off). We ate at Ravi, a vegetarian restaurant where we first faced the reality of costs here: $20 for a sandwich!
To be fair to Ravi it was a really nice restaurant, somewhere that in other circumstances would have been out of our price range. We only ate here so I'd have some San Jose related material for my Food Republic article (the things I have to do…!). The pizza was great but the strawberry and rosemary sangria was especially delicious…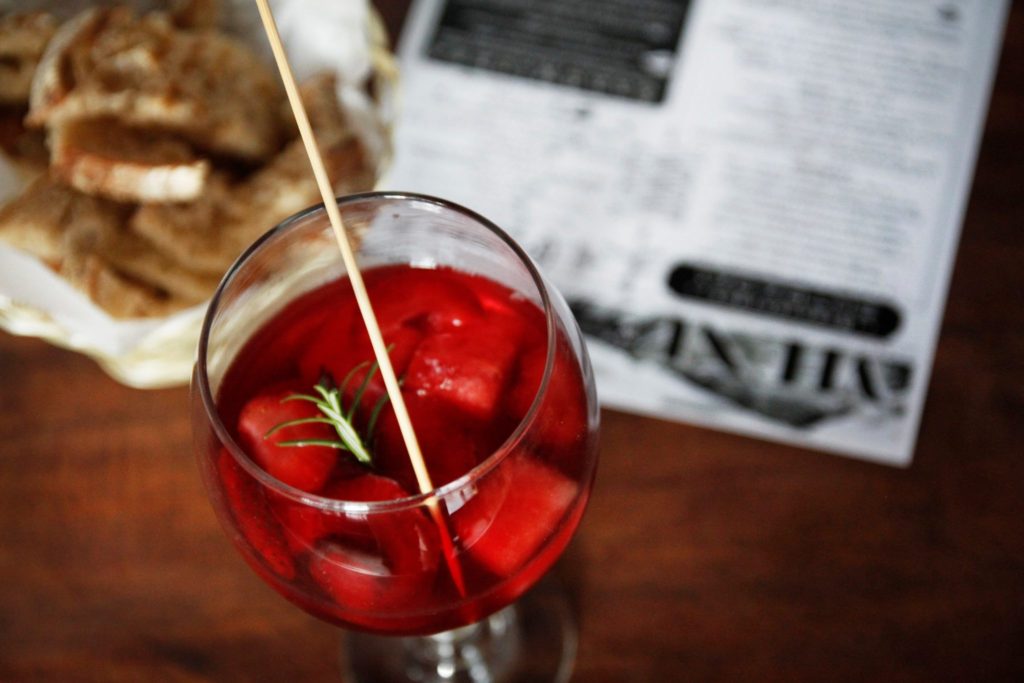 Crime and the subsequent fear of it is pretty real in San Jose. Many guidebooks and travel websites urge you not to walk around in the evening, to remove all your jewellery before going out, to only travel via taxi. Without taking stupid risks, I don't want to become one of those overly-scared travellers whose caution means they avoid seeing anything even half authentic. We walked to the restaurant and back again around 10:30 pm and it felt very safe.
Puerto Viejo
The next day we took a five hour shuttle to the small beach town of Puerto Viejo, on the east coast just a short distance from the Panama border. The Caribbean vibe is strong here: fallen coconuts line the streets, reggae is the only music you'll hear, and the smell of weed drifting on the warm air is a near-constant. The unofficial slogan of Costa Rica is "pura vida", which reflects the country's way of letting things go and enjoying yourself.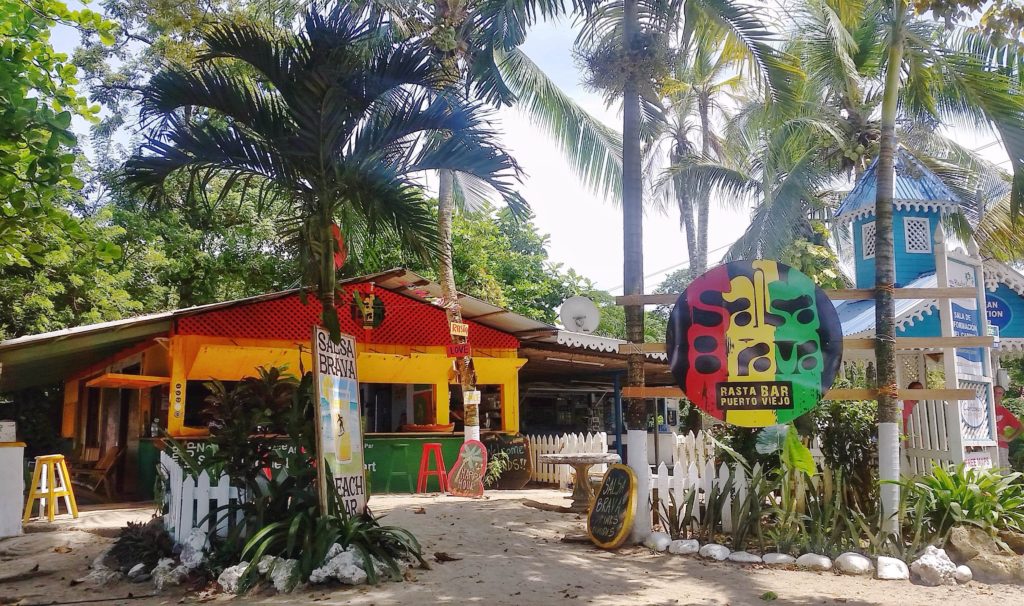 With its coloured clapboard houses, turquoise waters and laid-back ambiance, Puerto Viejo reminded us of Belize's Caye Caulker. Like Caye Caulker, it's also a bit of a party town with just the right amount of seediness (there's a fine line between 'good seedy' and 'bad seedy'!). Puerto Viejo is on the east coast so we didn't get proper sunsets, but the light in the evenings is gorgeous so it wasn't too hard to give the bars a miss and just drink a few beers while sitting on the beach.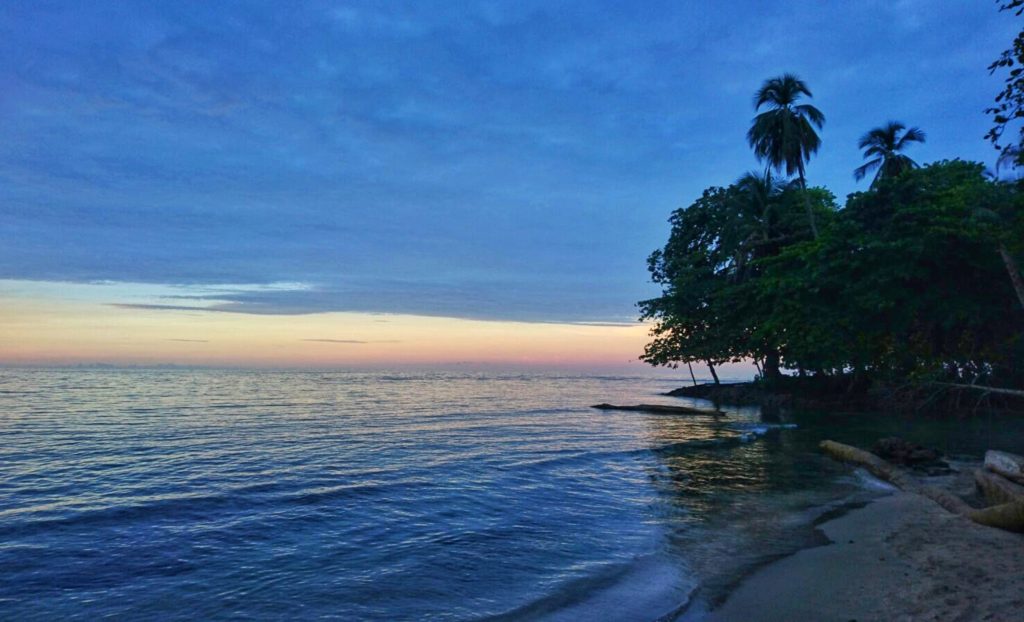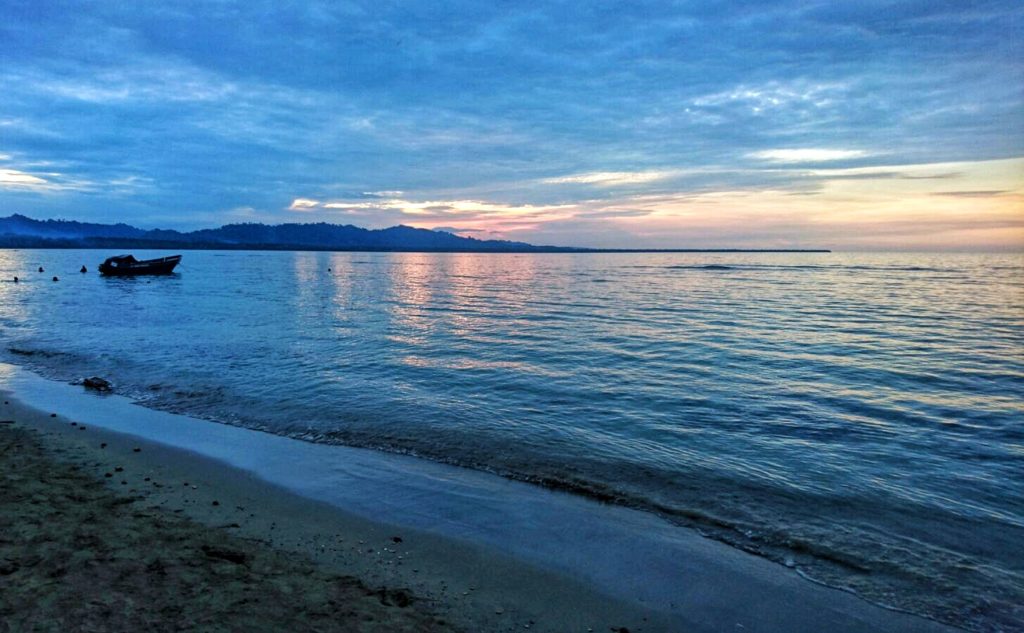 There are several beaches scattered along this long stretch of coast, and we hired bikes to check a few of them out. We cycled along in the stifling heat, with the blue Caribbean Sea on one side of the road and the jungle on the other. The beach at Punta Uva was beautiful, and after half an hour of sticky cycling in 35C heat, the feeling of jumping in the warm-yet-still-cool sea is just blissful.
The food options in Puerto Viejo are good. There are a couple of veggie places which is impressive due to the town's small size, and (minus a horrendous but brief bout of food poisoning) the quality is good too. Eating pitta bread with tahini and tzatziki at Puerto Pirata Deli was such a treat. You don't realise how much you've missed a certain food until you have it after a long while. The tacos with grilled cheese were also delicious, especially when you're having severe halloumi cheese withdrawals.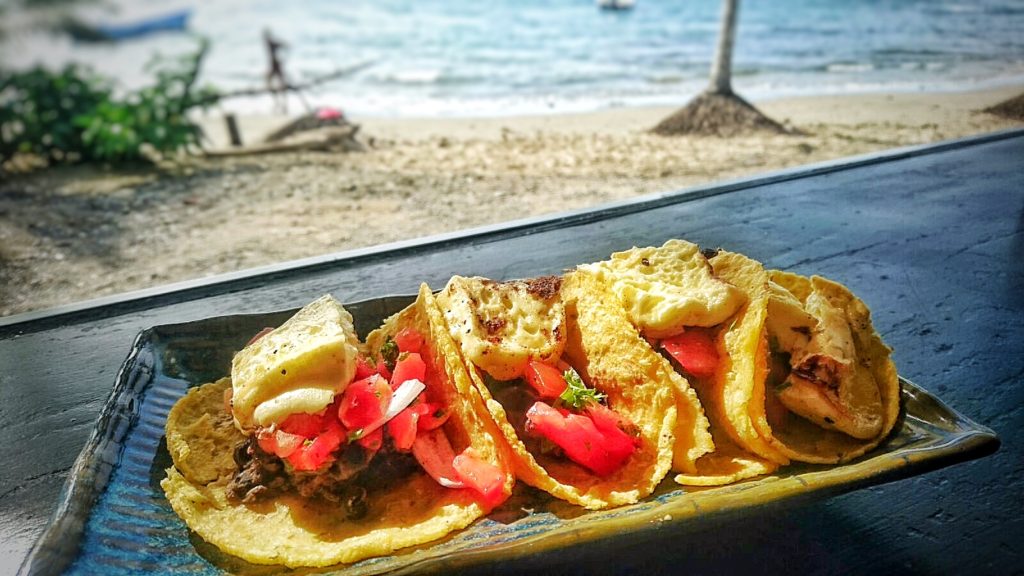 The Jaguar Rescue Center
One reason we went to Puerto Viejo was to visit the Jaguar Rescue Center. Established in 2008 by a biologist and herpetologist, the Jaguar Rescue Centre rehabilitates animals who've been mistreated, abandoned or injured. Most animals are returned to the wild after being looked after, but a few are now permanent residents at the centre. A baby jaguar was the first animal that was rescued here, but now the centre mainly looks after sloths, monkeys, reptiles and birds.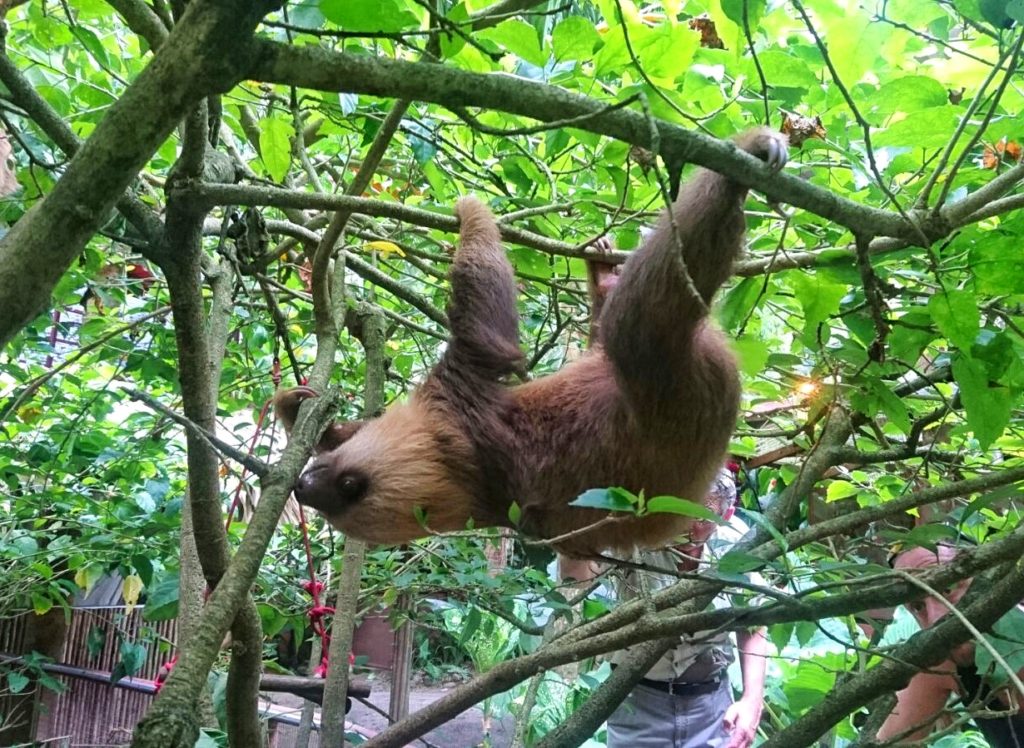 The centre receives no government funding and relies on donations and tours, which cost $15. It's definitely money well spent. The tour lasts for two hours and is so interesting, although it's also one of those experiences where you're left thinking how much better this world would be if humans were to disappear. So many animals are at the centre due to mistreatment at the hands of humans and it can be pretty heartbreaking.
There's a crocodile here who's blind in one eye because some guy found him in the wild, tied him up and decided to prove what a big man he was by beating the poor crocodile with a stick. Thankfully he was reported by locals and the croc was rescued. The majority of sloths at the Jaguar Rescue Center are brought in because of injuries sustained from power lines, which these sweet, slow animals sometimes mistake for branches.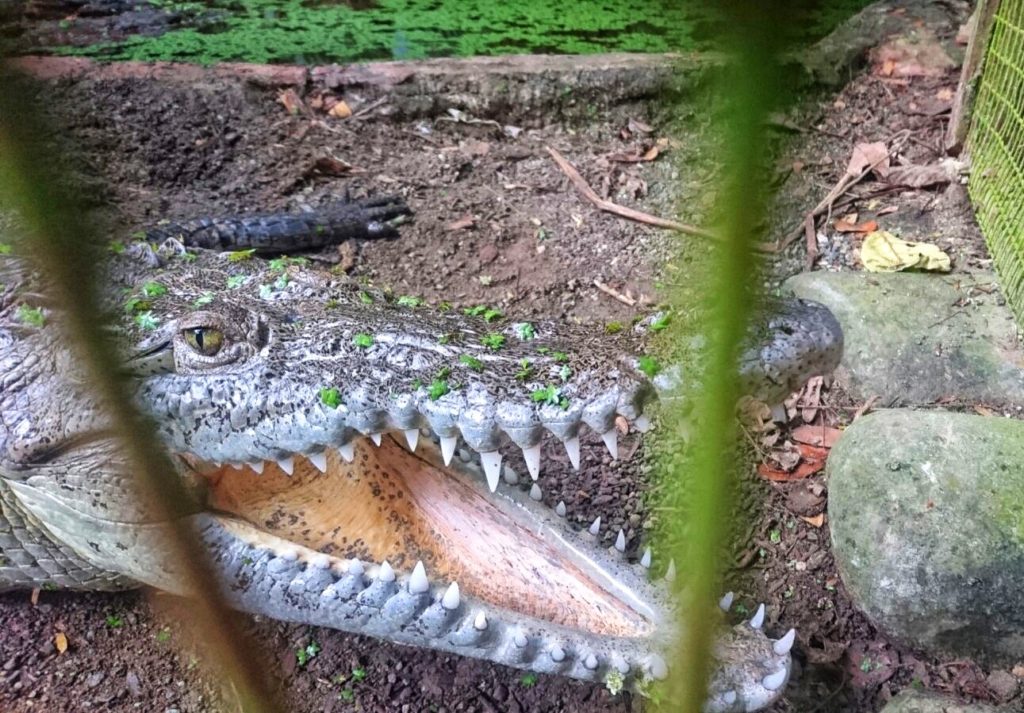 One permanent resident at the centre is an anteater who was also injured by power lines. Sadly, the electrocution affected him mentally as well as physically, and he now has difficulty walking straight and often goes around in circles. He seemed happy enough when we saw him and had free rein to wander through the grounds as he liked – though I think at one point he felt uneasy with all the visitors gawking at him: he reared onto his hind legs, which anteaters do when they feel threatened.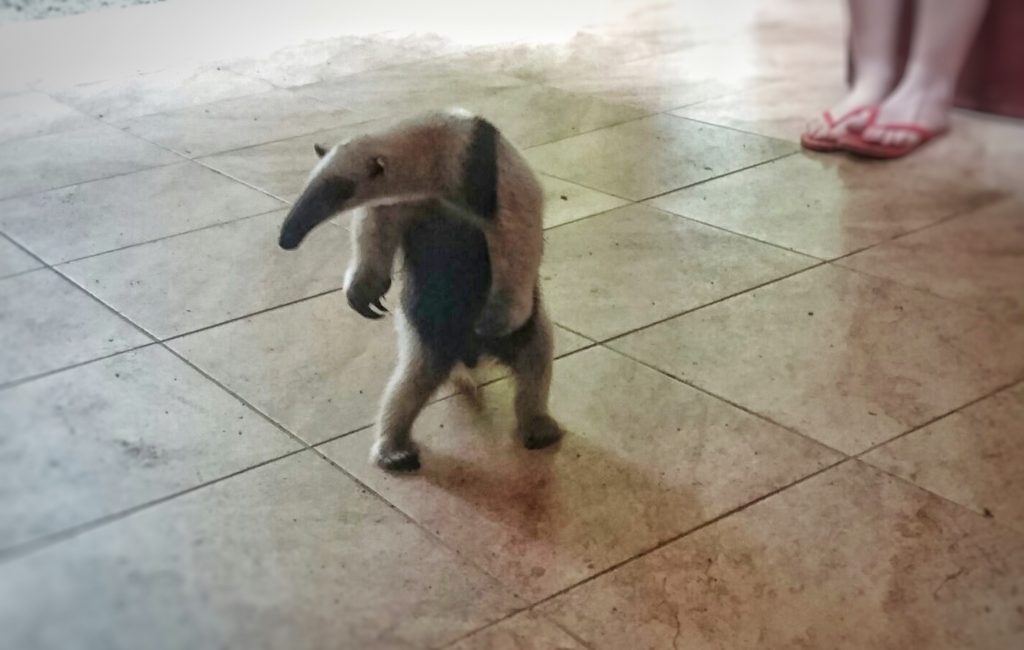 On a happier note, there are many baby monkeys and sloths here that will be returned to the wild once they're old enough. To describe these animals as cute is a severe understatement. It's hard to pick favourites but the timid baby howler monkey wrapped in a blanket was almost too much to bear. Then we came to the baby sloths, who were slowly clambering over each other in their baskets and peering curiously at us with their adorable smiling faces.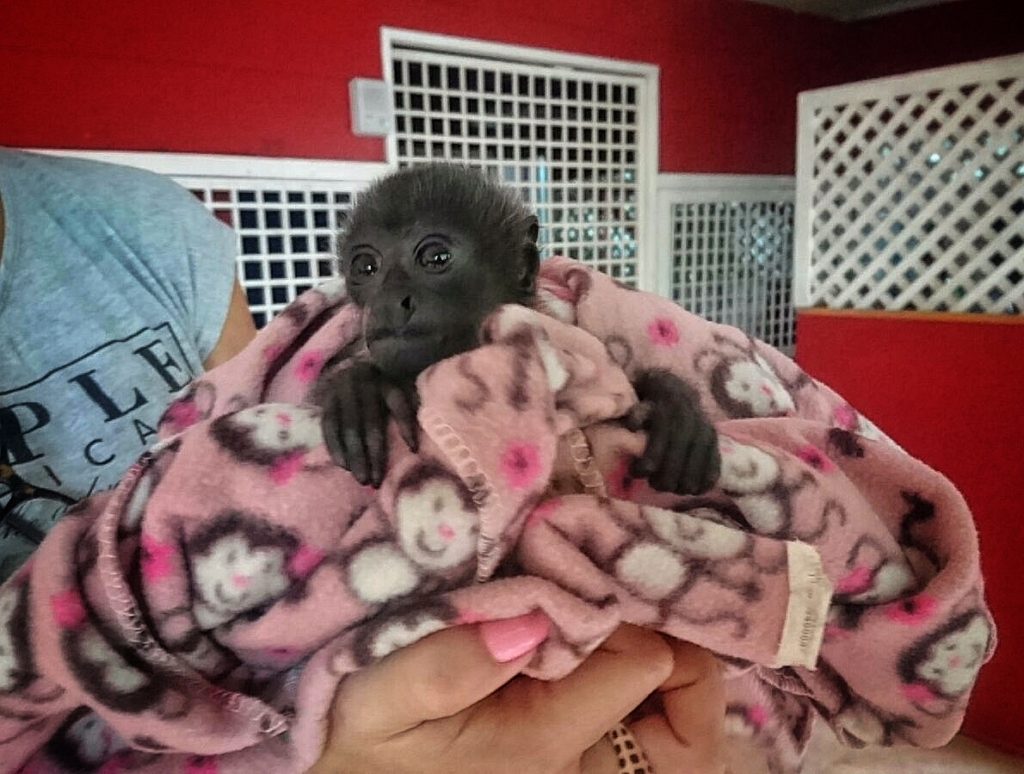 We learnt a lot here, from seeing the defensive spines of certain trees to how tree frogs breed to the fact that some parrots have the IQ of a five year old child (!). But the best thing about the centre is seeing how cared for these animals are. The volunteers here are incredible and their genuine love and respect for these animals is clear. Many of the animals return to visit the centre once they've been rehabilitated; a few have refused to leave altogether.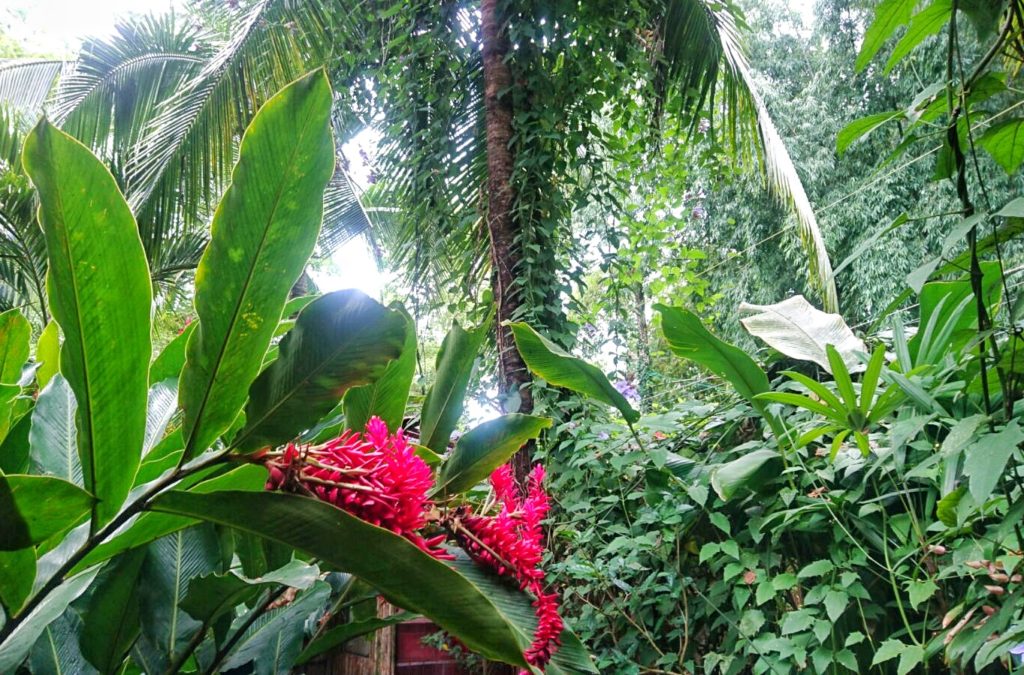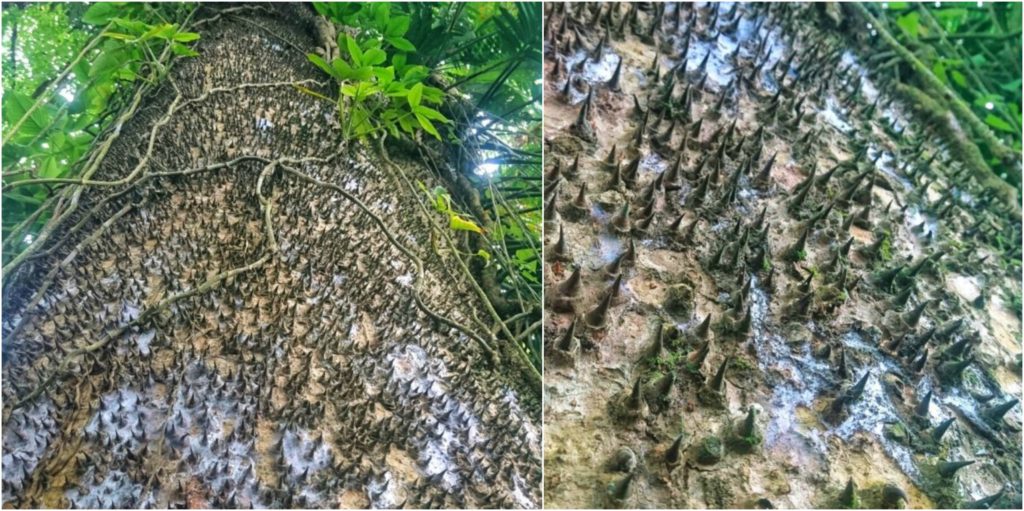 There are so many wonderful things about Costa Rica that it's a shame to be negative – but for us, the pricing was a big downer. This is one of the best places in the world to do activities like zip-lining and water rapids, but due to the costs we had to give them all a miss. If you're just visiting for a holiday and can afford to splash more cash then I absolutely recommend visiting – but for long-term travel, it's definitely worth bearing in mind that it's a budget breaker rather than maker.
Still, we did meet baby monkeys and sloths – and in many ways you can't put a price on that. As we crossed the border into Panama (another expensive country…) we were so glad we visited. I'd like to think that one day we'll be back – and maybe by then there really will be an island off the Costa Rican coast where dinosaurs roam. Here's hoping…