In the past few weeks there have been many people expressing their views on convicted rapist and ex-footballer Ched Evans. Sadly (but unsurprisingly), many of those are ignorant of either the law, the case, or both. From the aggressive, uninformed die-hard supporters calling the rape victim "whore" to the legal uncertainties of more balanced posters, the same questions keep circulating on social media: 
How can it be rape if the victim can't remember if she consented or not?
How can Ched Evans be guilty of rape if his co-accused Clayton McDonald was acquitted?
If Evans is guilty of rape, then surely any drunk girl who has sex can say she's been raped?

Despite the fact that Clayton McDonald was acquitted and despite the victim's hazy memory of that night, there is no doubt in this case, reasonable or otherwise, that this was rape. Here's why.
The Meaning of Consent
The law states that consent from someone incapable of meaningful consent is not consent. By "incapable of consent" we're not talking about being merely drunk, we're talking about being incapacitated; someone who can barely walk, is falling over, is vomiting and urinating on themselves. Which the victim was. If she cannot remember consenting or having sex then she was too drunk to give meaningful consent.
This is accepted in the eyes of the law and NOT just as it applies to rape. Take legal contracts, for example. An intoxicated person may sign their consent to something but the diminished capacity to make that decision means that full consent cannot be there, and more importantly, cannot be assumed.
This is the difference between the case of Clayton McDonald, who was acquitted of rape, and Ched Evans, who was convicted. This is also the reason why the fear that all drunk sex can be compared to rape is entirely unfounded. Clayton McDonald met the victim that night and she willingly went back to his hotel room. Because of this, he could show that he had a reasonable belief to assume her consent.
Ched Evans did not have that excuse.
On receiving a text from McDonald stating that he'd "got a bird" who was "blotto", Evans at once turned his taxi around and headed to his friend's hotel. Right from the off, he assumed consent from a total stranger, a stranger whom he knew full well was incapacitated: he admits being "forced to step over" the victim's body when she slumped down in the take away he'd been in previously. He assumed consent to the point where he even contacted his brother and friend and told them where he was going – so they could hide outside the window and film it.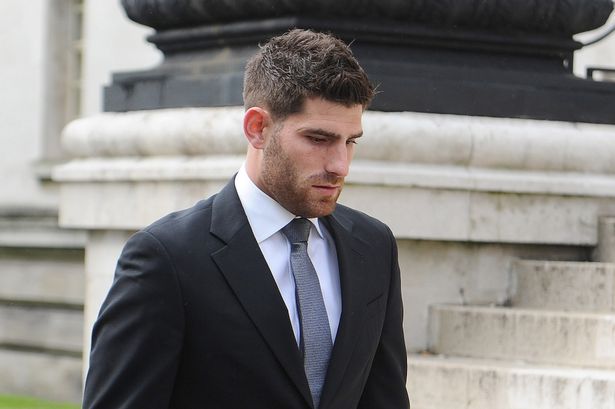 While Evans isn't known for his searing intellect, it's difficult to believe that a person can actually step over the drunken body of a woman and not automatically think she's clearly too intoxicated to engage in a sexual encounter.
Many people might also find it a little reprehensible that someone would step over a person who'd fallen in front of them, rather than help them up or enquire as to their wellbeing – but it's not a crime to be callous. It is a crime to rape someone you know to be incapacitated through alcohol. And what better example of not just Evans' full knowledge of her level of intoxication, but also his total disregard for her wellbeing, than to step over her as though she were something filthy he didn't want to get on his shoe.
Evans lied about his intentions in order to gain a room key from the hotel staff. He gave absolutely no regard to the semi-conscious state of the victim when he entered the room. He had sex with the victim while she was in no state to process what was going on and then, knowing full well the gravity of what he had done, escaped down the fire exit. He left his victim naked, covered in her own vomit and, as his co-accused McDonald admitted, in a state where she "needed looking after."
When Consent Cannot Be Assumed
This is not a situation where a woman has a few too-many, has sex and then regrets it in the morning so decides to choose the apparently 'easy' option of crying rape. If the victim had not lost her handbag in her debilitated state that night, she never would have reported it the police. Because on hearing that she had no memory of that night, and after physical examinations, it was the police who realised that this was most likely a case of rape.
According to the law, it is not the victim's responsibility not to give "mixed signals" – it is the responsibility of the not-so-drunk person, in this case Ched Evans, not to assume consent where there cannot be any. What possible reasonable belief would Evans have to assume that a woman unknown to him – a woman he knew full well was "blotto" – would want to have sex with a strange man who has just walked into her room?
The idea that this renders all drunken sex as a potential rape is absurd. This is not an issue that should ever affect most men, because most men wouldn't show up at hotel rooms to have sex with incapacitated strangers on the suggestion of a friend. Most men wouldn't dream of letting themselves into a room unannounced, knowing there is a drunk and naked woman in there in a compromising position.
This alone belies Evans' staggering contempt for and dismissal of that teenage girl. Step over her body when she falls. Let yourself into a room when you know she's naked. Ignore her boundaries, her privacy, her very humanity.
Rape her while you're at it.
Those who doubt the accuracy of Ched Evans' rape conviction don't understand how UK law applies to rape. In a legal sense, there's no reasonable doubt here. The fact that, according to rape apologists like Judy Finnegan, this was a "non violent rape" doesn't make it any less of rape. As anyone who has been raped or worked with rape victims will tell you, you do not have to be screaming for help with a knife pressed to your neck for it to be rape.
So no, Ched Evans is not an "alleyway-with-a-knife" rapist, but he is a rapist all the same. And worse than that, he is an unrepentant rapist whose recent hollow apology for the "effects of that night" was motivated by nothing more than a desire to kick a ball around again.
(Thanks to the exceptionally talented Dee Murray for her assistance with this piece.)