Goodbye Central America, hello South! After three months travelling through Mexico, Cuba and Central America, our first stop on this new continent was Cartagena, Colombia. This historic city is Colombia's most touristy destination, and was where we met up with our friends Dave and Jess – the first to visit us.
Situated on Colombia's Caribbean coast, Cartagena is hot and humid – the type of heat where you're resigned to having a permanently sweaty face and damp t-shirt. That aside, Cartagena is the most incredible place to visit. This is a city so full of history, myths and romance that it famously inspired Gabriel García Márquez's novel Love in the Time of Cholera.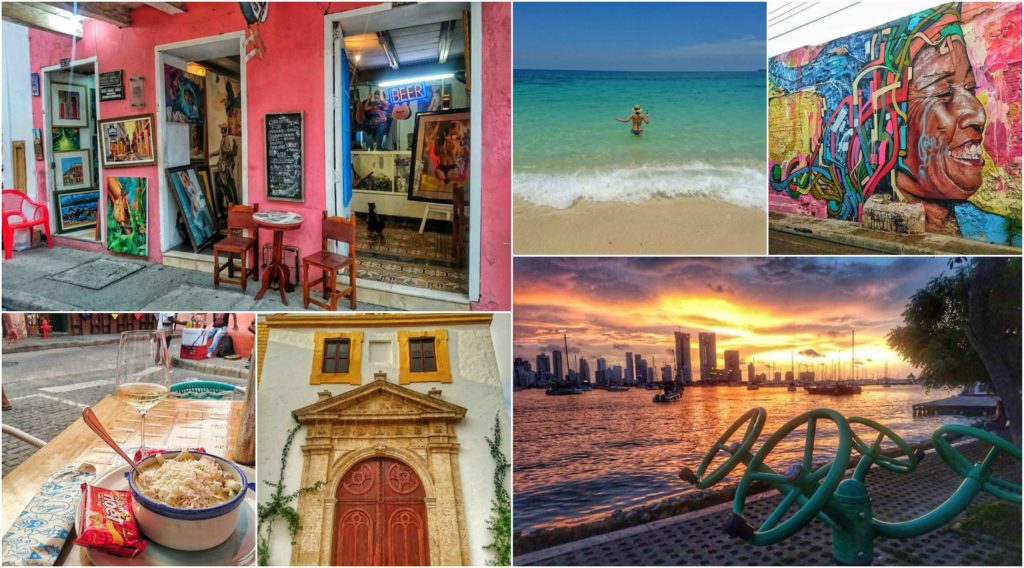 Cartagena has everything you could possibly want from a holiday – stunning beaches, beautiful buildings, good food, vibrant streets… I could go on and on (and on) listing Cartagena's selling points, but below I've picked eight reasons to love this incredible Colombian city.
1. The Old Town
Founded in 1533, Cartagena is known for its historic centre, which lies behind 13km of old colonial wall. The entire walled old town is a UNESCO-listed heritage site, and the best way to get to know the city is by strolling through its chaotic, bright coloured streets. Walking through the old town really is like stepping back into the time of conquistadors: this part of the city has seen barely any change since it was torched by Sir Francis Drake in 1586.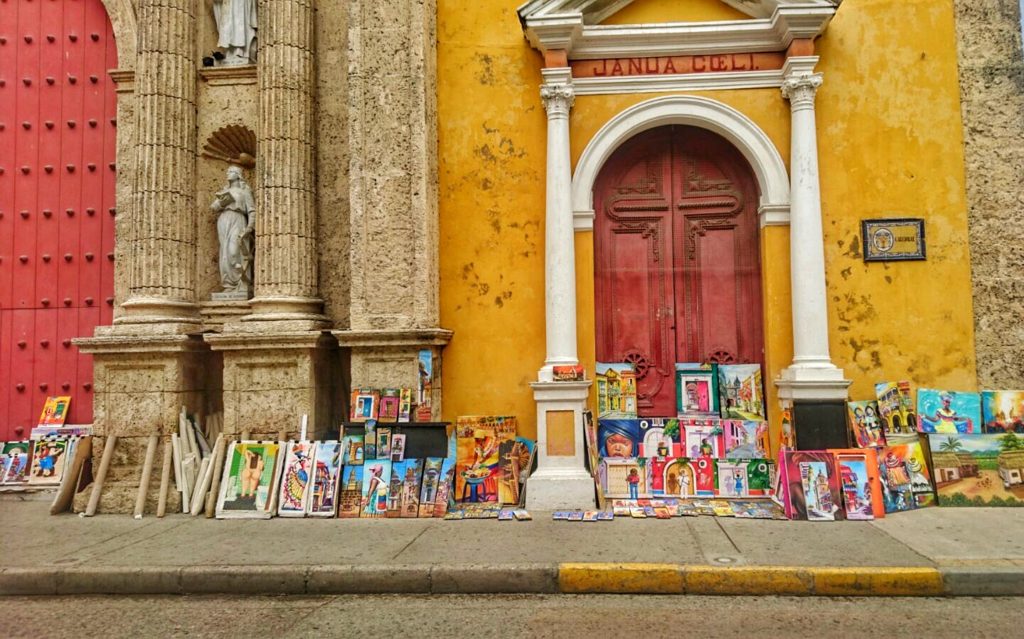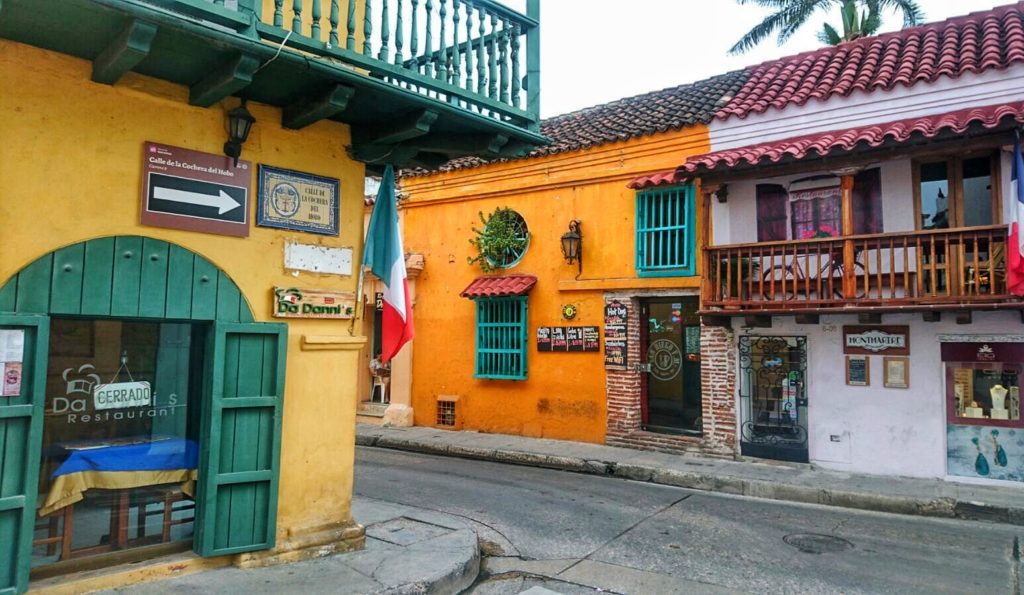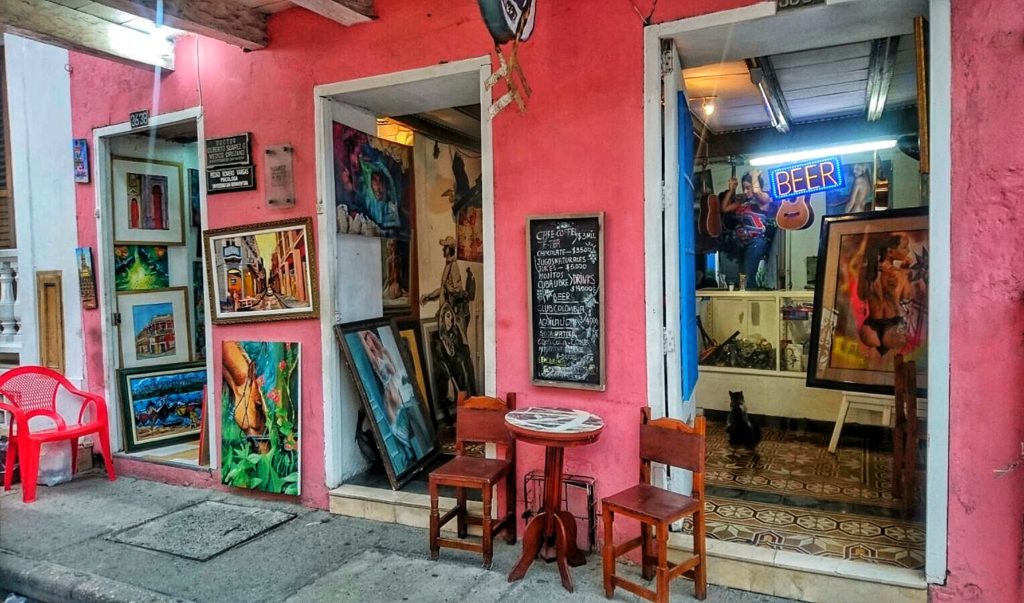 Cartagena is the perfect walking city. Whatever time of day it is, there's something going on that you want to capture on film. From kids playing football in the square at midnight to women in traditional dress selling fruit and street vendors hawking their delicacies, the energy (and heat!) of this city sizzles. Throw in the sound of the traditional Colombian Cumbia drumming from the various dance troupes and you've got one irresistibly tropical atmosphere.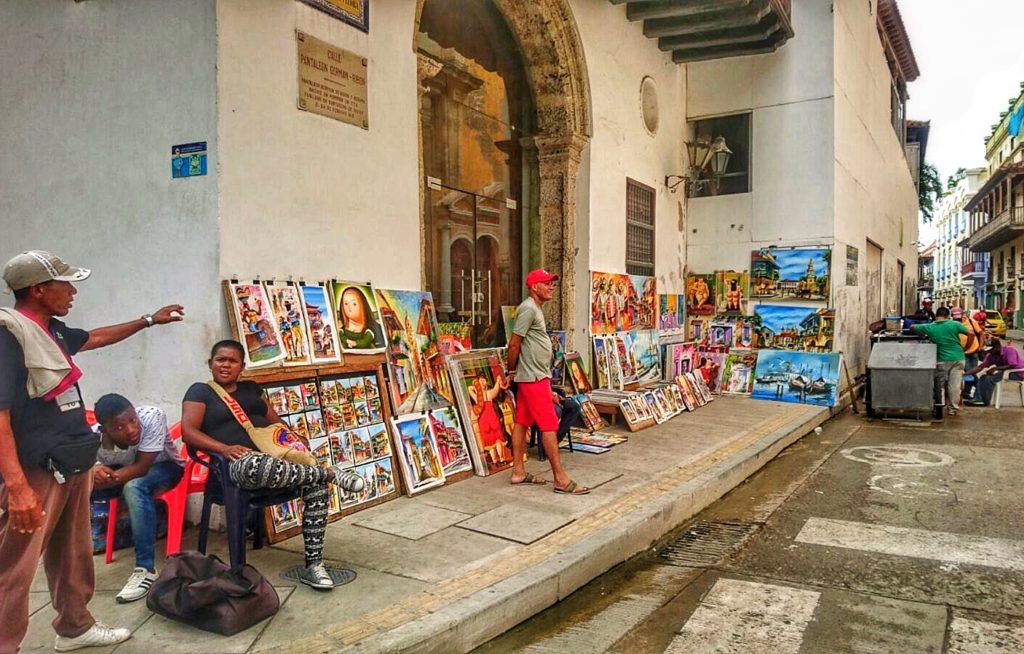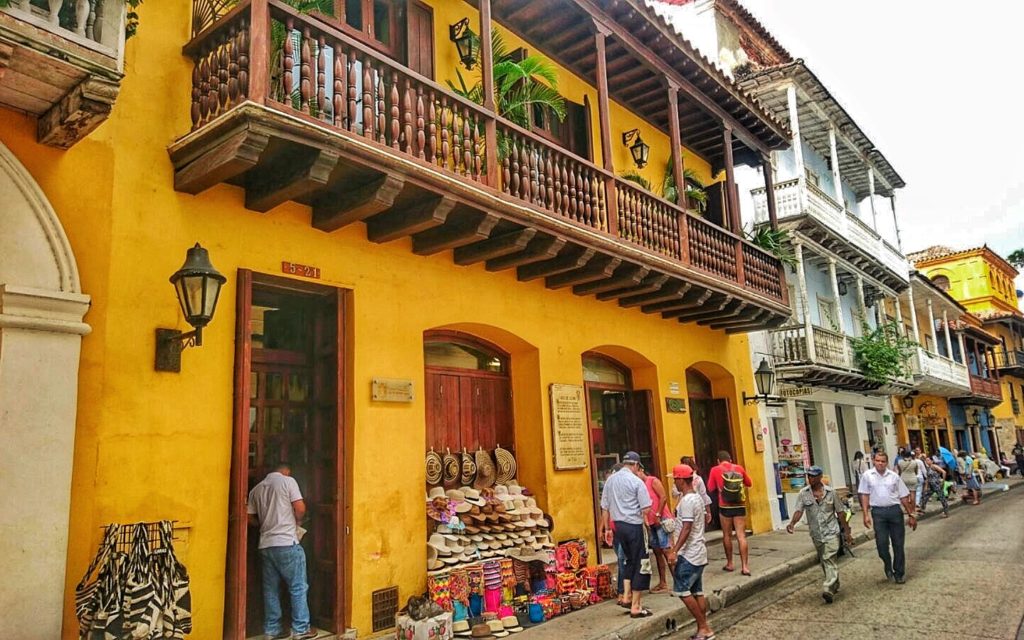 Even on a quiet street you can't stop taking photos – because look at all the colours! From hot pink to turquoise to sunflower yellow, Cartagena is definitely the most colourful city we've visited so far. Quite possibly the best-looking, too; the vine-covered balconies on every single street don't hurt, either. Which brings me onto my next reason to love this city….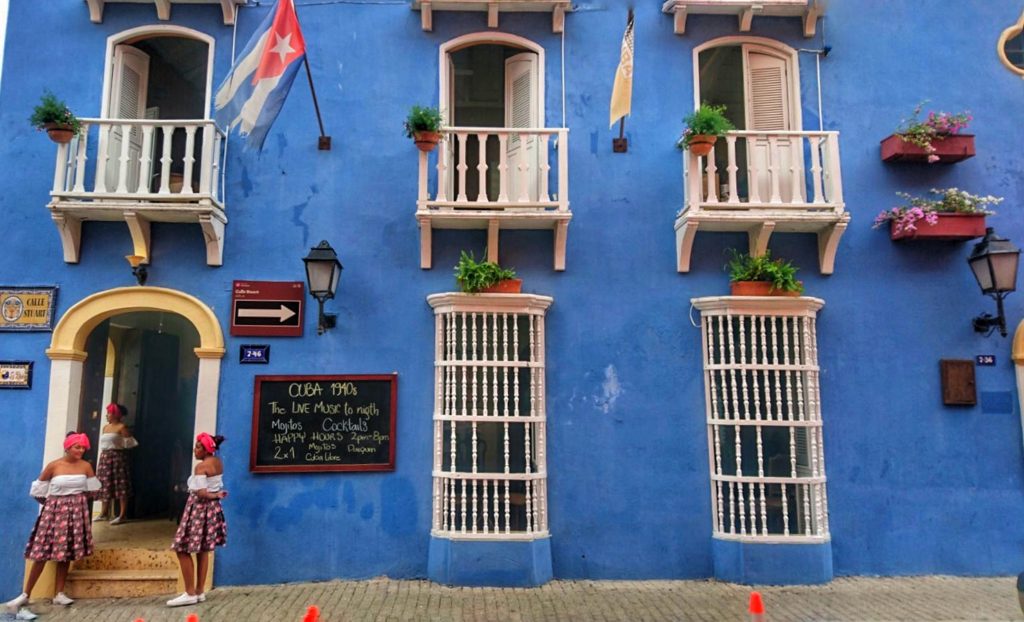 2. The Flower-Adorned Balconies
It should be mandatory to have brightly coloured flowers spilling out of balconies in every city. It brightens up even the dullest streets (not that there are any of those in Cartagena's old town) and would transform some of the more boring places in the UK. It's another reason why it's almost impossible to walk the length of a street here without taking your camera out.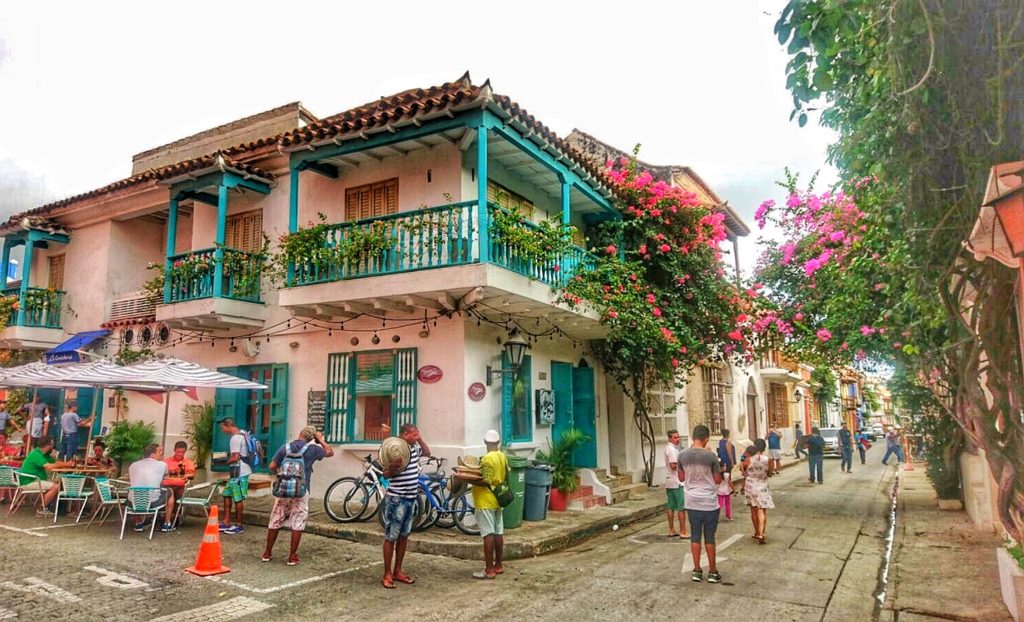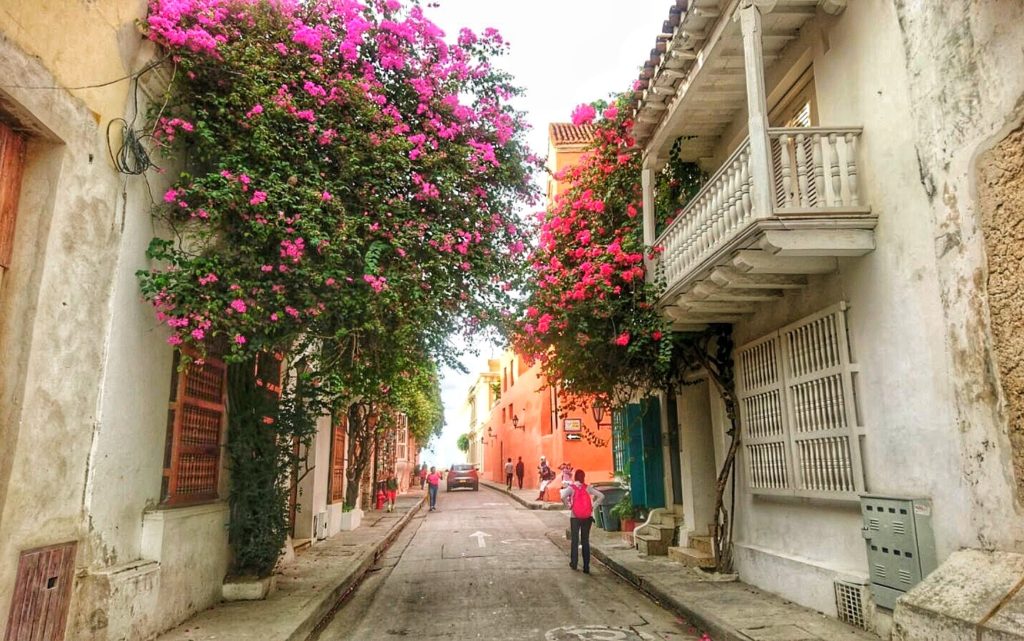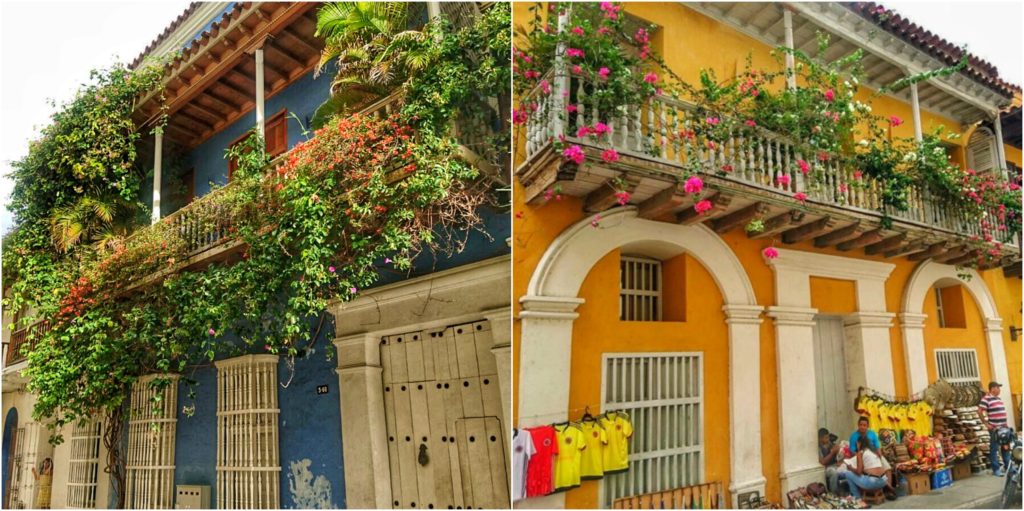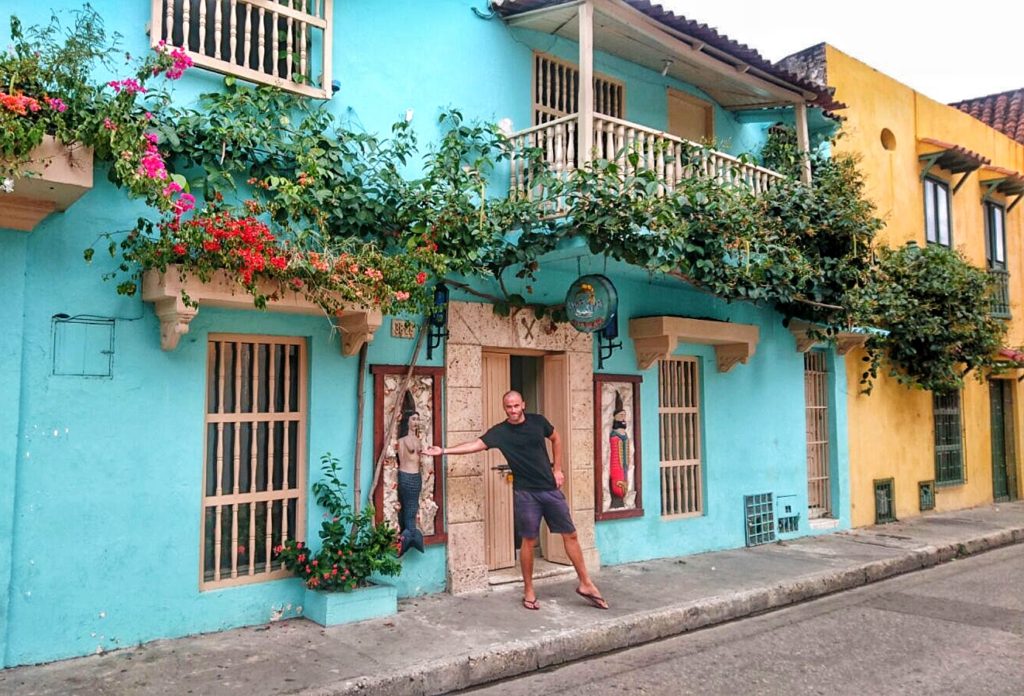 3. The Architecture
Cartagena's striking architecture is found throughout its historic centre, but the central plaza is the best place to first get a feel for it. Grand and intricate colonial buildings surround the square, which also happens to be the best spot for people-watching in the city.
If you're in the square, have a drink at Donde Fidel Salsa Club. The music is ridiculously loud inside, so sit outside where you can admire the city's iconic yellow clock tower and watch the (actually really good!) mimes and dance acts in the evenings.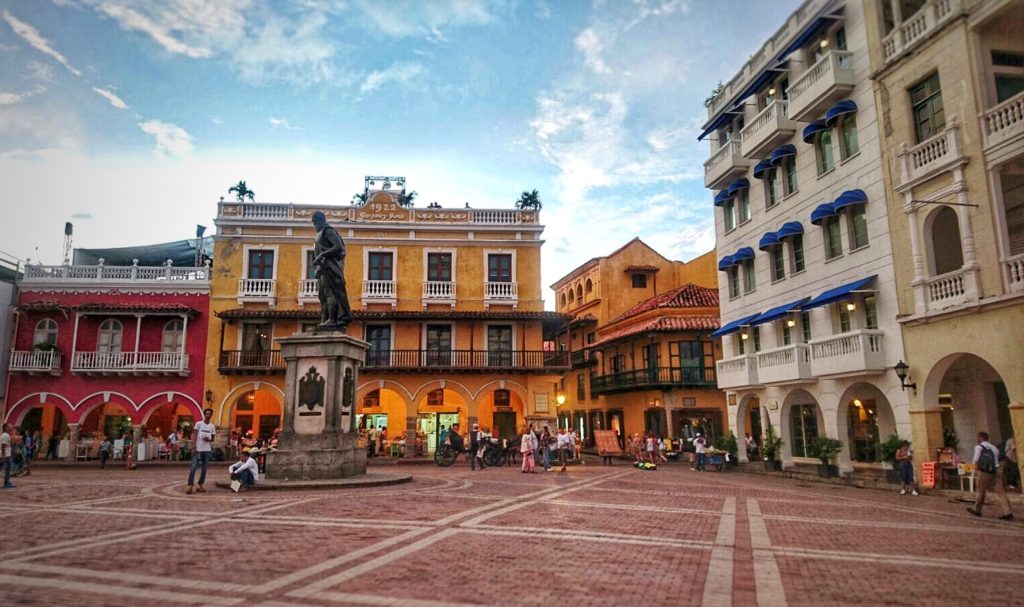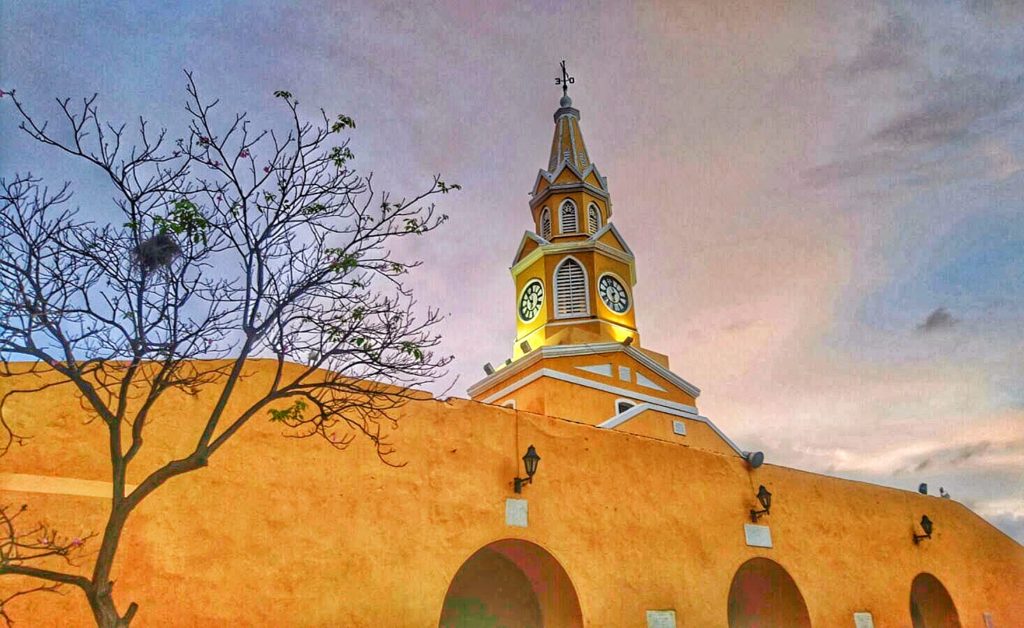 Aside from the main plaza, there are outstanding examples of colonial architecture on every street in the old town. Weathered stone walls still have ancient cannons perched on top, huge wooden doors complement vivid yellow churches and flowers twine through ornate, centuries-old balconies. The best thing about all this though is how lived in it is. There's no over-the-top reverential treatment of these relics: children clamber over walls, old men snooze under arches, and church walls make the perfect makeshift art gallery.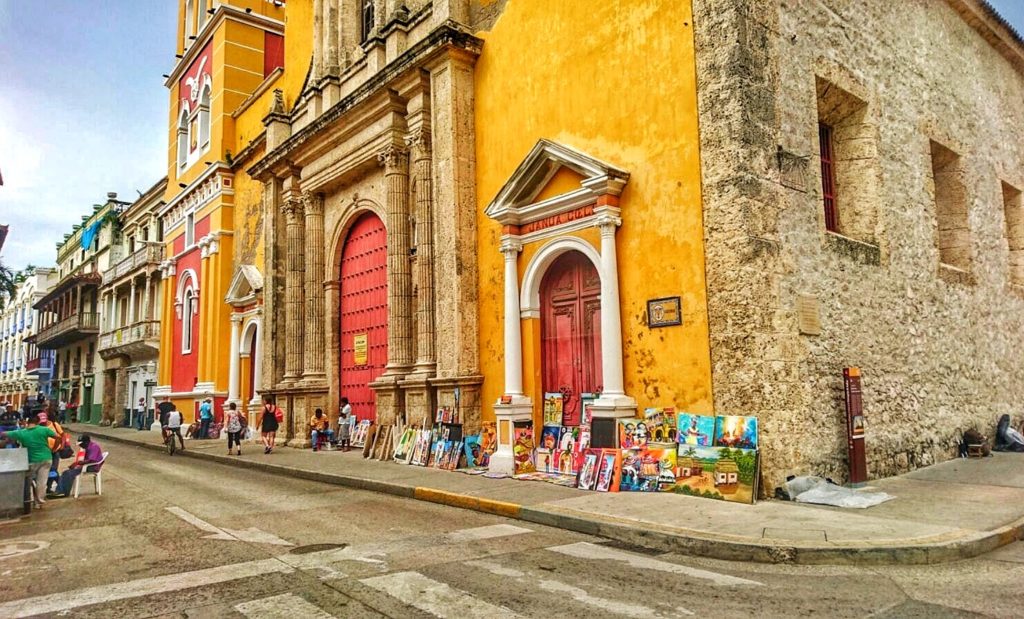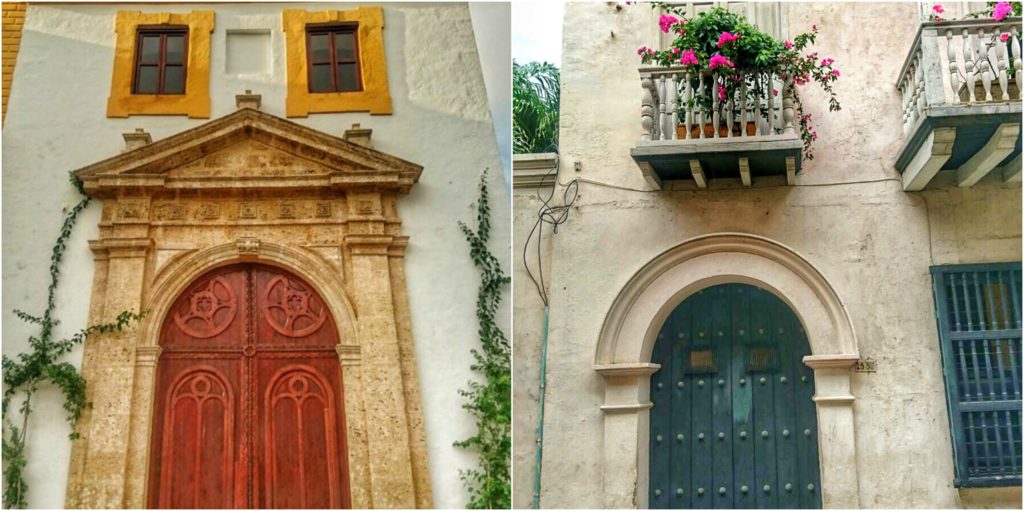 4. The Street Food
It's safe to assume food will always appear on these lists – especially street food. Trying new street food from each country is always something we get excited about, but sometimes a region's speciality is meat-based, which obviously sucks for me. But not in Cartagena! The street food speciality here is arepas, and though you can get them with beef, the standard arepa con queso is veggie-friendly.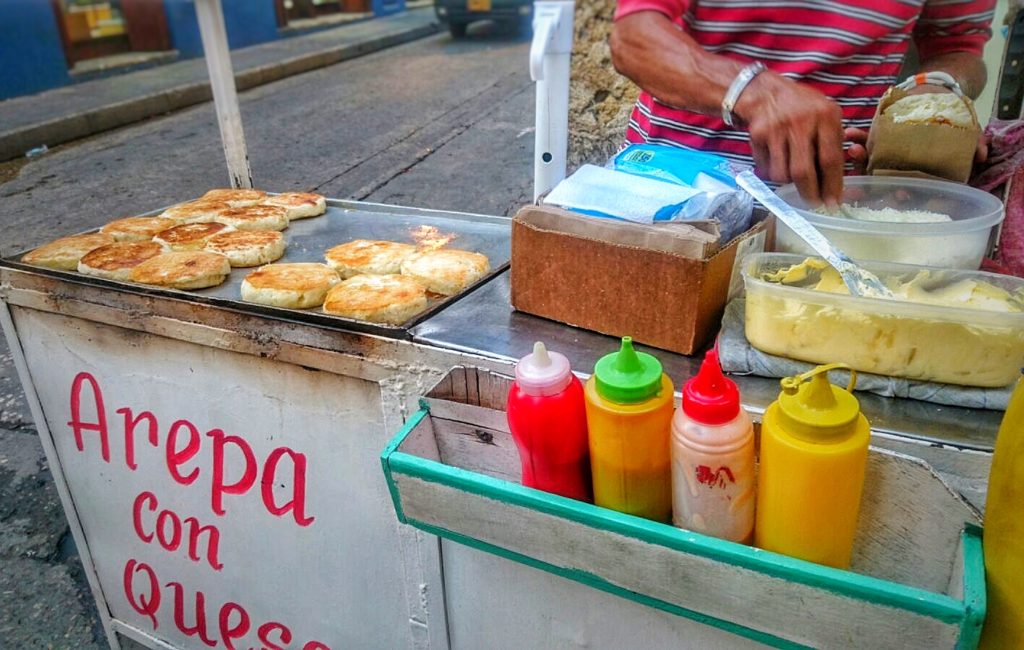 Arepas are basically a type of flatbread made from ground maize. They're incredibly filling with a texture that's hard to describe: part fluffy, part flaky, almost like cooked potato (although Tom thought they were made from coconut when he first tried one!). They're usually stuffed with a grated hard cheese similar to parmesan, but some of the stands stuff them with beef/egg too.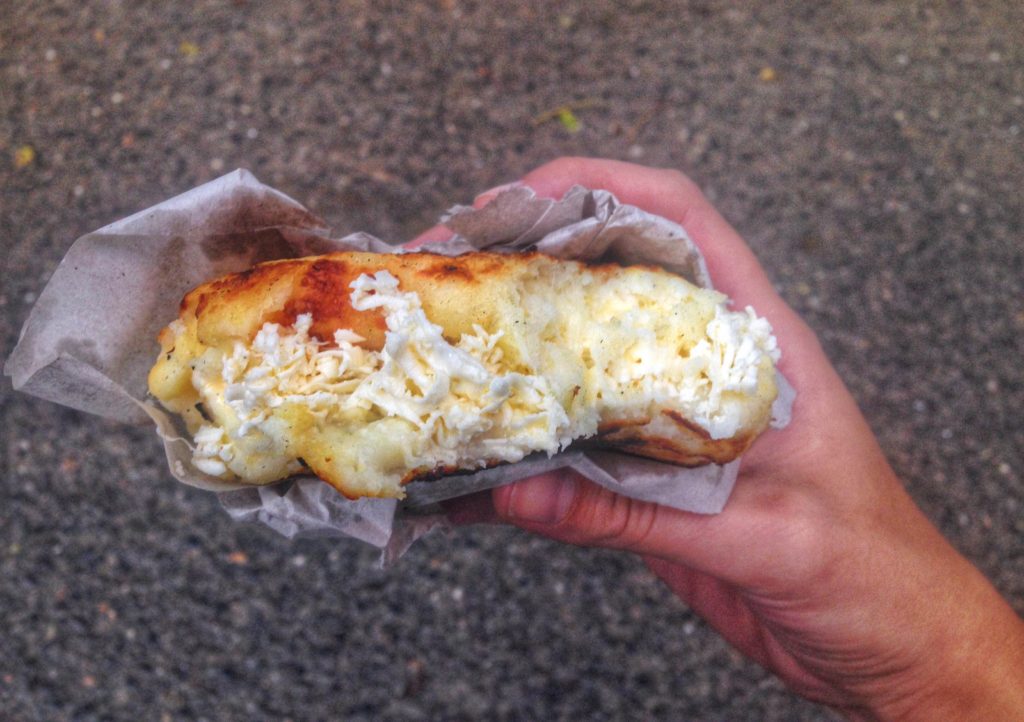 Part of the fun of eating arepas is standing by the food cart holding onto your steaming hot package (haha) and trying not to burn yourself while choosing which condiments to add. There's hot sauce, salsa, ketchup or mayonnaise, but this weird pineapple-y sauce is best. The only annoying thing about arepas is how long it takes them to cool: if you don't have the patience to wait before taking a bite (and who does?) you'll inevitably get some strange looks as you walk around frantically flapping a hand in front of your mouth.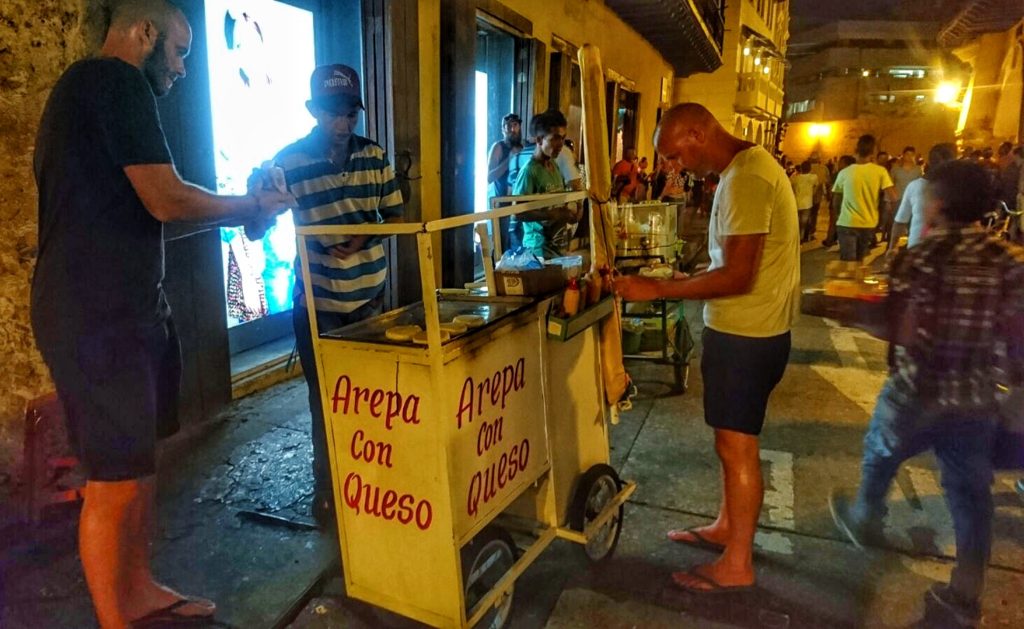 Aside from arepas, there are carts selling fresh fruit on literally every corner, and if you're thirsty you can get a coconut from one of the coconut guys. They'll pull out a huge machete, hack away enthusiastically at the top, shove a straw in and hey presto – fresh coconut water for under $1. Not bad considering one of the tiny cartons costs about £2.50 in the UK. (Make sure to ask for a cold coconut from the cool box though – warm coconut water isn't not so nice…)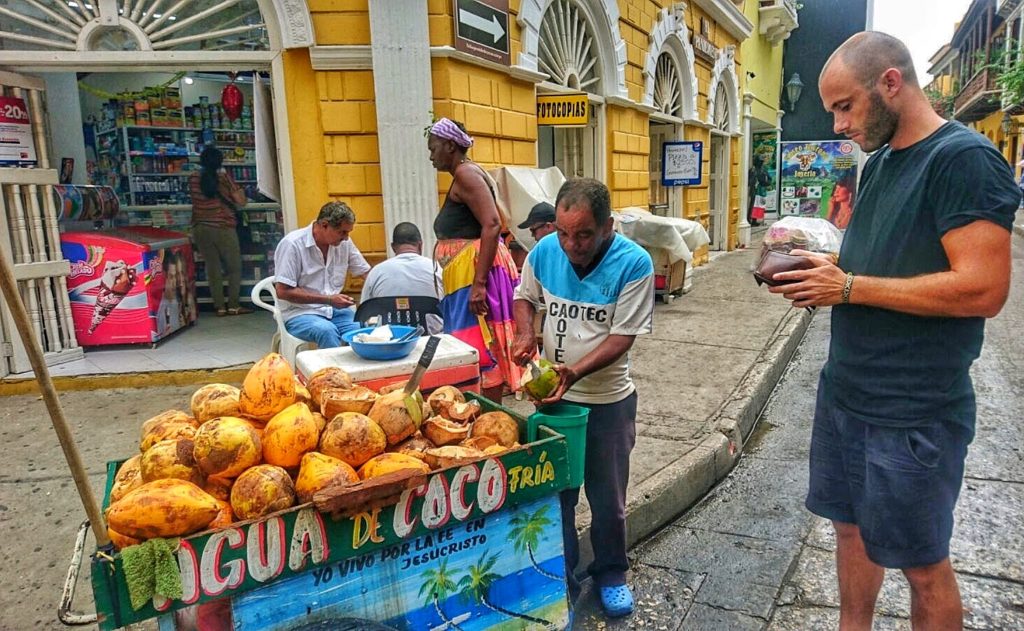 5. Getsemani & Wall Art
Like any city worth its salt, Cartagena has its fair share of decent wall art. Just outside of the old town, but still in the historic centre, is the neighbourhood of Getsemani. Though it shares the narrow streets and bright colours of the old town, its past is much seedier. Long renown for being the city's haven for drugs and prostitution, these days it's emerging as one of Cartagena's coolest, most vibrant districts, and not least because of its incredible street art.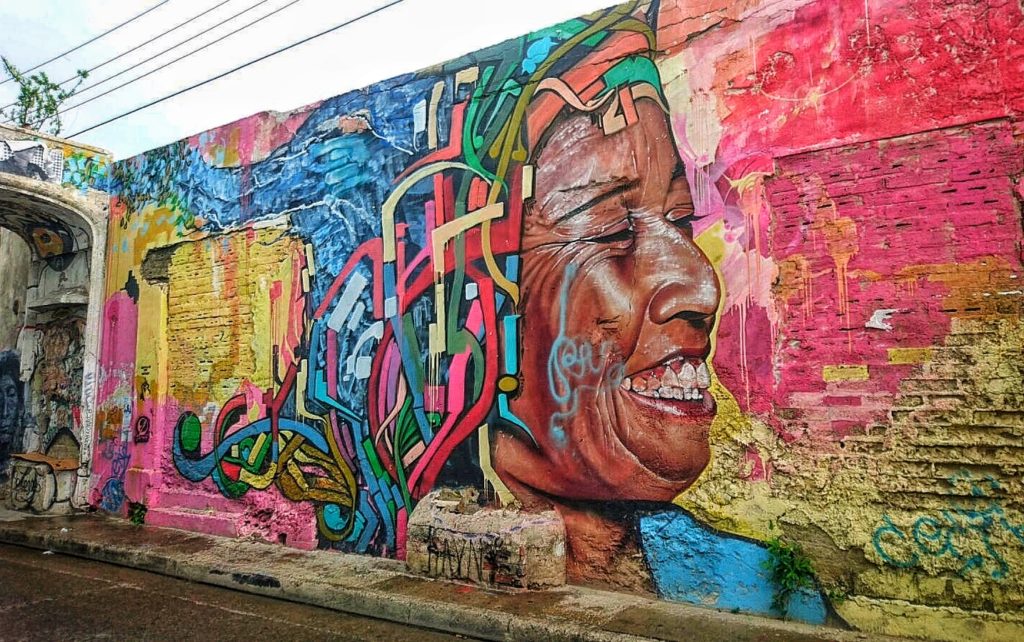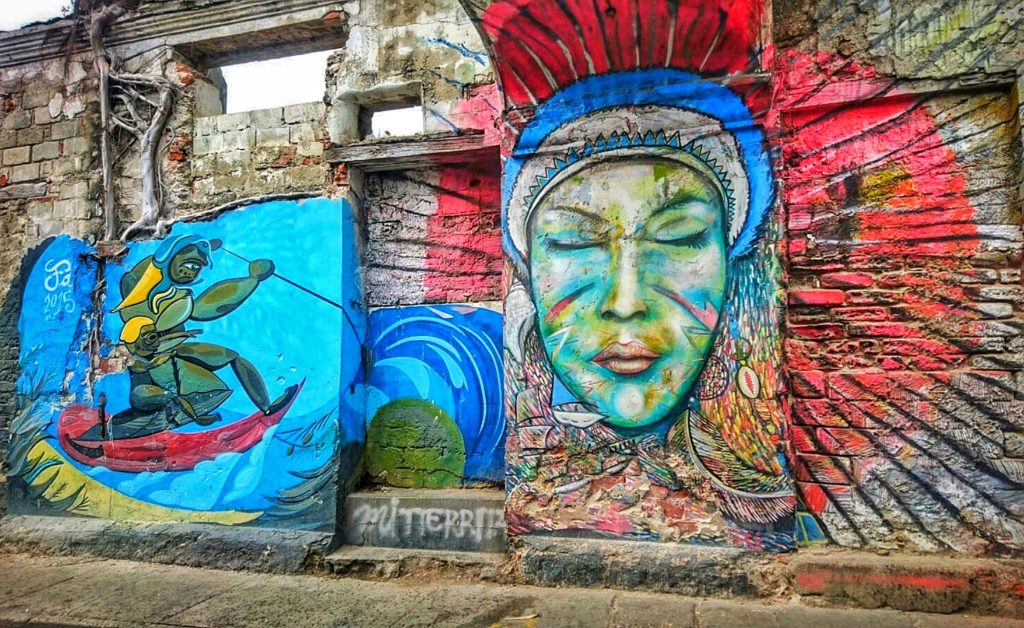 Walking through Getsemani, camera in hand, is a must for anyone visiting Cartagena. The old town is wonderful to explore, but sometimes it can feel a little too twee, a little too geared towards tourists. Getsemani is a welcome respite if you want to inject a slightly grittier edge to your day. Dogs lie sleeping on the pavement, food vendors wearily tow their carts along, and old men play dominoes on the street (why does no one do this back home??).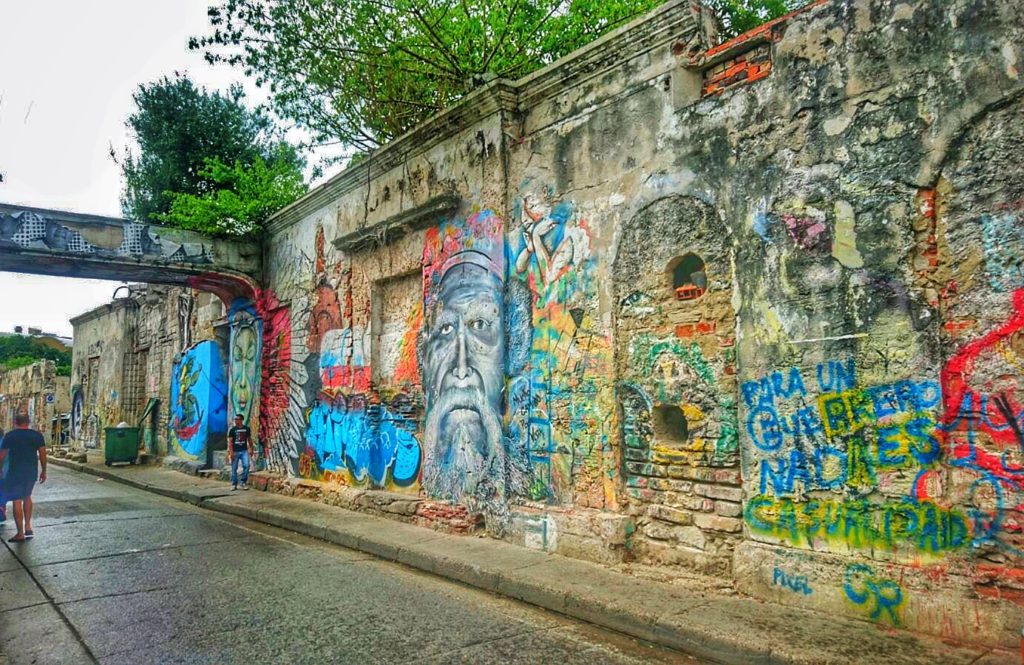 6. Evenings like this
Because Cartagena faces east there aren't proper sunsets, but the evenings here are still spectacular. Away from the old town, one of the best places to enjoy an evening walk is the Bahia de Manga boardwalk. It's more of a local spot, popular with lots of young families and couples, so you don't have to side-step throngs of tourists or horse and carriages as you walk.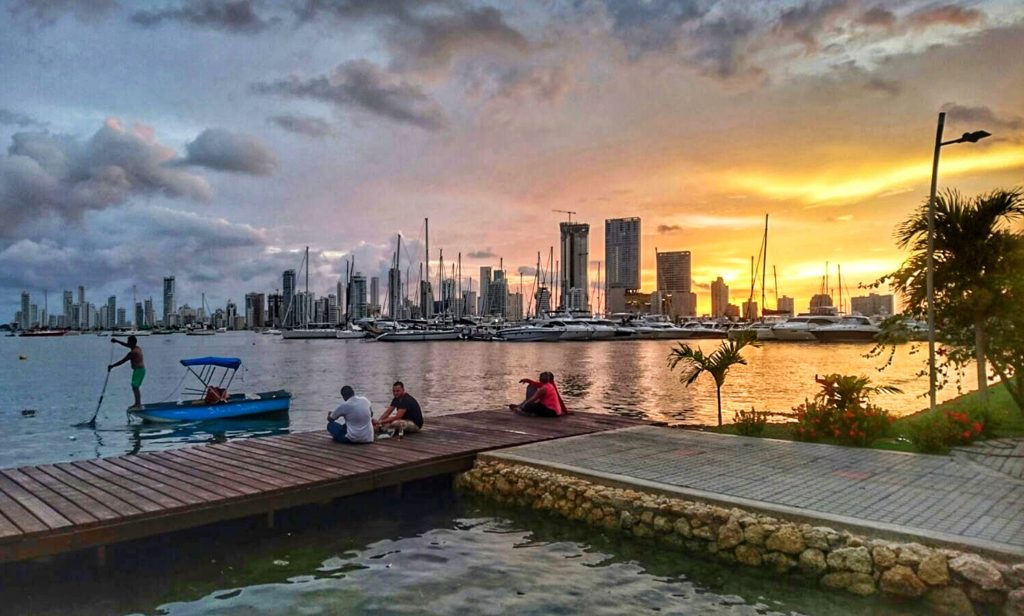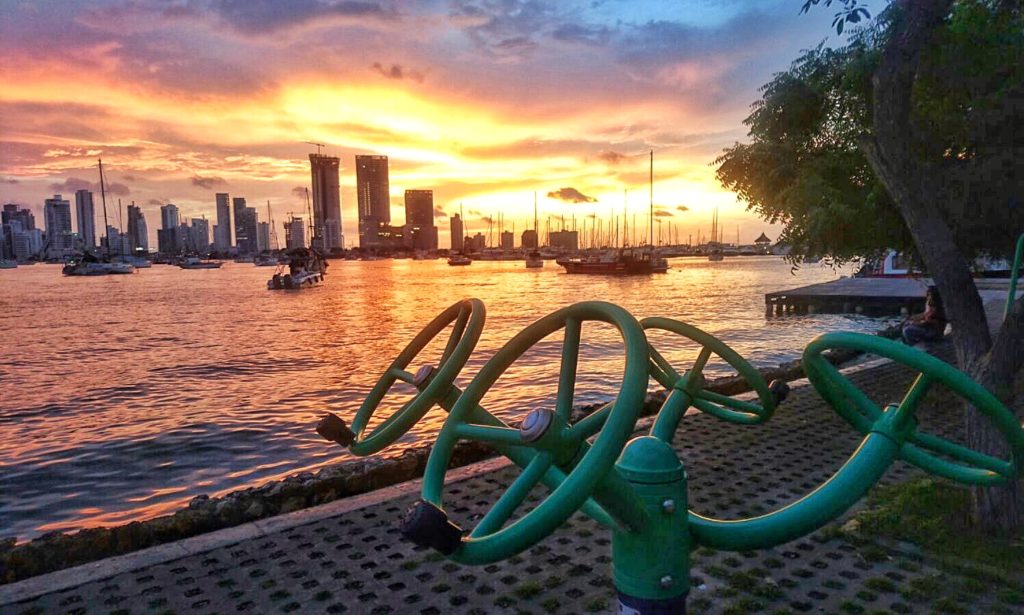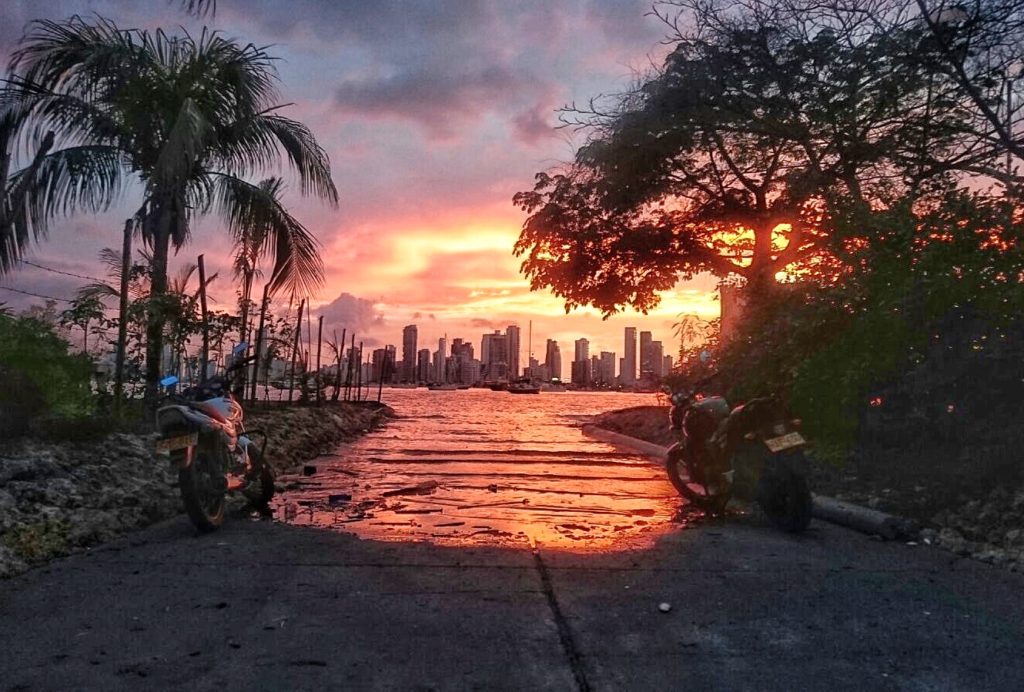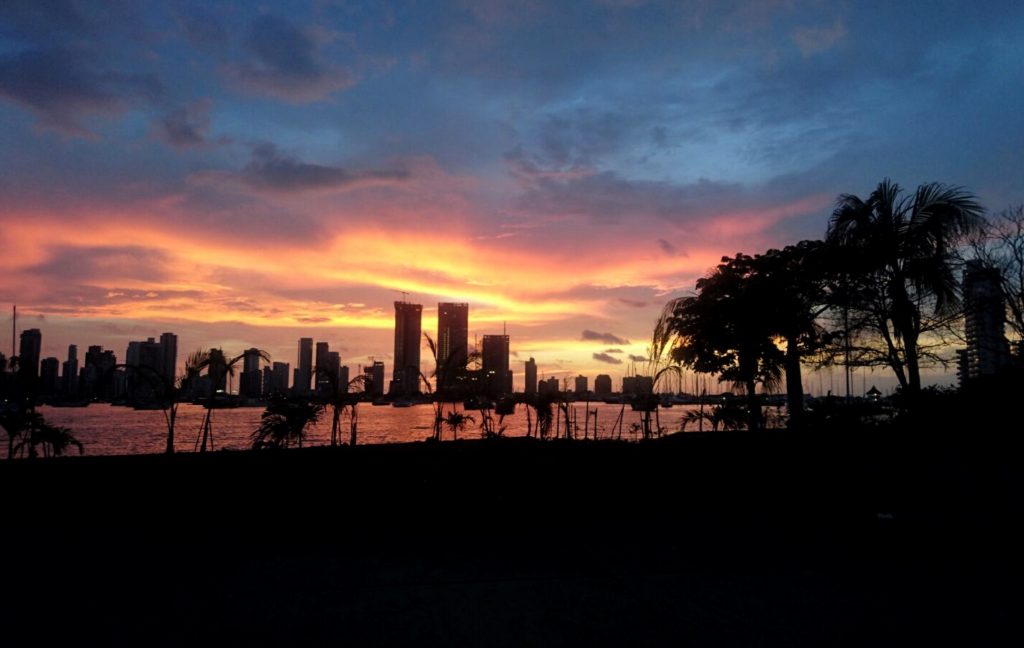 7. The Restaurants and Cafes
Street food aside, there are plenty of good restaurants here too. The ones in the old town are pricey, but there are some places you should definitely visit, like Marzola Parrilla Argentina. Yep, it's Argentinian and not Colombian, but it also has some of the best/craziest decor I've ever seen. The inside is just as bonkers as the outside (below), and it's definitely worth popping in for at least a drink (although, if you get annoyed by waiters constantly hovering by your table, maybe don't).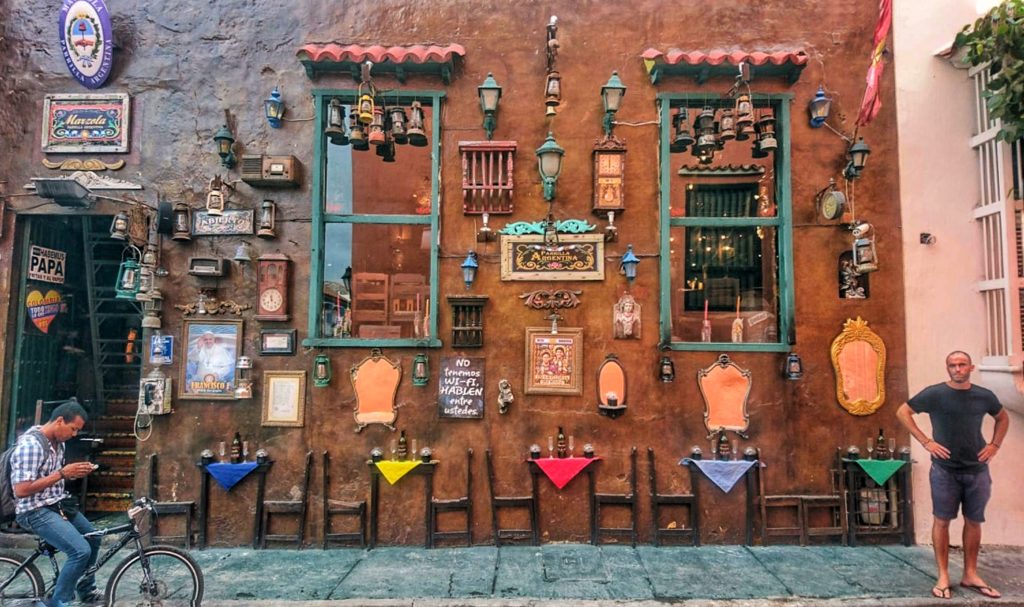 If you're a ceviche fan then literally right across the street is La Cevicheria, known to have the best sea food in the city. As a veggie I can't vouch for that (they have good wine though!), but Tom really enjoyed his ceviche. Another perk is that it's located off an incredibly pretty flower-draped street where there's a ton of activity going on. While we ate some teen boys stood by our table and rapped stubbornly at us for a few minutes until we tipped them (weirdly, it was something about Brad and Angelina splitting up, so they got points for being topical).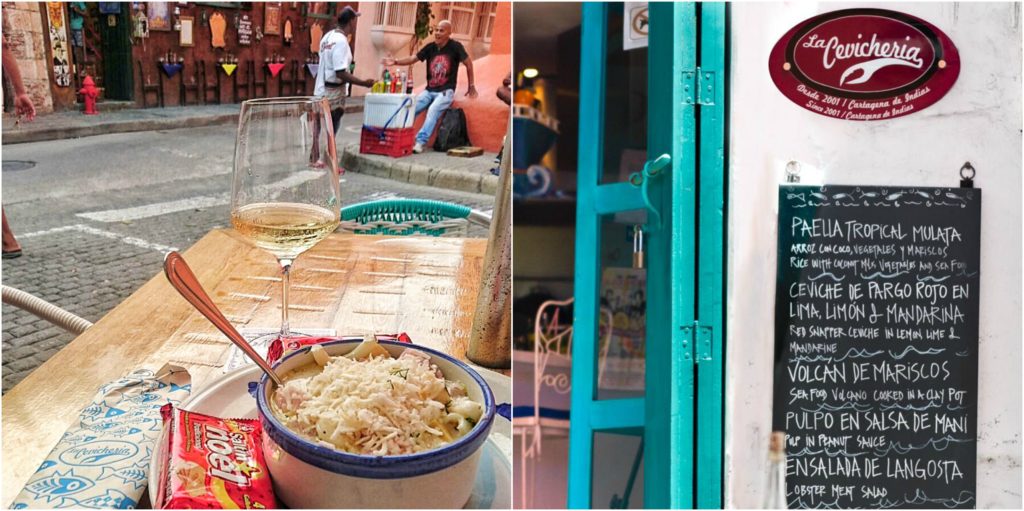 In a city known for its seafood, I'm happy to report most fish restaurants have pretty good veggie options. I'll delve deeper into this in my Food Republic article, but I had a delicious bean stew at La Mulata (thanks for the tip, Dave) with coconut rice, guacamole and crispy fried plantain. The fish was good enough that Tom and Dave returned to eat lunch here a few times too.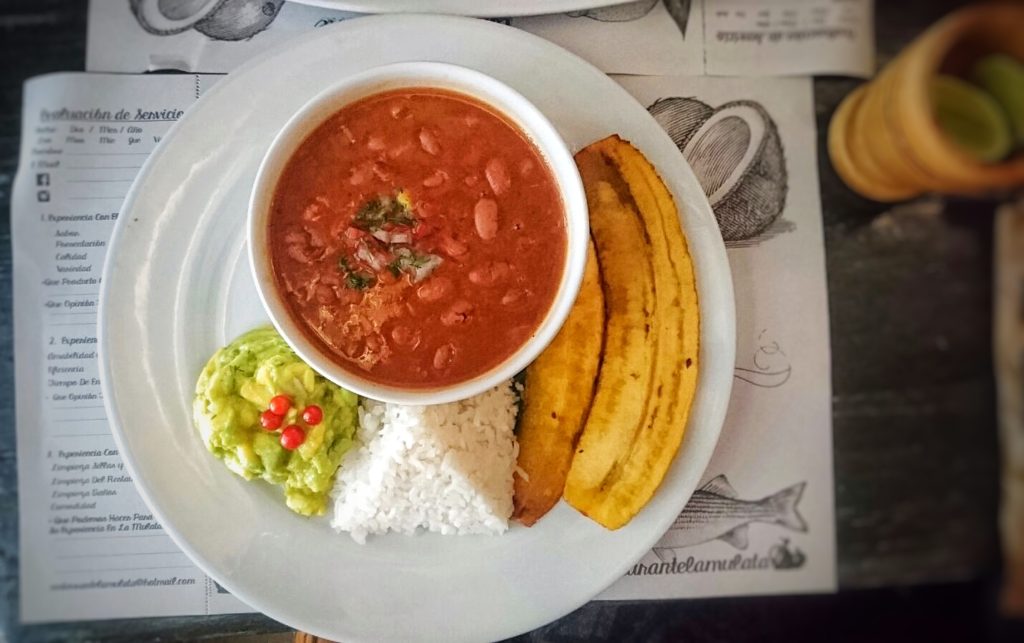 If you're in the mood for some Italian then head to La Diva Pizzeria, where we had a lovely reunion dinner. Delicious pizza, wonderfully cheesy arancini balls (with, like, a whole mozzarella ball inside!) and great sangria to boot (those aren't enormous glasses of red wine we're holding, before my mum worries about my drinking…).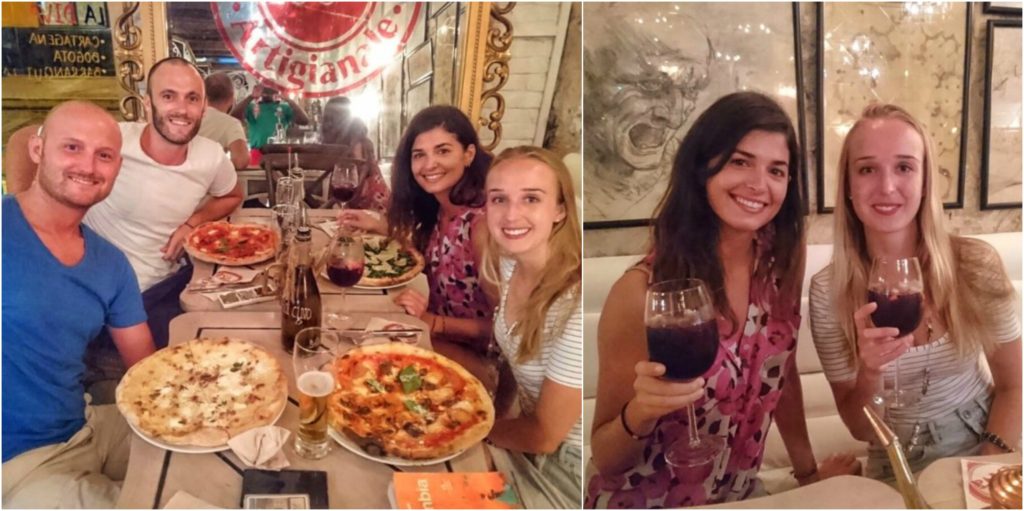 8. The Beach
The seven points above are more than enough reason to visit Cartagena – but if you're greedy and want more, the city also happens to have one of the most gorgeous beaches you can imagine, Playa Blanca. With the second clearest waters I've ever seen (Varadero Beach in Cuba takes first place) and a clean, sandy beach, it's just a boat or bus ride away from the main town itself.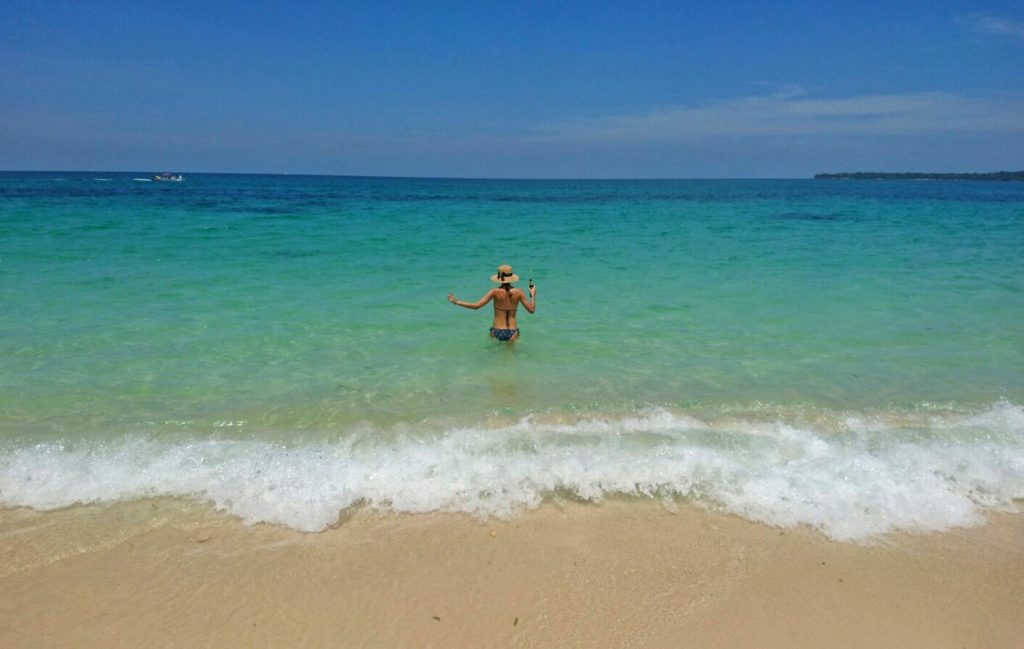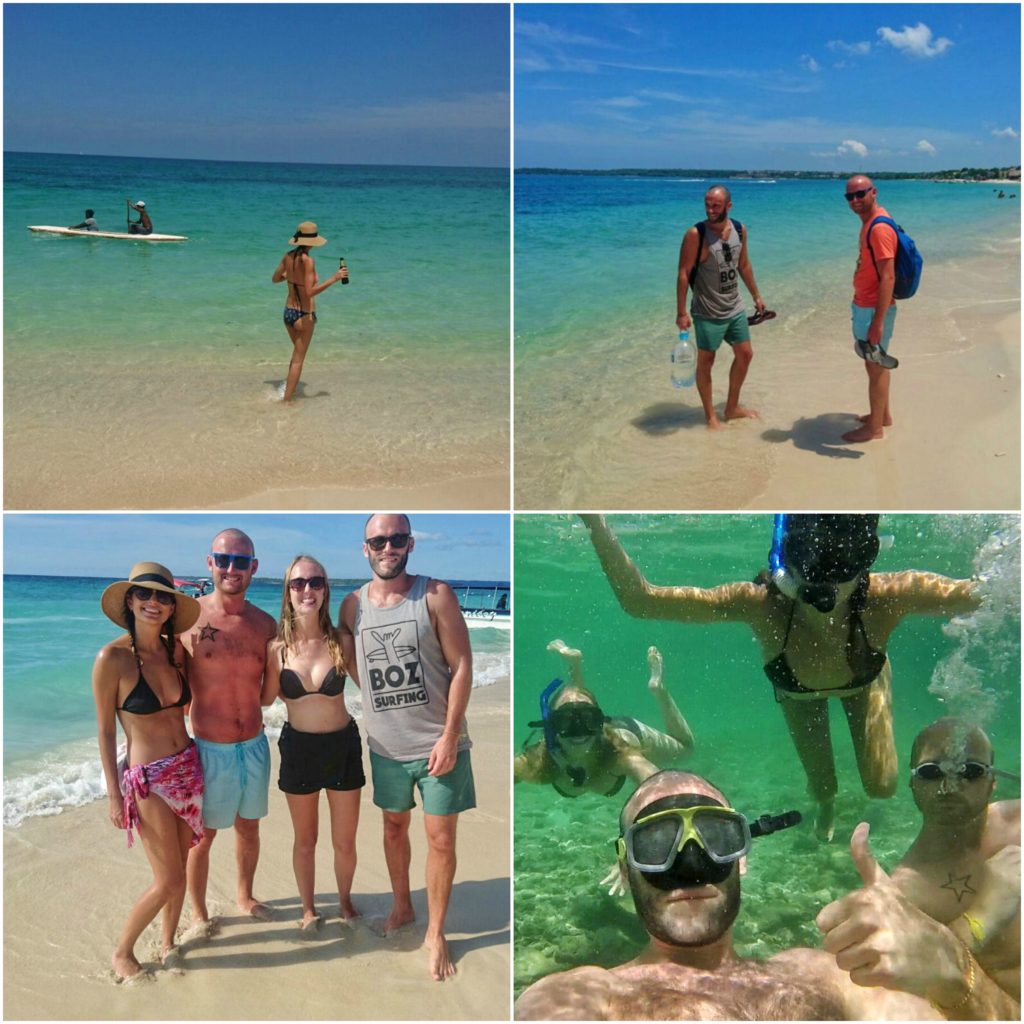 There are beach huts where you can sit down and eat and people wandering down offering massages (haggle hard!), cold drinks, pizza…etc. If you're facing the beach with the sea behind you, the right side of Playa Blanca is the busiest. Keep walking in the left direction if you want to kickback somewhere a bit quieter. The most enjoyable way to get here is by boat, but if you want to leave in your own time, get the bus. The boat leaves before 4pm, which is annoying.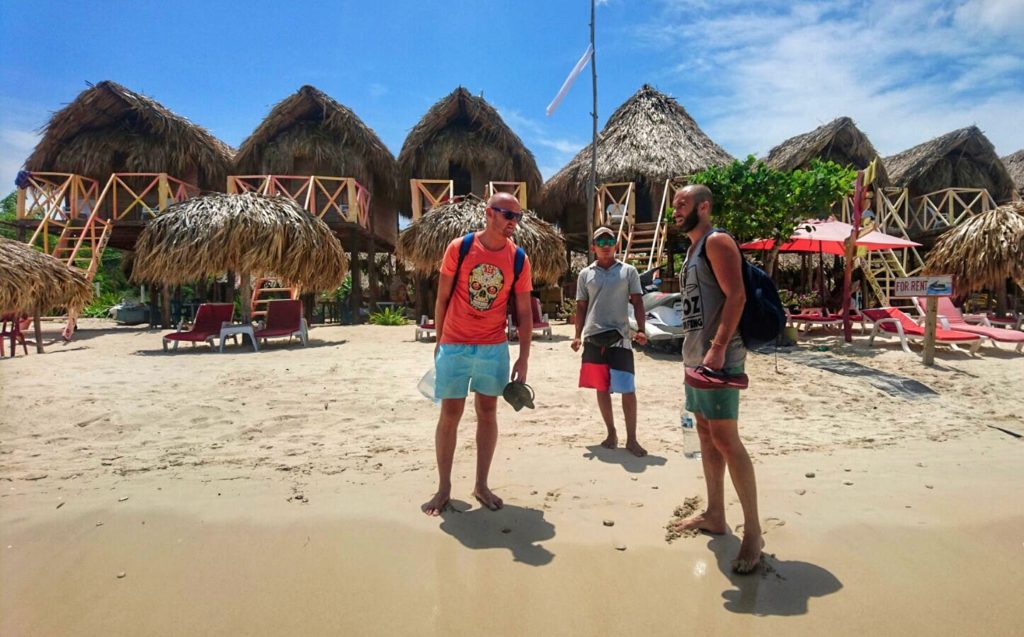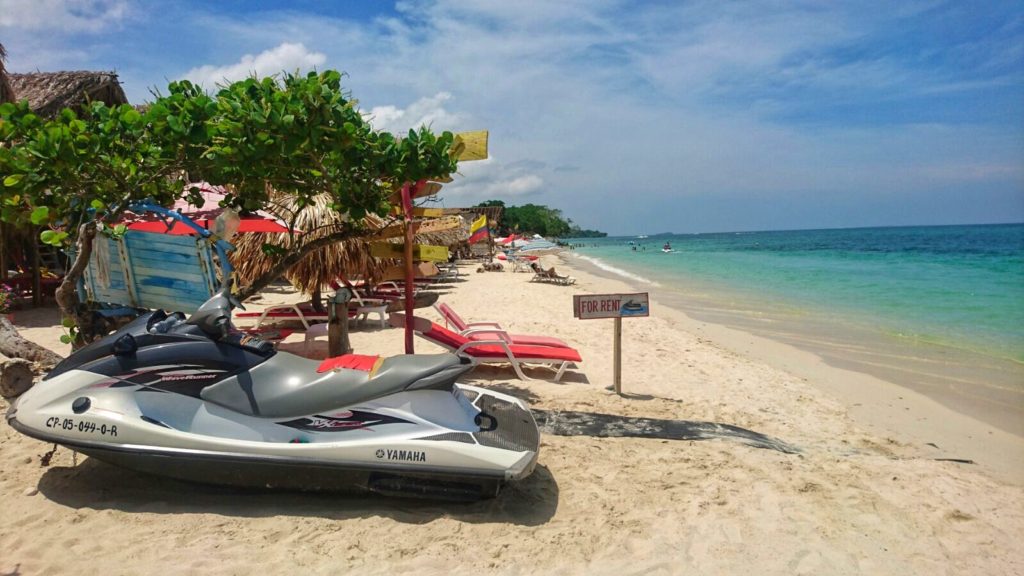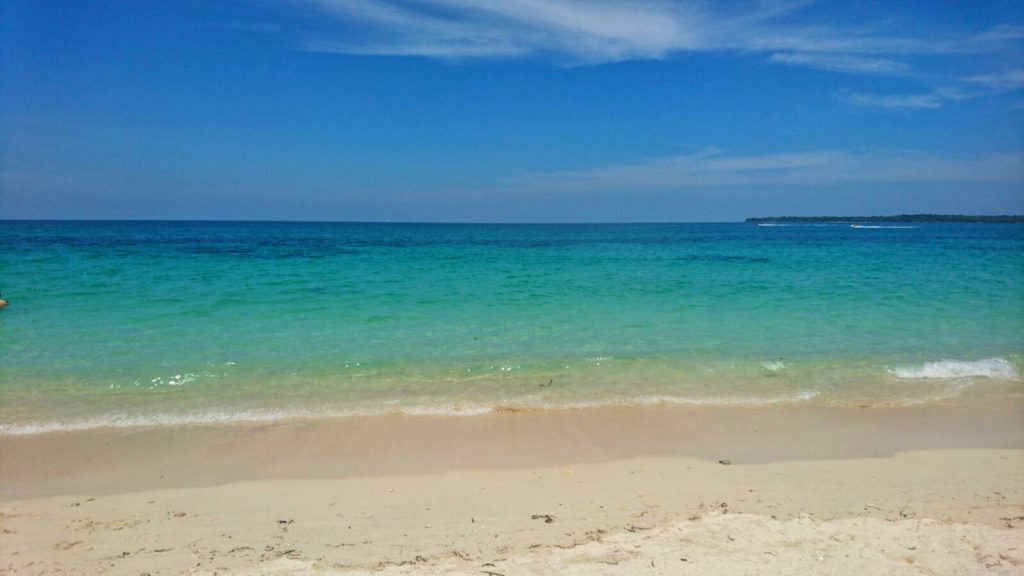 So, that was our time in charismatic, colourful Cartagena. The only reason it hasn't trumped Antigua Guatemala as my overall favourite town/city so far is that I feel I could easily live in Antigua, whereas the tourism in Cartagena can sometimes feel overpowering in the old town. Still, as a place to visit it's hard to imagine a more vibrant and gorgeous city.
After beautiful beaches and quaint colonial streets, it's time for a change. Medellin is up next… Will we survive almost three weeks in the former murder and kidnap capital of the world??
(Spoiler: we survive)